Planning a visit to our cousins, the Brits? In London, there are several main areas best to stay in. Most convenient is the West End — known as "Theatreland." You can move further west and live near one of the big parks or squares — Green Park or Grosvenor.
Here is the majestic Millennium Britannia in Grosvenor Square.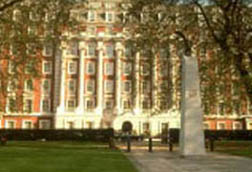 Or you can choose to be in Knightsbridge, Chelsea or Kensington, the trendy areas that are minutes from downtown by tube and have the flavor of an upscale Greenwich Village and Upper West Side. I checked out hotels in each of those neighborhoods.