By Lucy Komisar
AlterNet, March 17, 2005.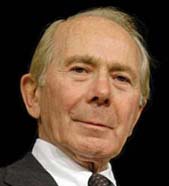 Maurice "Hank" Greenberg, one of the world's richest men, and head of AIG, one of the world's largest financial companies, was forced to resign this week as prosecutors closed in on him and the company.
Given his economic and political power, the fall of Maurice "Hank" Greenberg, the 59th richest man in America and CEO of the American International Group (AIG), the world's second-largest financial conglomerate (after Citigroup), is stunning.
Greenberg's net worth is $3.2 billion; he is the ninth-largest holder of AIG stock, with a $2.7 billion stake. Greenberg is a director and honorary vice chairman of the Council on Foreign Relations, where his portrait hangs in the elegant "Rockefeller Room." A deep-pocketed Republican, he was on the short list for CIA director in 1995 after James Woolsey resigned in the wake of the Ames scandal.
Balding and short, Greenberg, 79, looks more like a munchkin than a spy chief. Perhaps in quest of a different image, in his youth he adopted the nickname "Hank," after the baseball player. But he conjures up Napoleon more than the other Hank: the only relation to his namesake is a reputation for playing hardball.
Greenberg was elected AIG President in 1962, CEO in 1967 and Chairman in 1989. Henry Kissinger is chair of AIG's international advisory committee, and board members include Barber Conable, former congressman and president of the World Bank, Carla Hills, former trade representative, and Richard Holbrooke, former UN ambassador.
AIG

is the largest U.S. underwriter of commercial and industrial insurance, with over $500 billion in assets, a market value of $190 billion, $40 billion in revenue and $5.8 billion in annual profits. For years, AIG earnings have beat the analysts by a penny a share, and that has been rewarded in the market place. Some people were skeptical, wondering how the company could fine-tune earnings so that they came out exactly one penny more. It was done using the offshore financial system.
AIG used offshore entities to escape even the lax enforcement of U.S. insurance regulators and the Securities and Exchange Commission (SEC). It used offshore tax havens such as Barbados and Bermuda to hide insider connections in supposedly "arms-length" deals and to move profits away from U.S. taxes. Regulators discovered some of these activities a decade or more ago, but Greenberg — famous for political muscle and bullying – easily stone-walled and evaded punishment.
This week, Greenberg's power evaporated. He resigned his CEO post, forced out by his board in an apparent effort to reduce the negative fallout they expect when New York Attorney General Eliot Spitzer and the SEC reveal findings into yet another Greenberg "cook-the-books" episode.
They are investigating a transaction Greenberg organized with Cologne Re, a reinsurance company, which increased AIG's reserves by $500 million in late 2000 and early 2001, making its financial position appear better than it was. AIG used insurance to limit liability in the leases of its aircraft leasing unit – the International Lease Finance Corporation – and so reduce on the books the amount of debt used to finance some aircraft. It was a phony contract, because it guaranteed Cologne Re against losses. (more…)