IPS (Inter Press Service), July 5, 2007
The United States is famous as a country that denies the validity of class. But you'd get a different idea at theaters across New York, where two new plays and a revival look head-on at the way wealth, status and power affect people's lives.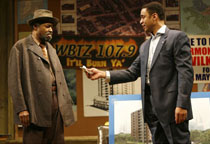 The new original works are "Radio Golf" and "In The Heights," while the revival is "A Moon for the Misbegotten." They're either on Broadway or moving there shortly.