Inter Press Service (IPS), Aug 30, 2007
U.S. officials from the Securities and Exchange Commission, the Justice Department and the Federal Bureau of Investigation met with Munich prosecutors this week regarding the 1.3-billion-dollar bribe fund run by Siemens, the German multinational technology company.
After talking to the Germans about tracking the financial flows of the largest illicit slush-fund ever discovered, the U.S. investigators would do well to visit Luxembourg on Germany's western border.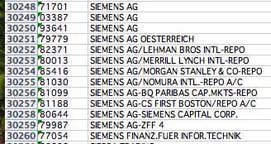 There they could seek information from Clearstream, the international financial clearing house, that might tell them how Siemens moved so much money and where it went. That is because Siemens has the unusual status of being one of only four non-financial companies among 2,500 Clearstream members. It gained membership on the insistence of a former CEO who was fired after a scandal.