By Lucy Komisar
Oct 23, 2007
In the continuing saga of the Frigates of Taiwan, involving about $1 billion in bribes and kickbacks paid by the French company Thomson to win a bid on the sale of six war frigates to Taiwan in the early 90s, I asked French Finance Minister Christine Lagarde,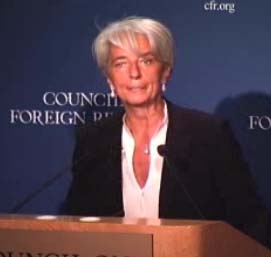 at the Council on Foreign Relations yesterday, if she would continue the cover-up on a corruption case that could be the largest (known) in French history.
At the time of the sale, bribery of foreign officials was legal; kickbacks to French officials was not. To deduct bribes from their taxes, French companies had to file information about them with Customs. Finance ministers of the right and left have refused to release to the investigating magistrate, Renaud van Ruymbeke, Customs documents that might show where the money went.
Madame Lagarde wasn't "sufficiently aware" of the case, which has been exhaustively reported by French print and broadcast media, and in books and documentaries, for more than a decade.
Here is the transcript. The moderator was Henry R. Kravis, Founding Partner, Kohlberg Kravis Roberts & Co, one of the world's biggest private equity firms.
Click here for transcript, video and audio.
KRAVIS: Why don't we turn it over to our guests. Now, wait, please, for a microphone to be given to you and then state your name and your affiliation. And again, just as a reminder, we have to end the session promptly at five minutes of 9:00.
Yes, in the front.
QUESTIONER: Thank you. I'm Lucy Komisar. I'm a journalist.
Over a decade ago, beginning with one of your predecessors, Dominique Strauss-Kahn, the finance ministers of both parties have refused to release Customs documents requested by Judge Van Ruymbeke that might show that the money trail, about $1 billion in bribes and kickbacks in the Frigates of Taiwan case, that some of it may have gone to top French officials. It was a $2.8 billion contract.
In the interest of transparency that you've just talked about, are you going to end this bipartisan cover-up by releasing the documents?
LAGARDE: Well, I've been in the job for four months and I'm already known to have let Tracfin [the anti-money laundering agency] do its work in relation to the UIMM. I think we've got our share of review and investigations concerning a couple of other cases and I'm sure I'll look at that one with interest. I'm not familiar and sufficiently aware of this matter to give you a practical yes-or-no commitment.
KRAVIS: Yes, please, in the back. Yes, right in the middle there.
LAGARDE: But thank you for the question.
To be continued.
[The UIMM is the Union of Metal manufacturing, Mining, Engineering, Electrical and metal equipment and Allied industries, an industry federation of 130 national trade associations dealing with technical and economic matters, and 93 regional employers' associations.
Anti-money-laundering investigators at the Finance Ministry are investigating cash withdrawals of at least €5.64 million from accounts of the UIMM by Denis Gautier-Sauvagnac, a top member of the Medef, the French employers' federation, to which UIMM belongs. The money passed through 30 bank accounts to be paid to undisclosed parties.]