By Lucy Komisar
Condé Nast Portfolio, July 15, 2008
Jim Courter quits campaign after report of F.C.C. fine.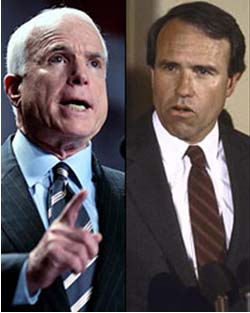 Jim Courter, one of Senator John McCain's top fundraisers, has resigned from the McCain campaign just days after Lucy Komisar reported on portfolio.com that Courter's company had been fined by regulators.
The Federal Communications Commission last week levied a fine of $1.3 million against IDT, a New Jersey telecommunications company headed by Courter, for failing to disclose its 2003-04 long-distance phone agreements with Haiti.
Courter's resignation is the latest shake-up among aides and fund raisers to the two presumptive presidential candidates. James Johnson resigned last month from Senator Barack Obama's campaign following disclosures that he had received a mortgage on favorable terms from Countrywide Financial. Samantha Power quit as a foreign policy adviser to the Obama campaign in March after she was quoted as calling Senator Hillary Clinton "a monster."
Recently Phil Gramm had his role as an economic adviser to McCain reduced after he was quoted as playing down the economy's woes, saying that a "nation of whiners" was at fault.
Courter, a former New Jersey Republican congressman, was one of 20 McCain national finance co-chairmen. Before resigning yesterday, he had been with the campaign since February 2007. He was  a "Trailblazer" for McCain, meaning he raised at least $100,000. The IDT PAC has contributed $84,850 in 2008.
An IDT spokesman said: "Mr. Courter has the utmost respect for the Senator and holds him in the highest esteem.  As such, Mr. Courter did not desire to see a personal business matter, wholly unrelated to the Senator's presidential bid, to detract from the core issues facing the American people."
Calls to the McCain campaign were not immediately returned.
When the F.C.C. forced IDT to file its 2003-04 telecommunications agreement with Haiti, it showed that IDT had negotiated an illegal long distance rate, with payments made to a Turks & Caicos shell company instead of a Haiti Telco account in Haiti.
Testimony by a former IDT official, Michael Jewett, who was fired after he objected to the deal, indicates that the payments to Mount Salem were kickbacks to Aristide. Jewett has filed a lawsuit against the company for unlawful dismissal.
The IDT spokesman said that it was his understanding that Mount Salem was a subsidiary of Haiti Telco.
He said: "IDT has maintained for several years that it has operated with professional and becoming conduct expected of any major US multinational corporation.  There is and always has been a relationship of high standing maintained with our governmental channel partner, Haiti Telco.
"As is the practice with any American multinational company conducting business with foreign governments, business contracts are properly and professionally negotiated by management.  When a particular government agency identifies in contract its preferred bank account for services rendered, whether those be domestically based or in neighboring financial centers in good standing with that specific country, we, like any other American firm, honor such terms of contract."
Still, the deal raises a number of questions. If a foreign government agency is corrupt and it gives a U.S. company a sweetheart deal, like the below-market rate plan IDT sought to keep secret from the F.C.C. and competitors, a payment to the bank of that government agency's choice might be considered a kickback and a violation of the Foreign Corrupt Practices Act.
And suspicions would certainly be aroused if the bank was in a tax haven and not in the government's own country. Mount Salem's registration papers do not indicate it was a subsidiary of Haiti TeleCo. Its only legal connection was to a Turks & Caicos law firm.