By Lucy Komisar
Inter Press Service (IPS) Sept 27, 2008
The scene is 1977 in Lagos, Nigeria. Film projections show people racing frantically to escape the thousand troops who have surrounded and invaded Kalakuta, the communal living space and recording studio of musician-songwriter, Fela Anikulapo Kuti.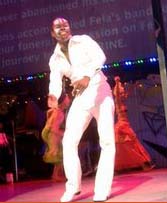 In a handful of years, Fela had become a worldwide music phenomenon and trenchant political critic of the regime. On stage, Fela, portrayed with intensity and attitude by the dynamic Sahr Ngaujah, recounts how soldiers rape and beat people in the compound and how they murder his 82-year-old mother by throwing her from a second-story window.
How could the songs of one man be deemed such a political threat that the president, Gen. Olusegun Obasanjo, seeks to destroy him so brutally?
"FELA!", a stunning U.S. musical theatre piece premiering in New York, tells the story using Fela's own radical lyrics set to the Afrobeat he created out of jazz, African rhythms, funk and reggae. The play is a stirring musical indictment of decades of misrule by Nigeria's thuggish military dictators.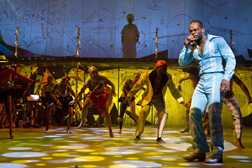 It was written by Jim Lewis and Bill T. Jones, who also directed and choreographed. Much of the text is authentic, coming from published interviews.
The theatrical device is Fela's look back at his life as he performs at a final concert at his Africa Shrine club after his mother's death. Troops are massed outside the large corrugated tin structure. A backdrop of green glass is set off by strings of red, blue and yellow lights. Drums and horns explode.
Ngaujah, a U.S. national whose father is from Sierra Leone, sometimes picks up a saxophone or trumpet to play wild, pulsating riffs. An astonishing line of dancers in brief costumes with traditional motifs do frenetic angular twists and gyrations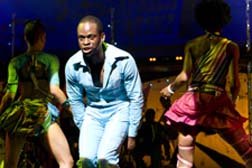 inspired by forms ranging from African movements to the jitterbug.
It all starts with music. Fela recalls learning about jazz in London in the early 1960s. Then in 1969, he discovers politics in Los Angeles through the work and writings of Malcolm X, Martin Luther King, Stokely Carmichael and Angela Davis.
He says, "I had to get to America in order to understand what my mother had been trying to teach me all along." His mother, Funmilayo, had been the leader of the Nigerian women's movement in the drive for independence from Britain. When the men she fought alongside took power, they became repressive and corrupt and she opposed them.
The thieving generals and officials become the targets of Fela's songs. "Trouble Sleep" recalls how Nigerians "Marched into the streets, drove the British out. It's our country now."
But he warns, "Wake up, wake up." Because "General he live like king, while there's no work, no food no eat. Our children starve in the streets." The reason, the song says, is "corruption, mismanagement, stealing by government, widespread disease, brutality."
The white western world is complicit. Fela bitingly satirises "the fair-skinned, tea-drinking guests" who moved into "Hotel Africa". He says, "You know how it is with new guests. At first it's kind of fun having new faces around. Looking funny. Talking funnier. But then you start noticing things going missin'. Ashtrays. Towels. Bathrobes. Petroleum, diamonds, people!"
In "International Thief Thief", the corporate villains and their allies are named on signs the dancers carry through the audience: De Beers, Danone, Shell, Monsanto, Chinese Petroleum, Merck, Halliburton, the WTO, the IMF (International Monetary Fund).
In "ITT/Pipeline", he analyses the cycle of theft and corruption: "Young man graduate from school. He can't find job, but he needs food. He breaks in markets late at night. Steals mechanic's merchandise. Next day mechanic cannot work. Next day the taxis all break down. They say your country doesn't work. Like rats we steal."
And, "They got one way to pick president. Just choose one African-i man, a man with low mentality. Give him a pile of dollar bills to buy himself election here. All the generals get their bribes. That's how we get our puppet chief."
"Then suddenly he brings in: His friend the journalist, His friend the commissioner, His friend the permanent secretary, His friend the minister, His friend the head of state, Start start steal more money, Start start more corruption, Start start more inflation, Start start more oppression, Start start more confusion, Start start more oppression, Start start steal more money."
He names each "international thief thief" including former presidents Sani Abacha and Obasanjo, and Moshood Abiola, who won elections in 1993 but never took office because the results were annulled.
Fela says, "We can confront these criminals, take our destiny into our own hands." And, "Wake up Africa our time is now. Let's turn this country upside down."
Not surprisingly, as Fela becomes successful, he suffers increasing repression by authorities. The total of arrests will reach 200. His response is more ridicule and satire. We see him dressed as a goose-stepping general with dark glasses and a jacket with epaulets open to his bare chest over pink theatrical pants.
The "general" says: "You talk of black power, let me show you real power. If you fight us surely you will die." The threat is torture — a stick breaking bones, a can crushing hands, a blade slashing faces, a broken bottle."
The "general" warns again: "I know you are angry. You want to change the world. But, Fela, you are young, and inexperienced in politics. Inexperienced in the horrors of the world. You don't know how bad things can get."
Military ruler General Olusegun Obasanjo will not let Fela's challenge pass, and the 1977 attack is ordered. Fela declares, "It's a revolving door, the church and the generals, the bible and the gun… How can Obasanjo, Azikwe, Abiola, Ironisi, Guwon do what they do? Man, I went to school with Obasanjo. Our families… We grew up together. We are the same tribe."
Fela doesn't note it in the play, but the attacking troops fracture his skull and break his bones. "Our people torture their own" he says in "Zombie", a song that has played all over Africa. In "Sorrow, Tears and Blood", he calls that "their regular trademark".
He defiantly arranges a procession with his mother's coffin to the steps of the capitol. The dancers follow her bier with mock coffins affixed with stickers such as "no blood for oil". After the attack, Fela goes into brief exile in Ghana, but returns, and we see him announce the founding the Movement of the People and his candidacy for president.
Projections show over 100,000 supporters at his Lagos rally. The Obasanjo government removes his name from the ballot.
Fela imagines climbing a ladder to talk with the ghost of his mother (played by Abena Koomson), who tells him, "Night will end. The light returns…Those who stand and fight must pay a price. Embrace your fate and name and shine."
Kuti died in 1997 at age 58. A million people marched in his funeral. His songs and now this exciting political show are powerful epitaphs.