By Lucy Komisar
Red Barn director Joy Hawkins brings Key West a pitch-perfect staging of Alfred Uhry's funny, political and subtly biting play about an assimilated 1939 Atlanta Jewish family whose status-conscious matriarch rejects their heritage. Uhry wrote from childhood memories.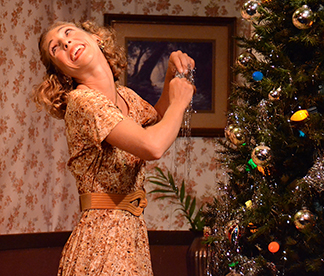 Boo (Beulah) Levy (given a sharp, tough portrayal by Karen Grant), criticizes her daughter Lala (played nicely as a bit ditsy by Lisa Elena Monda) for putting a star atop their decorated Christmas tree. Excuse me, Chanukah bush. Boo says the tree is fine without the star, which makes it Christian. Lala doesn't see the distinction. (Neither does Uhry.)
Her main concern, however, is getting her daughter into society and married. There are limitations. It has to be German Jewish society. Boo looks down at those who came from "east of the Elbe," the river that runs between Germany and Czechoslovakia. She boasts that their house is on a block filled with Christians, though their neighbors of course don't accept them.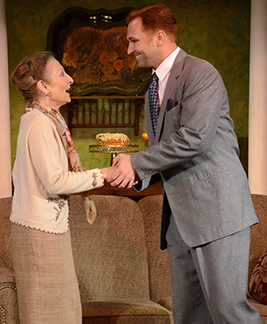 The "crisis" turns on whether Lala can get a date to the last night of Ballyhoo, a lavish event to which Jews come from all over the South. It's held at a restricted country club. Restricted to German Jews.
Boo wants Lala to be escorted by "Peachy" Weil (a perfectly hokey Kaleb Smith), son of a wealthy family in Lake Charles, Louisiana. Having dropped out of the University of Michigan because she didn't get into the right sorority, marriage is Lala's only option. As a measure of her seriousness and sense of reality, she is obsessed with "Gone With The Wind," then premiering as a feature film in Atlanta.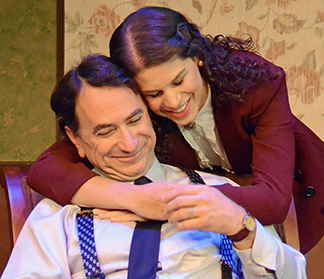 Meanwhile, her smart, bookish cousin Sunny Freitag (Jessica Jackson), who is reading Upton Sinclair, is back from Wellesley. Boo and Sunny's late father were siblings.
Her mother Reba Frietag (given a sweet, soft-spoken performance by Laurie Breakwell) lives in the family home with the widowed Boo and her brother, the sensible Adolph Freitag (the excellent Seth Yates). He runs the Dixie Bedding Corp. which Reba's husband built into a successful business.
The "crisis" is solved when Peachy asks Lala to the ball. Lala's dress is quintessential "Tara." (Costumes by Carmen Rodriguez).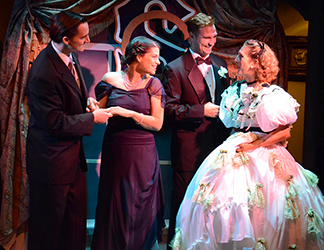 Joe Farkas (Rock Solomon), a young man from Brooklyn, who has been hired as a salesman for the bedding company, invites Sunny to the ball. From his accent and demeanor, Solomon's Joe is solidly rooted in Eastern Parkway.
Sunny has described Ballyhoo as filled with "Jews in expensive clothes dancing around the country club wishing they could kiss their elbows and turn into Episcopalians." Jackson's Sunny is smart and strong; her eyes sparkle with intelligence. Contradictions arise because Joe, from Eastern European Jews, is observant. Joe asks Sunny, "Are your people really Jewish?"
Across the ocean, Hitler is rampaging. Peachy says, "It's Europe's problem." Will the Levy's and Freitag's reclaim their heritage? This is a family comedy-drama but also serious stuff about social politics. The "feel good" ending is a bit sentimental but done in a charming manner.
The play won the 1997 Tony. It is part of Uhry's trilogy about Jews in Atlanta that includes "Driving Miss Daisy" and the musical "Parade" about the lynching of Leo Frank.
"The Last Night of Ballyhoo." Written by Alfred Uhry, directed by Joy Hawkins. Red Barn Theatre, 319 Duval Street (rear), Key West, FL.  305-296-9911. Jan 2-17, 2015. 1/22/15