By Lucy Komisar
This immersive, hokey, utterly engaging production is one of the memorable plays to see this season. In fact, it almost feels as if you don't just see it, you are in it. The audience is dispersed around a gorgeous set, seated at rows and tables, some on the stage, backed by red drapes and paintings, as actors move through the aisles and on risers. Sometimes lighted chandeliers descend or disco lights flash. Everything seems red, white and black.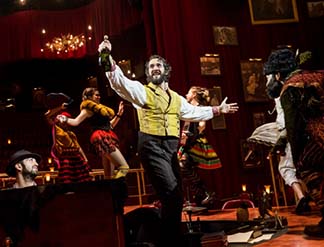 The story — music, lyrics, and book by Dave Mallory — is the Natasha-Andrey-Anatole love triangle from Tolstoy's "War and Peace." To put it succinctly, "Natasha is young and Andrey isn't there."
Andrey is her betrothed, away at the Napoleonic war. So maybe it's a satire on hokey opera compounded by a complicated Russian novel. Where, as one character explains, everyone has nine different names.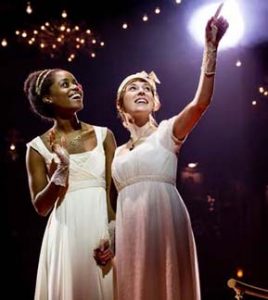 I saw the two previous off-off Broadway performances, at Ars Nova on West 54th Street in 2012 and in the Meatpacking District a year later; loved them both. At those venues, patrons were seated at small tables furnished with vodka and pirogis and actors moved around them; you felt like you were in a nightclub.
This time, no vodka, but at the start, actors walk through the audience, throwing out boxes of the iconic Russian dumplings. One performer embraces a lady at a table near the stage.
Natasha (Denée Benton) young, innocent, always dressed in pure white, including a luxurious white fur, is charming with a sweet soprano. Could anyone be that adolescently naïve? A girl from the provinces, she visits Moscow accompanied by her cousin Sonya (Brittain Ashford).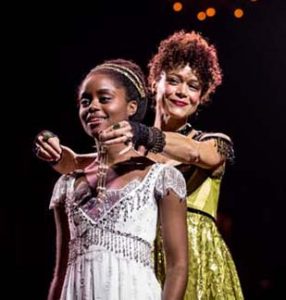 They are watched over by her godmother, Marya (Grace McLean). Though not quite closely enough. I loved McLean as Marya. A grande dame of Moscow.  Strict, yet kind. And very aggressively present.
Then back to the meme: "Anatole is hot and Helene is a slut." Helene, Anatole's sister, is tough, cynical. Hyper sexuality seems to run in the family.
Pierre (Scott Stangland) is desperately unhappily married to Helene. He wants to wake up from drunkenness and despair. Stangland as the understudy to Josh Groban, the popular singer, song writer and actor, was rather flat.
And then Anatole (Lucas Steele) the womanizer swaggers deliciously as he arrives, descending high stairs and blowing kisses. Another satire on hokey opera.
Helene, the countess, exudes corruption in her costumes by Paloma Young. And she helps dress Natasha for the assignation.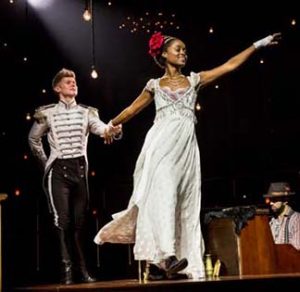 The foolish young lady falls for Anatole. She doesn't know he is already married.
Steele is perfect as the iconic male predator, a rock star type, his hair out over his forehead, always surrounded by bright theatrical lights. (Was Tolstoy the first TV sitcom writer?)
If sitcoms require weird characters, Andrey's father, Bolkonsky (Nicholas Belton), fits that bill. He has lost it. He sings (they often sing about themselves) "Old Prince Bolkonsky is crazy!"
Director Rachel Chavkin makes all this nutty stuff seem quite plausible. And enormously entertaining.
I also loved the terrific Russian dancers (choreography by Sam Pinkleton) with their Kazatzky kicks.
Russian novel, Russian dancing. And a terrific, glittering, innovative production. No wonder this is a smash.
Add: Saw this again with Josh Groban as Pierre. He is excellent, strong as an actor presenting a flawed weak character.
"Natasha, Pierre & the Great Comet of 1812." Music, lyrics, book by Dave Mallory adapted from "War and Peace" by Leo Tolstoy, directed by Rachel Chavkin, choreography by Sam Pinkleton. Imperial Theatre, 249 West 45th Street, New York City. (212) 239-6200. Opened Nov 14, 2016. 12/24/16.