By Lucy Komisar
Mothers coping with seriously ill children who will never be healthy and normal is the theme of Amy Herzog's new play.
Sounds depressing, and it is, but it's also curiously rather uplifting. Because it's about the women's trying to maintain normality, loving their children with a kind of forcefulness and desperation as if that could will a cure. And with Anne Kauffman's naturalistic direction, the play never gets near soap opera.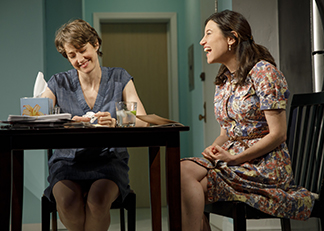 Herzog brings you slowly into the story and the life of Mary Jane (the excellent Carrie Coon). Things in her apartment seem normal. The super (Brenda Wehle) is attempting to fix a clogged sink drain. You don't really know the facts until suddenly, subtly, they are apparent.
Mary Jane's son Alex was born early and had brain damage. Now he is almost 3. He can't communicate. He has seizures. Her husband couldn't handle that and left them.
Mary Jane's interactions are real and poignant. She helps Brianne (Susan Pourfar), a new mother of a sick kid, with advice about a baby carriage that is good for carrying oxygen. At the hospital, she chats with an Orthodox Jewish women, Chaya (also Pourfar), who talks about the support that comes from her community. You wonder where these women get the fortitude to handle these personal tragedies with such composure.
The child has round-the-clock nurses. We meet Sherry (Liza Colón-Zayas) who sets up IVs. Sherry's niece (Danaya Esperanza) remarks on Alex's great hair. The music therapist (also Esperanza) sings to him. Mary Jane insists that Alex, who can't talk, really understands her when she talks to him. You never see him.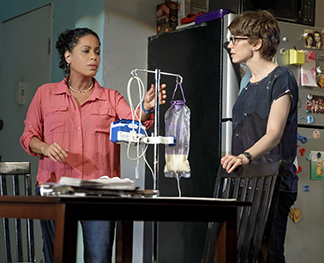 There's a problem when a seizure leads to a 7-week hospital stay. Mary Jane insists on staying at the hospital, and that threatens the job she got because her boss went to college with her sister. Losing the job would cancel her health insurance, which covers home nursing. We don't know how that works out.
We see the tension, but the crises are dealt with matter-of-factly. Under Kaufman's direction, this is utterly natural, real life, not exploitative tear-jerking TV. She works with a first-rate ensemble cast.
I wondered why Herzog did this play. It's not a usual topic. Did this happen to her or a friend or member of her family?
It was depressing. Still, I'm glad I saw it for Herzog's artistry. For the challenge of taking on such a difficult subject and making an audience uncomfortable but moved.
"Mary Jane."  Written by Amy Herzog, directed by Anne Kauffman. New York Theatre Workshop, 79 East 4th St., New York City. (between Bowery & 2nd Ave). 212-460-5475. Opened Sept 25, 2017, closes Oct 29, 2017. 9/24/17.