I hadn't been to Lisbon for decades, not since just after the Revolution of the Carnations in 1974 when the military overthrew the dictator, Antonio Salazar. Happy people in the streets stuck those flowers in the muzzles of solders' rifles and on their uniforms, and so the revolution – which turned democratic — got its name. It was glorious to visit again, and experience Portugal's well-deserved reputation for charming, warm and friendly people. But for many American travelers, Portugal is not on their list. It should be.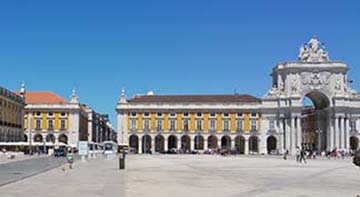 The welcoming vista when we arrived (after a few wrong turns from the nearby airport!) was the main square, the Praça do Comércio, also called Palace Square, where a royal palace existed for 400 years. (The royals were overthrown in 1910, when Portugal became a republic. The revolution of the carnations was not Portugal's first!)
It is a large space bordering the Tagus River and edged on three sides by two-story buildings that after the 1775 earthquake were constructed to house government offices. The ground floors are arcades fronted by colonnaded passageways, the outer walls are a sunny gold (also known as royal yellow!) and the roofs are red tile. An equestrian statue of King José I, which dates to 1775, oversees the center of the square.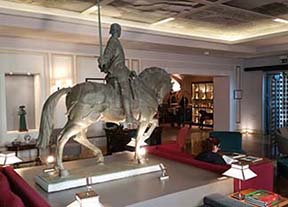 We are staying at one of those grand buildings that used to be the Ministry of Interior. Last year, it became a hotel, the glorious Pousada de Lisboa, which you see on the corner.
It is owned 50 percent by the government and 50 percent by the Pestana Hotel Group, the largest hospitality chain in the country, which specializes in luxurious monument and historic hotels.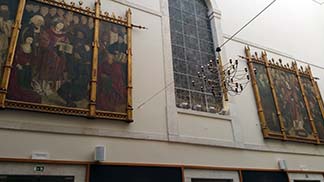 You feel as if you are in a living museum, with paintings and sculptures on every wall, in every corner. Even the dining room has historic wall hangings and ceiling paintings. Not to mention a delicious breakfast buffet: Mangos and papayas, lots of lox, and flutes set out to hold a morning sparkling wine.
The feeling of being well cared-for begins at check-in. No standing in lines to be addressed by staff ranged behind counters. Here you sit at desks from which your hosts collect information and distribute room keys. The room is cool and luxurious and has an excellent view of the square.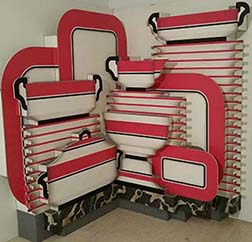 About half a block down the street is the city tourism office, where we pick up maps, brochures and a Lisboa Card, good for free entrances and discounts. The card gets you onto the little train, which leaves from a stop on the Praça. It takes us, with audio in various languages, through the old Alfama, the Barrio Alto, and streets around town we'd not have seen on our own.
We twist around Alfama's climbing winding narrow streets, alleys that open into squares, a working class barrio of houses topped with red tile roofs. A regular bus could not have navigated this, it takes the narrow tram.
Next, I love to see what a country's artists are doing. I skip the chance to see yet another Picasso and instead opt for local painters. We visit the famous Gulbenkian Museum, now a center for modern Portuguese art. My favorite is a cup and saucer piece by Patrick Raynaud. Except, it turns out he is French!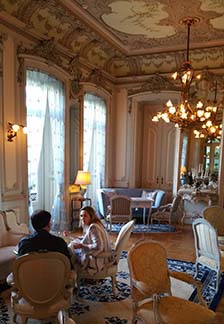 That evening, to hear fado, the traditional soulful Portuguese music, we have dinner at the Adega do Ribatejo in the Barrio Alto, which a local journalist recommends. The neighborhood is a jumble of restaurants and bars that fold onto the pedestrian street. Think of it as the left bank of Paris.
This restaurant is a small unassuming place where you find seats at long tables and local people take turns singing the mournful fado, making it more genuine than the professional dinner shows. As our journalist friend advised us!
There is quite a different mood the next evening at the Pestana Palace, which once was the sumptuous 19th-century residence of the Marquis of Valle Flor. We are having dinner there, but arrive a bit early to walk through the rooms.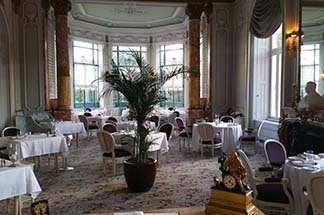 It is like visiting a royal palace. With painted ceilings (those ubiquitous cherubs!) and intricate chandeliers. But a living palace, with a pianist playing classical and jazz tunes in one of the room.
Then to the elegant dining room, with tables set apart for privacy. We ask Maitre d' Carlos Eduardo Castro Lopes to bring wine pairings for our dishes, and he does it with great ability.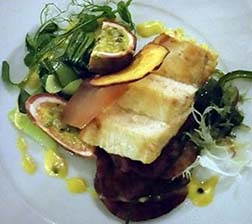 Salmon with spicy rich mango and soy goes perfectly with subtle smoky Alvarinho, which is from Minho, in the north of Portugal. A Carm Douro Reserva, a little flinty, is fine with a fish soup.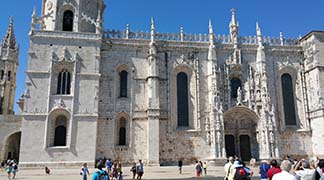 Swordfish comes with a sauce made of passion fruit! Fruit is the perfect flavor accompaniment to fish. And an Alentejo wine from the south of Portugal seems made for it. For the very nice slightly spicy veal, I like the Santos da Casa wine.
Another day we visit Belem, which is at the mouth of the River Tagus. Its Manueline architecture is connected to the 15th-century period of exploration. Manueline is Portuguese very ornamental late Gothic, influenced by the design of Indian temples brought by the explorers. The imposing Manueline monastery of Jeronimos is an easy tram ride from our hotel.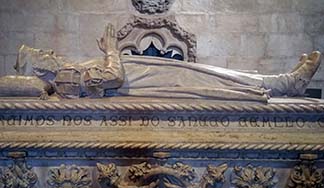 There's a wonderful historic moment in the monastery when you see a tomb topped by a sculpture of Vasco da Gama, someone we all know from high school world history! He discovered a sea route to India, landing in Calcutta in 1498. The pepper, cinnamon and other spices he brought back meant riches for Portugal.
We want to see the Tower of Belem, listed to be open till 6, but when we get there at 5:05, we learn that entrances have just been stopped! But it's charming from the outside.
And then Sintra and Cascais
We have rented a car so we can go from Sintra to Cascais the same day. It's also easy to visit Sintra and Cascais from Lisbon by train. With a car you have to deal with parking, though pay parking is available. But there is traffic! With a train, you have to deal with schedules, though local buses take you to the major sites in Sintra from the station. Cascais, the beach resort, is small and easy to walk around. Go to Sintra and the beach on weekdays, not week-ends!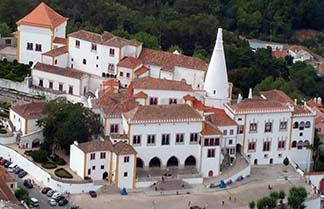 Sintra's forest setting made it a favorite place for royals escaping the summer heat. The National Palace of Sintra, dates to the 13th century, then to the 14th and 15th, updated as the royals were wont to do.
The interior is Moorish and Manueline. The magpie room has magpies painted on the ceiling. The kitchen, with its huge spit, is terrific. The palace is, of course like many of the royal abodes, full of gorgeous paintings.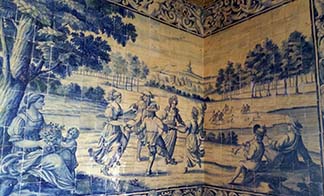 My favorite room is the one with the azulejos, the blue tiles for which Portugal is famous.
From there, we drive to the Pena Palace. It was built in the 19th century by Ferdinand of Saxe-Coburg-Gotha for his wife Queen Maria II (how tacky they were!), and he looks over it as a statue. It is filled with his collectables and became a national museum after the royals lost out in 1910.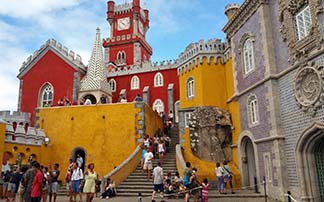 The Pena Palace is said to be what inspired Disney to create the castles of his fantasy kingdom. Onion domes, crenelated towers. It certainly is kitchy!
We have time to stop at the stone remains of a 9th century Moorish castle and watch others climb the stone stairs to the top!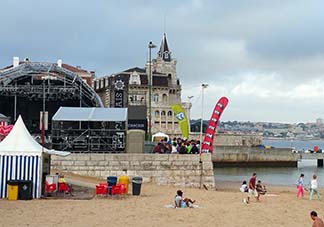 And then to Cascais, a beach resort for over a century and a favorite suburb and week-end place for Lisbon residents. Small, easy to handle (and park!), a beachfront, cafes, an out-door music venue with a free concert ready to play that evening. Nice, relaxing to pass by and spend an hour or so to get a sense of the place. It touches the Atlantic Ocean at near the western-most point of the continent. We toast that with some good Portuguese wine.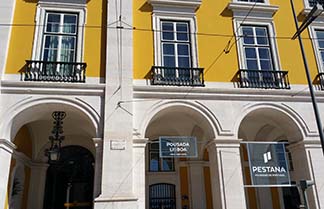 If you go
Lisbon
Pousada de Lisboa
Praça do Comércio 31-34
1149-018  Lisboa
351 218 442 001
reservas.portugal@pestana.com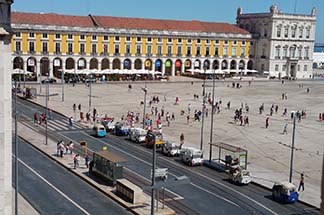 Adega do Ribatejo
Rua do Diário de Notícias 23
Lisboa
351 213 468 343
Pestana Palace Lisboa
Rua Jau, 54
1300-314 Lisboa
351 210 401 712
reservas.portugal@pestana.com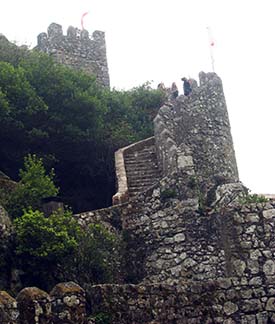 Belem
Monastery of the Jeronimos
Take tram 15 from Lisbon
Take train from Lisbon to last stop, Portela de Sintra.
Lots of walking and climbing on steep stony paths. Wear sneakers or thick-soled sandals or shoes. Thin sandals discouraged! Ladies' heels, forgetaboutit!
Lisbon Tourism Office for information about Lisbon, Belem, Sintra and Cascais.
Rua do Arsenal 15
Lisbon
351 210 312 700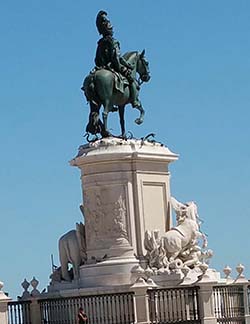 A block from Praça do Comércio, past the Pousada and across the street.
Guidebooks
I love the Eyewitness Travel series for its detail and color maps and photos. It's "Portugal" is no exception. All you want to know about important sites, hours and fees, background information. These books are the gold standard.
Lonely Planet's "Portugal" has the site information and is also very good about helping you get around, inserting where to eat and entertain yourself, including local festivals and events.
Photos by Lucy Komisar.