by Lucy Komisar
Planning a visit to our cousins, the Brits. In London, there are several main areas best to stay in. Most convenient is the West End — known as Theatreland. You can move further west and live near one of the big parks or squares — Green Park, Grosvenor Square, Hyde Park or Kensington Gardens. Or you can choose to be in Knightsbridge, Chelsea or Kensington, the trendy areas that are minutes from downtown by tube and have the flavor of an upscale Greenwich Village and Upper West Side. I checked out hotels in each of those neighborhoods.
The Radisson Edwardian Hampshire
You can't find a more perfect location for the theater than the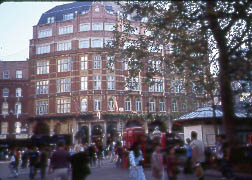 Radisson Edwardian Hampshire in the very heart of Theatreland. It looks onto Leicester Square, with the half-price theater ticket booth. The street that continues off to the east is a pedestrian way of outdoor cafes featuring Chinese, Tibet, Italian, and Indian cuisine as well as cappuccino. The hotel's own Oscar's Cafe sits in front, a perfect place for people watching.
Inside the hotel is a charming wood-paneled warren of lounges and sitting rooms. Some of them, intimate nooks with couches and pictures on the wall, have more the feeling of private living rooms than hotel public spaces. They are the prefect places for English tea and sandwiches. The lobbies and elegant large rooms are decorated with favorite Victorian memorabilia, including Oriental vases and boxes.
The hotel is partners with the Society of London Theatre and offers free and discount play tickets in packages booked through travel agents.
Radisson Edwardian Hampshire, 31-36 Leicester Sq., London WC2H 7Lh, 171 839-9399, fax 930-8133, tube Leicester Square.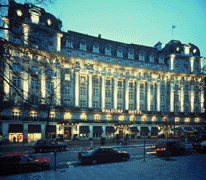 The Meridien Waldorf, on Aldwych, at the edge of Covent Garden and surrounded by theaters and small streets dotted with cafes, has a pretty French feel, with green awnings, white stone and column facade, wrought iron balconies. Inside, banking the white marble stairs, are portraits of King Edward VII and Queen Alexandra.
The intimate plum-colored reception room has a rack of newspapers to take or read and the bar is fitted with wood-paneled walls and leather chairs and couches that make it seem like a club. Everywhere, there are old Edwardian photos and paintings. The beautiful palm court restaurant is decorated in pale green and white marble .
Just a few minutes walk and you're at the Royal Opera and Covent Garden, the large pedestrian square filled with outdoor cafes and shops.
Meridien Waldorf, Aldwych, London, WC2B 4DD, 171 836 2400, fax 836 7244, tube Holborn or Temple. (Note, this is now a Hilton Hotel)
The Athenaeum, one of the small luxury hotels of the world, is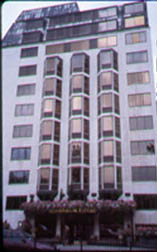 on Piccadilly, just east of Hyde Park and across from Green Park, a short walk from Buckingham Palace.
The Athenaeum gives you a sense of elegant private living. Yes, there's a proper glass facade with a doorman in cutaway and top hat, but there's an intimate reception, with a bowl of apples on the table and a feeling of calm. Brown tortoise shell doors (the same motif is on the reception desk) make even the hallways stylish, and inside, the rooms have yellow and white striped wall paper, period furniture, Paintings and drawings of the time and, black and white marble bathrooms, The Apartments, an Edwardian townhouse, have a separate entrance through a white Georgian style door topped with a pedestal.
The best amenity: a free computer and printer room.
In season, the Athenaeum offers a package that includes tickets to Shakespeare's Globe.
The Athenaeum Hotel, 116 Piccadilly, London W1V 0BJ, 171 499-3464, fax 493-1860, tube Green Park.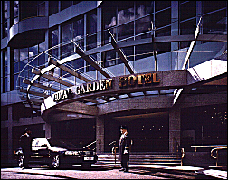 This is a large world-class hotel at the southwest corner of Kensington Gardens. It's walking distance from Albert Hall, famous for the summer Proms concerts, and a ten-minute stroll to summer concerts in the park. From a high room, you wake up at dawn with a view of clouds and light coming over the park and the sight of the spire of the Albert and Victoria Memorial and the dome atop Royal Albert Hall.
It's in the fashionable neighborhood of Kensington, with designer shops, antique stores and, down the street, neighbors that include Princess Margaret, the Duke and Duchess of Kent, and the Sultan of Brunei. From the ground-floor restaurant, you can look onto their street, Kensington Palace Gardens, but you can't drive on it without a permit. If you hear police cars, it's the Queen going to visit her sister.
The Royal Garden has its own connection to drama. It's a sponsor of the National Youth Theater, and it arranges performances of Cockney dance hall players in a private dining room.
Royal Garden Hotel, 2-24 Kensington High Street, London W8 4PT, 171 937-8000, fax 361-1991, tube Kensington High Street.
The Britannia at Grosvenor Square in Mayfair is a traditional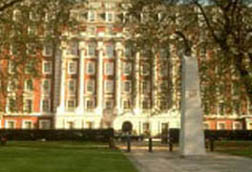 Georgian building of red brick and high white columns that seems more like a mansion than a hotel. Indeed the Duchess of Kendal lived here in the 18th century, and it was the site of the announcement of Wellington's victory over Napoleon.
It's still a political neighborhood. Just left, catty-corner across the square, is the US embassy, and on the path through the square is a plaque that commemorates the Treaty of Paris 1783.
The Millennium Brittania, Grosvenor Square, Mayfair, London W1A 3AN, 171 629-9400, fax 629-7736, tube Bond Street. (Note, this is now called the Mayfair.)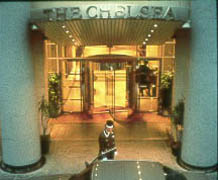 The Chelsea on Sloane Street in trendy Knightsbridge is a modern gray and beige concrete and black marble construction. Its steel staircase winds up a three-story glass atrium in a lobby with huge floor-to-ceiling gold-framed mirrors and black granite floors.
The lobby has more black marble set off by silver and modern black leather and wine chairs that give an art deco feel. With drinks you can order dim sum. The rooms echo the same modern feel.
This is chic, expensive London. Next door is Gucci, across the street is Cartier, and not far away is Armani, Chanel and Valentino. You can smell the oil money. Down the street there's a simple but charming French cafe in case your well runs dry.
Chelsea Hotel, 17 Sloane Street, Knightsbridge, London SW1X 9NU, 171 235-4377, fax 235-3705, tube Knightsbridge. (Note, this is now called The Knightsbridge Hotel.)
Perfectly located at the Gloucester tube in Kensington, Bailey's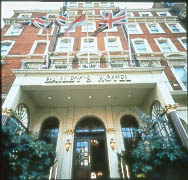 dates to 1876. The hotel is red brick and white Bath stone in characteristic Victorian design. An American tourist guide of 1891 praised its cozy, homelike atmosphere, which is enhanced by the rich and substantial surroundings. Indeed, that's still there, along with a charming sense of the past throughout.
The interior still has marble pillars, old stained glass windows, a grand wrought iron staircase that sweeps up five floors, and Victorian plaster work of the sort you see in Buckingham palace.
The reception lounge is like a living room, with couches piled with pillows, old paintings on the wall, and books stacked on an end table. Many of the 500 volumes in the lounge and guest rooms are antiques, some originals from the mid-1800's. Everyone is invited to borrow them.
And, to add to the sense of home, electric kettles in the rooms heat water for the coffee and tea that is thoughtfully provided.
Millennium Bailey's, 140 Gloucester Rd, London SW7 4QH, 171 373-6000, fax 370-3760, tube Gloucester Road.
Photos by Lucy Komisar