By Lucy Komisar
Pacific News Service, Nov 14, 2001
When tracking down the terrorist money trail, Washington will inevitably wind up in Switzerland. Swiss banks have long been used by shady characters worldwide to launder money. One of them might be a good starting point for U.S. investigators seeking terrorist funding sources and illicit bioweapons trade.
Geneva–To protect America from terrorist attack, the United States must investigate illicit trade in biological weapons and trace the movement of terrorist money. A good starting point is a controversial Swiss bank that may have facilitated the sale of hazardous biological materials to Islamic militants.
The bank, Banca del Gottardo in Lugano, appears to have handled one or more sales from a known Russian biological weapons producer to a Swiss company with links to several radical Islamic groups.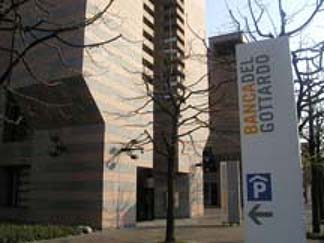 The bank denies involvement, and no document has appeared which might confirm an illicit bioweapons trade. Nevertheless, an examination of documents here, interviews and other sources raise enough red flags to suggest that those tracing terror money might look closely at such deals.
A December 1993 list of contracts with the Interplastica company obtained by this reporter lists a $20 million purchase of injectables by Biopreparat, the Russian state developer of biological weapons. According to two former Soviet Biopreparat insiders, bioweapons production at the plant was hidden under the cover of pharmaceutical work.
Dr. Vladimir Pasechnik, who was the administrative head of Biopreparat, defected to Britain in 1989 and revealed to British intelligence the true nature of Biopreparat. Dr. Kenneth Alibek, a former deputy director of Biopreparat who also defected and came to the United States in 1992, told the same to the CIA.
Biopreparat since at least 1973 carried out offensive biological weapons research, development and production. It produced and stockpiled hundreds of tons of anthrax and dozens of tons of plague and smallpox.
Interplastica is registered in Switzerland as an engineering and trading company dealing in chemicals and plastics. Founded in the 1960s, it specialized in helping the countries of the East bloc pierce Western embargoes.
From the early 1990s, the Banca del Gottardo exercised control over the indebted Interplastica through bank official Franco Peduzzi, according to a source in Switzerland familiar with the bank's operations. A fax message accompanying the list of contracts is addressed to Franco Peduzzi at the bank. In a phone call, Peduzzi denied knowledge of the company.
A September 1994 fax to the bank indicates that the Banca del Gottardo handled what appears to be another Interplastica deal with Biopreparat. The memo notes that for our friends of Torola, 'Biopreparat' deposited through 'Interplasticaš' two cont. of 20 kg of material in the security box of the bank. P. Mamaladze advised — ready for transaction [of] 'bonds.'
Torola is a shell company registered in Lugano and run by several individuals of Georgian and Yugoslavian origin. One of them, Paata Guramovich Mamaladze, was identified by a source familiar with the contracts as a Georgian arms trafficker.
The rest of the document purports to be about trade related claims against bonds. Biopreparat is not in the business of bond trading. The phrases referring to bonds are set apart in quotation marks throughout the document.
Franco Rogantini, spokesman for the bank in Lugano, said a bank investigation showed no record of any commercial dealings with Biopreparat. The bank denied having knowingly entered into business with weapon producers and traders.
The Banca del Gottardo has already been the object of legal inquiries in a Russian corruption and money-laundering case. A Swiss investigative magistrate accused Pavel Borodin, who managed Russian state property, of skimming $30 million from Russian government construction contracts. The Swiss dossier details how Beghjet Pacolli, a native of Kosovo and head of the Mabetex construction company, funneled payoffs to Borodin and other Russian officials, including Russian President Boris Yeltsin and his daughters.
The Banca del Gottardo held accounts for Borodin and other alleged culprits and moved money through its branch in the offshore secrecy haven of the Bahamas.
Pacolli ran Interplastica, and Pacolli is linked to radical Islamic groups. Pacolli finances the radically anti-Serb newspaper Bota Sot, based in Zurich, which has been condemned for sowing hate, intolerance and strife by the head of the Kosovo mission of the Organization for Security and Cooperation in Europe. Through the Fund for Reconstruction of Kosovo (FORK), in Lugano, he finances the Kosovo Liberation Army, or UCK, (known in the West as KLA) described by Robert Gelbard, America's former special envoy to Bosnia, as Islamic terrorists. Europol (the European Police Organization) says the UCK is involved in drug and weapons trafficking, prostitution and illegal immigration.
Attempts to reach Pacolli through phone and e-mail messages to his Lugano headquarters, his Swiss residence, and Mabetex offices in Florida and Albania yielded only an e-mail response from Lugano: Mr. Behgjet Pacolli worked for Interplastica till 1990 and there is absolutely no relation with what you mentioned in your e-mail. He does not know anything about it because he has left the company [a] long time before. Thanks for taking notice.
Interplastica is now in the process of liquidation. Renzo Peduzzi, listed in the government registry as a member of its board, refused to take a phone call.
Banca del Gottardo President Claudio Generali is a leader of the Radical Democratic Party, which governs Switzerland. The bank appears to enjoy protection from serious official scrutiny. Washington should encourage Swiss authorities to investigate.