By Lucy Komisar
Paris has always been stimulating to the artistic soul and also a little outrageous – think of how the establishment reacted to the Impressionists, not to mention the Cubists and Surrealists! There are two edgy museums with art that pushes the most controversial boundaries – sex and politics. And both also defy the staid notion that museums are only for solemn daylight viewing. They are he Museum of Erotic Art in Montmartre, open till 2 a.m. and the Palais de Tokyo near the Arc de Triomphe, open till midnight.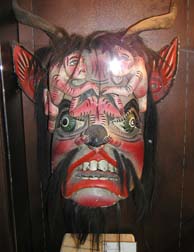 To complete the experience, you can stay in an artistic hotel, the stunning Art Deco Millennium Paris Opera, of an era (1919-1939, the years between the wars) when challenges to traditional views about art were very much in vogue.
The Museum of Erotic Art on the Boulevard de Clichy near the Moulin Rouge in Pigalle – the old red light district — has been open only since late 1997. Three friends created it out of their personal collections, and one of them, antiques dealer Alain Plumey, became the curator. The sensibility of the seven floors that house 2,000 erotic paintings and objects is a tribute to the owners' extensive interest and high taste. This well-lit and intelligently organized venue, with marble stairs and glass cabinets, is not a place for the people who go to x-rated movies, but rather for patrons of art and anthropology.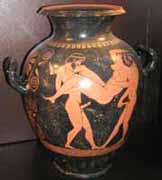 Greek vase at the Museum of Erotic Art in Paris. Photo by Lucy Komisar.
The erotic scenes exist on pottery from Peru, the Aztecs and the Greeks and on African woodcarvings. Sexual arousal is the focus of sculpted figures from Thailand and Nepal, figurines from Japan, masks from Mexico, and paintings from India. The oldest works are from the 2nd century. There are western items such chastity belts and photographs of 19th century brothels. On the modern side, there are erotic cartoons and works of art by contemporary artists.
The museum also features temporary exhibits drawn from private collections. Most of the 170,000 visitors a year are tourists — couples and traveling companions. On the evening I was there, I saw not one lascivious-looking character in the lot! And it's not a place where anyone will bother you: people act as they do in any other museum. The location in the red light district seems almost odd; some exhibits are titillating – there are some old x-rated videos of bygone eras that are more curious than pornographic – but most of what you'll see is art, on a theme that has admittedly fascinated artists and everyone else since time began.
Perhaps the second-most popular topic in the world is the subject of the exhibit I saw at the Palais de Tokyo: politics. The Palais building is typically impressive stone Parisian grand on the outside, but with a hint of seediness. It was built for the International Exhibition of 1937 and took its name from the Avenue Tokyo which existed there at the time. In January 2002, by decision of the Ministry of Culture, the building took on its new life as a site of contemporary creation directed by two young men, Nicolas Bourriaud and Jérome Sans.
Their philosophy is active and interdisciplinary, bringing together visual arts, design, literature, music, dance, video and cinema. Appealing to the late night audiences who frequent those arts forms, the museum is open daily, except Monday, from noon until midnight. And there's a café for food and talk.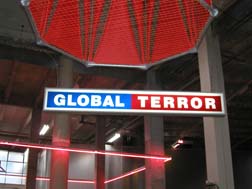 Inside, the palace more like a giant loft or airplane hangar than the typical soigné art space. There's lots of hanging neon (Global Warming, Global Terror) and in-your-face avant garde.
You enter to pulsating pop music and first move through tables of products that promote war and other disagreeable pursuits. You are soon enveloped by a space separated by large pink, purple, and salmon screens fitted with mirrors where you can sit as at a dressing table and confront over-sized pots of yellow, pink, and greenish blue lipsticks. One looks like a giant nipple. Suddenly, there is the video of a woman with lipstick all around her face, on her mouth but also on her cheeks, as if it were a band that locked her in.
A little way beyond that is a walk-in box with a sign warning, Don't do it at home and a painting of a man with a black ski mask over his head. Nearby is a sculpture of two huge steel-gray eyes. Further on there's a giant straw, folded over dozens of times. The zone Hardcore: Toward of New Activism is off limits to kids under 18. But this isn't the kind of hardcore you see in the erotic museum. Hardcore here is political, not sexual. As Jérome Sans expressed it, the exhibit reflects the way the artists infiltrate reality, occupy the ground of the topical and express raw truth with a verbal and visual virulence that uncovers and smokes out political demagogues.
Masked ball by Kenndell Geers, Palais de Tokyo. Photo: Lucy Komisar
A collection of soccer balls is painted with the faces of famous politicians-Clinton, Putin, Castro, and others. Called with a pun, Masked Ball, it is by South African Kendell Geers. Two young women stood grinning, wondering if they were supposed to kick the painted spheres.
A chilling roster of dozens of bad guys by Jota Castro – The Mother Fuckers Never Die – named famous Nazis, evil dictators, and a collection of western political figures the artist puts in their category — Osama bin Laden and Saddam Hussein, but also Augusto Pinochet and Henry Kissinger. Art critical of the U.S. government is not new. It's was the subject of a major exhibit at the Whitney Museum in New York.
Pure murder, by Minerva Cuevas,Palais de Tokyo.Photo: Lucy Komisar.
A piece that would fit well there is the Tokyo's Pure Murder, by Mexican artist Minerva Cuevas. It is a huge painting of a can of Del Monte tomatoes, but it's not what Andy Warhol would have sketched. The red of the fruit flows off the wall and onto the floor like blood. The piece is an attack on the CIA for promoting a coup that in 1954 toppled the elected government of Guatemala and scuttled that country's attempt to nationalize the United Fruit Company.
The museum's websites, by the way, are also artistically aggressive. On the first, there's a curious swarm of moving boxes that follow your curser. Click on enter and your screen fills with black. The title in the url is gris, which means gray. And that is all you'll get. You can't get out. A second url leads to internet music, art and video exhibits. Another takes you to the hardcore show, which is now closed.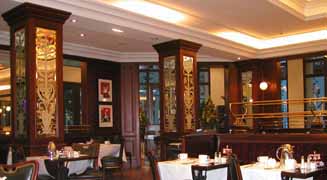 Millennium Hotel Brasserie in Paris. Photo by Lucy Komisar.
After all that in-your-face experience, it's nice to relax among the fine, subtle art that is Art Deco. In Paris, you don't have to do that in a museum: the Millennium Paris Opera is not just a hotel, it's a work of art. On the Right Bank not far from the gloriously Neo-Baroque Opera, it was built in 1927 just as Art Deco exploded on the world.
Art Deco was introduced in Paris in 1925 at the Exposition of Modern Decorative and Industrial Arts — Arts Decoratifs et Industriels Modernes — shortened to Art Deco. The style spread through Europe and had great success in the United States. Art Deco was marked by stylized or abstract design, with streamlined, straight lines. Ivory, tortoiseshell, chrome and aluminum were popular materials, along with what you see at the Millennium Paris Opera: Tiffany colored glass, round gaslight globes, white cutout forms on mirrors in the Brasserie, a mosaic wall design in the library, black iron grillwork on the fa§ade and old-fashioned black, gold and white typically Parisian elevator cages. In Paris, art can be luxuriously comfortable as well as an assault.
If you go
Musée de l'‰rotisme/Museum of Erotic Art 72, boulevard de Clichy 75018 Paris Metro: Blanche Daily 10 a.m.-2 a.m. Admission: $7.80 adults; $5.50 students Tel: 33 (0)1 4258-2873 Fax: 33 (0)1 4208-0190 (you must dial the 0 from anyplace in France, including Paris)
Palais de Tokyo 13 avenue du Président Wilson (opposite the Museum of Modern Art of Paris) 75016 Paris Metro: Iléna Tel: 33 (0)1 4723-5401 Tuesday-Sunday, noon-midnight; admission $5 Lounge and restaurant. http://www.palaisdetokyo.com/ http://www.palaisdetokyo-2.com/ http://www.palaisdetokyo.com/hardcore
The exhibit described has been replaced by new works.
Millennium Paris Opera Hotel 12 Boulevard Haussmann 75009 Paris Metro: Richelieu Drouot Tel: 33 (0)1 4949-1600 Fax: 33 (0)1 4949-1700 sales.opera@mill-cop.com singles and doubles from $178, depending on season http://www.millenniumhotels.com/