By Lucy Komisar
Hemingway's ghost hovers over an annual confab of literati from all over the U.S. who meet every January in Key West, Florida, for a seminar that has become so successful that some years it closes out early.
The Key West Annual Literary Seminar has been going for 22 years, drawing writers, writer wanna-be's and fans to hear novelists, essayists and playwrights talk about literary themes and also about how they work. Each year, there's another topic; past seminars have focused on the memoir, the novel, the natural world, science, and journalism. There are how-to workshops as well.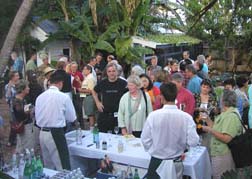 I was in Key West in January 2004 when the theme was "Crossing Borders," about the immigrant voice in American literature.
In between meetings there was a round of garden parties and gallery and museum receptions where you can meet and interact with the writers and guests. This makes it a good event for people attending alone, since they'll fit readily into a social scene of several hundred colleagues.
I'll leave the literary criticism aside and just describe what it's like to be there. The social side started out with wine and cheese at the Lucky Street Gallery along with an exhibit on the seminar theme by Key West artists.
Then I attended a gala reception in the garden of the Wrecker's Museum, the oldest house in town, built in 1839 in seafaring style. A major event is the Saturday Night Gala at the Old Customs House which now houses the Key West Art and Historical Society. Guests, including novelist Amy Tan, a featured speaker, enjoyed the art, chamber music and conversation.
Museum director Claudia Pennington chatted with Stanley and Judith Zabar of the gourmet food emporium.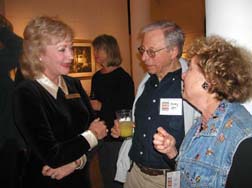 Think of this as Hamptons-South. The beaches are sandy, and you can get to them by bus or rented bike.
It was my first time in Key West, and I wanted to check out some of the historic attractions, starting with the home of the island's muse, Hemingway. (By the way, Robert Frost and John Hersey lived in Key West, too.)
Hemingway lived on the island from 1931 to 40, and his house is now a museum.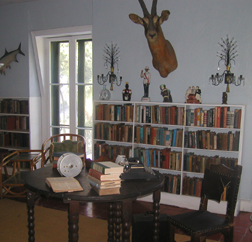 It is a gallery of Hemingway's amorous adventures as well as a home for dozens of cats, all allegedly descended from his also evidently amorous "Snowball."
You can see the room and writing desk where Hemingway worked and from his days in Cuba, with the big fish he caught as well as his big-fish friends.
The tour guide pointed out a photo of Joseph Kennedy, the father of John, who he described as "the biggest bootlegger."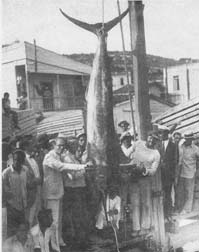 "Joe Kennedy was in Cuba," he noted. "It was the days of prohibition: you can take it from there. Every bottle of Scotch from England to America had a Kennedy tariff on it." Kennedy would be named ambassador to Great Britain. Then as now, big money washes itself, and we had the best ambassadors money can buy.
Then to another brand of politics: I visited the Little White House or Truman Annex where President Truman stayed as often as he could. Here he wrote what was then major civil rights legislation, penning an executive order banning race discrimination in hiring by federal contractors.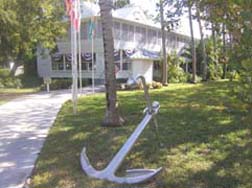 At night, he'd play poker with his friends. The house sat on a U.S. Naval base, but now is preserved in a private housing development of expensive condos and coops. In April 2001, Secretary of State Colin Powell chose the Little White House as a site for peace talks between the presidents of Azerbaijan and Armenia, also hosting 100 delegates representing the U.S., the European Union and Russia.
It you forget that Key West is Caribbean, you will be reminded by the Bahama Village, where blacks who trace their origin to the Bahamas have lived for 100 years.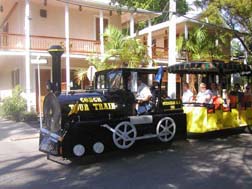 As you travel there and through the historic district, you'll see clapboard houses painted white and canary, which is the original Key West Conch housing style. View them and the other sights via the Conch Tour which takes you around town in an open-air train with a very good running commentary.
Where to eat? Two favorite places were Blue Heaven and Kelly's. Blue Heaven at 729 Thomas Street in Bahama Village is an island favorite, with Caribbean cuisine served indoor or in the dirt-floor garden. Ignore the roosters walking around; they won't be served. My choice, Jamaican jerk chicken.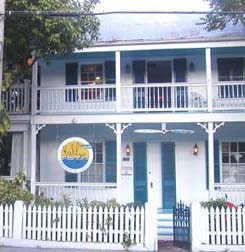 Kelly's Caribbean Bar and Grill is in the building that housed the first office of PanAm airways which ran the world's first international flight, Pan Am #1 to Havana. You can eat Caribbean specialties such as apple chicken and blackened fish indoors or on the outdoor patio. I had a delicious yellow tail snapper.
If you go
Key West Literary Seminar (888) 293-9291.
Ernest Hemingway Home and Museum, 205 Whitehead Street. (305) 294-1136.
Harry S. Truman Little White House Museum, 111 Front Street. (305) 294-9911.
Blue Heaven, 425 Grinnell St. (305) 294-1117.
Kelly's Caribbean Bar and Grill at 301Whitehead Street. (305) 293-8484.
Guides and tourist information
"Miami and the Keys," Eyewitness Top 10 Travel Guides, $10. A quick guide to the best beaches, bars, restaurants, and snorkeling and other sea sport centers.
Tourist information: Florida Keys and Key West Attractions