By Lucy Komisar
If you are going to London, there's a very modern theater you should visit. It's not in the center of the city; it's in Hampstead in north London, the intellectual heart of town. Or at least that's the neighborhood where a lot of writers and theater people live.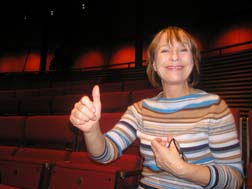 Giving honor to place, the theater is called the Hampstead Theatre, and its recent incarnation is the creation of Jenny Topper, artistic director from 1988 until 2003. She was the first woman to hold that post.
This is a sophisticated theater which specializes in plays by modish, clever young writers. And it's just 12 minutes from the center of London by tube.
When I visited, I saw a rather bizarre, very English play, "The Safari Party" written by Tim Firth and directed by Alan Ayckbourn, a prominent playwright himself, about a collection of middle-class Londoners planning an exotic trip. It was a lot about class and dysfunctional people, and to get the inside jokes, it helped to be from that side of "the Pond."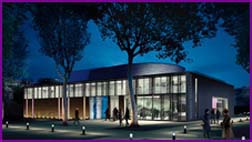 However, some of the other works Hampstead has launched or run are accessible enough to have play in New York, where I saw them: "Smelling a Rat" by Mike Leigh, "Fastest Clock in the Universe" by Philip Ridley, and "Dinner with Friends" by Donald Margulies. The theater has also featured works by Michael Frayn, Brian Friel and the late Joe Orton. Its plays have starred such important actors as Eileen Atkins, John Malkovich, Stephen Rea, Zoe Wanamaker, and Corin Redgrave.
The theater's new design is a stunning architectural marvel, sheathed in silvery zinc set off by concrete slabs and timber strips. But the functional aspect is equally inventive. Jenny Topper explained that that old Hampstead Theatre had 200 seats, and she wanted one that would hold that many but also twice the number. Very successful plays from Hampstead could go to the West End (London's Broadway), but if a play was popular but not quite West End, the old theater could not accommodate larger audiences at home. The local town council wouldn't give her land to build out, so she razed the old theater and expanded with technology.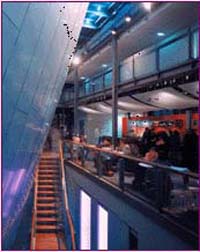 The new theater can shift from 140 to 325 seats. She explained, "It's all on air cushions. The first six rows can come out in blocks of two. You can swivel them and have a theater in the ellipse [not round!]" This is important, she says, because, "Young contemporary playwrights write vivid dialogue, and the closer you get the audience, the more they buy into the situation. The back rows disappear into a back wall."
There's also a small 80-seat lower-level theater for more experimental works and for teaching.
The Hampstead Theatre is fun to visit not only for the plays and stunning design, but for the inviting bar-dining room (with light sculptures) which is set up so that people move around it as if they were at a party. It's a good place to meet interesting Brits.
Hampstead Theatre
Swiss Cottage, South Hampstead
Tube: Jubilee line to Swiss Cottage or Metropolitan line to Finchley Road. Local parking.
Box Office 44 (0)20 7449 4201
http://www.hampsteadtheatre.com/
Bar/restaurant open from 10 am – 6 pm Monday – Friday, serving food and drinks..
Some performances are sign language interpreted, audio described or captioned. Fully accessible access and facilities for wheelchair uses, blind and deaf. Guide dogs allowed.