Some tips for riding the rails.
By Lucy Komisar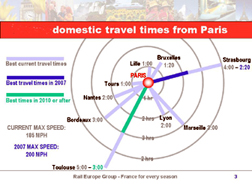 In February, I attended a New York press conference sponsored by the French National Tourist Office. One of the speakers, Fabrice Morel, president of Rail Europe Group, told us that French trains were picking up so much speed that Marseilles and Bordeaux were now only three hours from Paris.
Before the Paris-Marseilles service started in 2001, the new faster equipment was tested on a speedy Calais to Marseilles trip – the full length of the country — that clocked the 1067 km journey at a record 190 miles an hour for 3 and a half hours. It set a new world speed record for the first time a high-speed train covered such a long distance without stopping and maintained a speed of over 300 km/h. It's very much a TGV, train   grand vitesse (train of great speed).
The distance from Paris to Marseille is about the same as that from Boston to Washington. The fastest train on Amtrak takes 6 1/2 hours, more than double.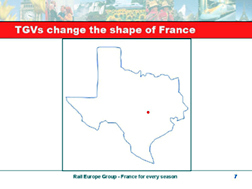 After the briefing I chatted with Monsieur Morel, a stylish fellow in a black and white striped shirt who intersperses his serious talk with quips and even a "ringer" in his Powerpoint presentation. What was this doing there?
Well, seriously, why are the French trains so much faster than the American ones?
It's because U.S. trains don't go non-stop between major cities. Amtrak doesn't take passengers without stopping from New York to Washington, he explained. It has to halt at every little state capital (Trenton? Wilmington?) because of the influence of members of Congress.
I might add that the auto lobby makes sure most money goes to roads and not to mass transit, so the tracks are technologically obsolete and in disrepair. After making all the intervening stops (six between N.Y. and D.C.) on a track that's not even built for modern high-speed trains, U.S. rail transport is left chugging far behind.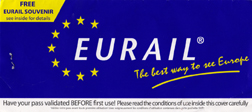 Not so in Europe, where trains are fast, and getting faaaaster.
If you want to experience modern Europe, you have to go by rail. And depending on how many cities you are visiting, you could do very well by getting a RailEurope pass for cut-rate travel. I used one last fall.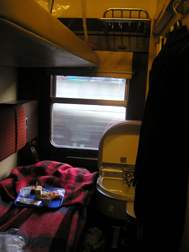 The RailEurope's Eurail Selectpass is good for 3, 4 or 5 bordering countries for five to fifteen travel days any time in two months.
Here's just a week of my trip. I traveled between cities in Italy and Switzerland. I went from Rome to Lausanne on the overnight-train. If you leave in the evening and arrive the next day, that's counted as a single day.) You should make advance reservations, but I didn't because I wasn't sure of my departure date and then missed the 24-hour cutoff. No problem. The train was waiting on the track. I went to the conductor, showed my RailEurope Eurail pass, and was assigned to a sleeper. (It helped that I chose Saturday night, not the highest week-end travel date.)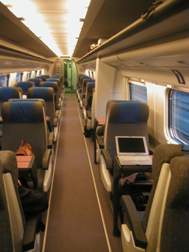 In first-class, you get a three-bunk compartment, and it turned out that I had it all to myself. There was a washbasin with running water, a hanger to keep my clothes unwrinkled, and a very clean toilet at the end of the car. I was served breakfast before departing fresh into the Swiss morning. Plus it was fun lying back and gazing at the passing scenery!
A few days later, I traveled Geneva to Milan. Again, I didn't make reservations, because I wasn't sure when I would leave. It wasn't a problem. There are lots of Geneva-Milan trains. And unlike when you travel by plane, you don't have to arrive very much in advance. I'm a ten-minute-person!
I loved being able to plug in my computer!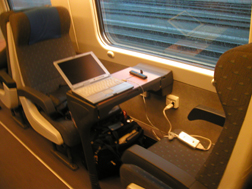 After a few days in Milan, it was on to Rome. Again, no reservations! Though the ticket agent said the train I wanted was booked, the rail official standing at the track to Milan told me not to worry. He said, "When the train arrives, just talk to the conductor." Sure enough, I got an empty seat.
Tip: Don't believe agents who tell you trains are booked. Go to the track and speak to the conductor. Maybe someone who had booked and was listed in the computer didn't show up somewhere along the way. Very likely you will get on! My advantage of course was having a RailEurope Eurail pass. I never had to stand in line to buy tickets so I could catch the next available departure.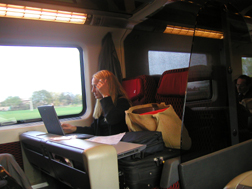 On the train from Milan, I noticed I wasn't the only one who appreciated the electric plugs.
RailEurope's Eurail provides a discount deal on the 2 1/2 hour Paris-London Eurostar train that spends 20 minutes in crossing the Channel in the "Chunnel." Some track work on the British side made the train even faster than its original record time. Two-thirds of the rail or air passengers between London and Paris now go Eurostar – over seven million last year. (And there's wifi access in train stations on both sides.)
For traveling in Britain, you should sign up for the BritRail pass, which is good all through the isles at great savings over regular fares. Choose between all of Great Britain, England only, and consecutive days or FlexiPasses that allow the travel days to be taken any time in two months.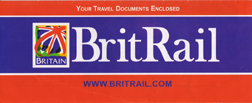 The pass is also good on the train from Heathrow Airport into Paddington in Central London, a speedy 15-minute ride. On my previous trip to London, I decided to take the tube. But the nearest underground wasn't running, so I had to wait on line with dozens of others for hastily ordered buses, then change to the underground and drag a heavy case up and down stairs. It took about 90 minutes! Not what one wants after spending hours on a plane. On this last trip, the elegant comfortable train, with travelogues on video screens and wide, comfortable seats, was just what my tired body needed.
People departing or arriving on one of the discount planes that serve the continent can take the train between London and Stansted, an hour north of the capital. That's where I picked up a cheap Ryan Air trip to Rome.
There are BritRailpasses for day-trips from London. By the way, if you're spending at least several days in London, get the central zone Travelcard, a big savings over single fares.
If you want to know what the 21st century looks like, get out of the clouds and ride Europe's rails!
RailEurope
www.raileurope.com
888-382-7245
800-EUROSTAR
Starting at $195, with discounts for couples, groups, over 60, under 26
$229 for 4 days of 2nd class, $263 for first class travel within two months
Check the website for many other deals.
BritRail
www.BritRail.net
866-BRITRAIL
Starting at $149, with discounts for over 60 and under 26.
$239 for 4 days of 2nd class, $349 for first class travel within two months.
Check the website for many other deals.