Where to stay, where to eat
By Lucy Komisar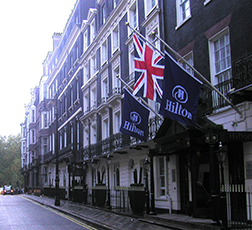 London has so many moods, so many fa§ades, it could be dozens of different cities. I had recently stayed in the West End theater district and in trendy Kensington. Now I turned to investigate places that appealed to two very different kinds of visitors: business people and intellectuals.
For the first, I chose the Hilton at Green Park, a favorite for business travelers, and Threadneedles' Bonds Restaurant in the City of London financial center. For the second, I headed for Bloomsbury, site of the British Museum and the University of London, stomping grounds of the famed Bloomsbury literary group, where the Thistle Bloomsbury and the Imperial Hotel offer very different atmospheres.
The Hilton London Green Park in Mayfair is one of those London inventions, a hotel made up of a collection of elegant row houses, with hallways cut through to join them together. Outside you see a row of stylish four-story white clapboard and black brick town houses with wrought iron balconies.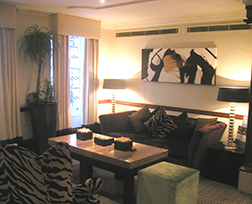 Inside, there is the charm of intimate connected rooms, done in modern browns and beiges, with a hint of Britain's colonial past in the Orient and Africa:   leopardskin fabrics and wood vases with sheaves of bamboo sticks. Shelves hold bowls and flower arrangements with a Far Eastern feel. Narrow stalks are set on a square wood bowl: "I Ching," someone explained. The public rooms, the dining and lounge spaces, are small and intimate and provide welcome privacy.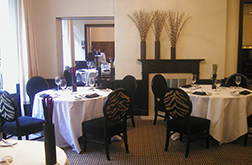 Perhaps that's why this hotel is a favorite for businessmen. At breakfast, there were Japanese at one table and Germans and French at the next. The continental breakfast is equally international, including croissants, fresh fruit and my favorite fresh figs.
The Hilton Green Park couldn't be better located. When a friend invited me out to the trendiest restaurant in town, Langan's Brasserie, we could stroll to it, just three blocks away. At the end of the quiet Half Moon Street is Green Park, and a five-minute walk takes you to the tube. It's absolutely central, with Soho to the east and Kensington and Chelsea south and southwest.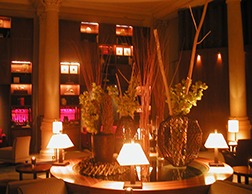 For financial business people however, the place to be is The City, and nowhere better than Threadneedles, the City's boutique hotel on the street of that name, which opened in 2002. This is bank territory.
The Old Lady of Threadneedle Street is the traditional name for the Bank of England. Built of sturdy grey brick in 1856, the hotel was once the headquarters of the Midland Bank.
The bank's old grand hall, with its high ceilings and marble pillars, is now a lounge. The furnishings are contemporary browns lit by shaded bank-style lamps. They could fill the reception room of a law office or stock brokerage. In fact, men and women in dark suits who have spent the day in front of computers and ticker tapes wander over after work and occupy the brass and glass bar. If you're in the business, here's a place to meet colleagues.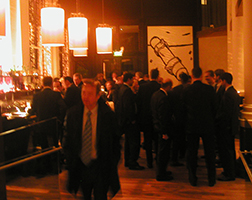 It stands to reason that the restaurant would be named Bonds! The dining room is stunning, with long and round tables and low hanging lighting that sparkles off ruby glass vases filled with tall dried flowers. The high ceilings afford plenty of room for the cool abstract paintings.
Bonds presents a delectable bill of fare for people whose palates appear to demand the best that money can buy. The tasting menu, for example, includes scallop with shell fish daube, foie gras with pureed quince and carmelized cream, truffle and artichoke salad, roast wild duck with sour cherries. ($105. Conversions are made at the current £1 = $1.91.)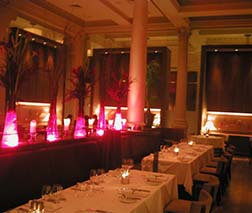 Or choose from "starters" such as crab with avocado and caviar, pheasant boudin with garlic puree, or pumpkin and sage mouse with buffalo mozzarella. ($20 to $31.50) Main courses include venison with black berries and chocolate sauce, braised Charlolais beef with Hermitage and bay leaf sauce, sea bass with caramelized cepe (mushroom) and vanilla cappuccino. ($33 to $91). I tried venison, which was superb.
From pursuit of the dollar (and pound) to pursuits of the mind. Bloomsbury is a very special part of London, connected in history to writers and scholars. It was made famous by Virginia Woolf and the Bloomsbury Group. It's also the site of the British Museum, which holds the great London library. And it's where the University of London sprawls.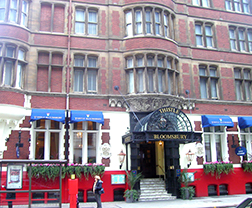 Fitting right into that history is the Thistle Hotel, an old Victorian building with red bricks and curved windows built in 1898. Then it was called the Kingsley, known as a Temperance Hotel, "in one of the healthiest districts of London" said its brochure of the time. It still has a homey atmosphere, including bedrooms designed with warm-colored print fabrics, though you now can get a "pint" at the bar.
There's some important intellectual history here and nearby. In the early 1700s, a former pupil and assistant of Sir Christopher Wren (England's greatest architect, who built Saint Paul's Cathedral) designed the Parish Church of St. Georges Bloomsbury, which occupies the site next door. And in 1902, the novelist E.M. Forester ("A Room With a View") stayed at the Kingsley.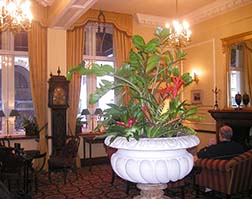 The lobby is wonderfully British elegant but "comfy," with overstuffed chairs, potted plants, 19th century paintings, even an old grandfather clock. Just the place to relax after a visit to see the Parthenon (Elgin) Marbles at the nearby British Museum. They are now at the center of international controversy.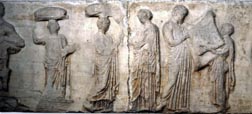 Two hundred years ago, Lord Elgin, British Ambassador to the Ottoman Empire, which then occupied Greece, took the friezes from Athens' Parthenon. The figures were later sold to the British Museum, and the Greek government has been lobbying for their return for more than two decades. A good reason to see them in London soon!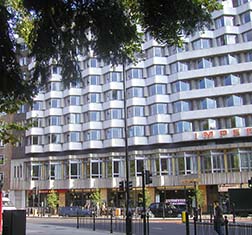 The Imperial Hotel overlooking Russell Square Gardens is of a completely different style than the Thistle, a tourist hotel with wifi in the back lobby, a large dining room, and numerous lounge areas, one with potted plants, columns and a marble statue providing a calm spot to gaze out at the gardens. The Emperor Bar also overlooks the square. The tube is a block away.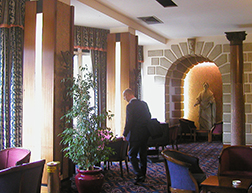 Russell Square is one of those many verdant oasis that Londoners were smart enough to place throughout the city. This one has a café with indoor seating for rainy days and outdoor tables for good weather. Russell Square is an unofficial campus for the University of London, just the other side of the gardens from the hotel. It's a popular place for all sorts of gatherings. The day I arrived at the Imperial, I peered out the window and discovered demonstrators lining up for the march that followed a meeting of the European Social Forum. Naturally, I snapped a shot!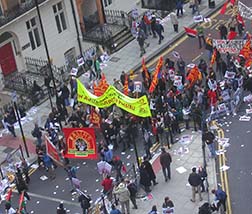 Wherever I was in London, I seemed to be right in the middle of what was happening!
If you go
Hilton Green Park
Half Moon Street
Mayfair
London W1J 7BN
44 (0)207 627-7533 or 629-7522
Fax 44 (0)207 491-8971
Toll-free 800-HILTONS
Bonds
Threadneedles
44 (0)207 657-8080
Fax 44 (0)207 657-8100
resthreadneedles@theetongroup.com
Thistle Bloomsbury
Bloomsbury Way
London WC1A 2SD
44 (0)171 242-5881
fax 44 (0)171 831-0225
toll-free 800-847-4358
Bloomsbury@Thistle.co.uk
Imperial at Russell Square
London WC1B 5BB
40 (0)207 278-7871
Fax 44 (0)207 837-4653
info@imperialhotels.co.uk
Langan's Brasserie
Stratton Street, Picadilly
London W1
44 (0)207 491-8822
Recommended guide
"Top 10 London," by Roger Williams
A DK Eyewitness Top 10 Travel Guide, $10
Slim, easy to carry, with maps and color and a focus on what to see, where to eat and shop.
Photos by Lucy Komisar
Partheonon frieze by the British Museum