"Happy Birthday, David!"

By Lucy Komisar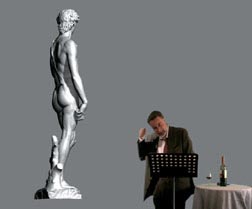 The most riotous time I had in Italy was at Michelangelo's David 500th birthday party. Well, not exactly a party, an exhibit at the Academy Gallery (Galleria dell'Accademia) in Florence. Hmm? Isn't David just a piece of white marble, beautiful, yes, but riotous?
I'm talking about Robert Morris' "The Birthday Boy," an hysterical send-up of two leftwing art historians, each in a separate video talking about "The David." The American Morris did them in 2003-4. His satire has the art critics (played by actors), typically veering into discussions of international politics, feminism, all the hot-button issues. Or didn't you think an art historian discussing "The David" could bring in an attack on George Bush?
The "art historians" drink a lot of wine, pouring from a bottle on a convenient table. They also drown in clichés. At the end, the female critic gasps as David morphs into an older, nude man, while the male critic's statue turns into a nude black woman. We were going to watch just a few minutes of the videos, which together last 68 minutes and are in Italian with English subtitles, but we couldn't leave.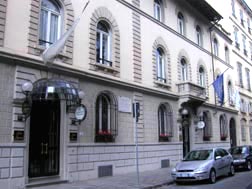 There are also artistic commentaries on the statue by Georg Baselitz, Luciano Fabro, Jannis Kounellis and Thomas Struth. What an enormously inventive idea of director Franca Falletti and curator Bruno Cor  to provoke this "historic encounter between the contemporary and the classical," as they describe the exhibit.
We were still giggling as we walked back to The Regency, a gray stone boutique hotel on a green Piazza D'Azeglio in Florence. A series of connected villas, it was constructed for high government officials and ministers of the State and then was residence of a diplomat. You feel as if you are the guest in a fine private home.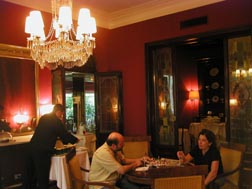 The Regency exudes intimate elegance. It is furnished with the owner's family antiques. Round tables with yellow damask skirts are set in a small dining room with a big window overlooking the garden of the interior courtyard. An interior dining room is wood-paneled, with cabinets of fine china, all softly lit with candelabra. Sitting rooms have original 19th-century art. Crystal chandeliers and potted palms add to the ambience. Classical music plays unobtrusively in the public rooms.
Our bedroom had a high wood-beamed ceiling, walls covered with silk and a large painting that looked as if it ought to hang in a gallery. Red fabric covered the head board. The desk was a beautiful dark-wood antique. We could have our coffee or wine on the balcony. It was a perfectly place to relax after a day of seeing the Duomo, walking in the gardens of the Pitti Palace, and discovering the marvelous David commentary exhibit.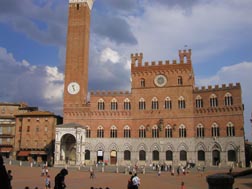 If you go to Florence, it's an easy visit to Siena, an hour away. This is the site of the famous Palio, the costumed "medieval" bareback horse race that occurs July 2 and August 16 in the round central "campo." This small walled village is ideal for wandering narrow streets. Then you can chose one of the cafés that surround the campo to sit, have a glass of wine, watch passers-by, and gaze at the Palazzo Pubblico, the 1342 Gothic town hall, and wonder who will climb more than 500 steps to scale the 335-foot bell tower, the second highest medieval tower in Italy. (It wasn't us!) More serious wine drinkers will enjoy the Enoteca in the 16th century Fortezza Medicea (Medici Fortress), where they can sample Italy's wines by the glass.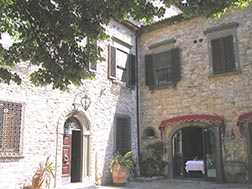 Near Siena, we stayed at the Tenuta di Ricavo, which means literally the holding, or estate, of Ricavo. It is run by Cristina and Alessandro Lobrano, who met in Zurich where she was in hotel school and he was a graphic artist. The property is a medieval village bought by her grandparents after World War II. Now it is a charming hotel in the midst of a woods between Siena and Florence, and a perfect place from which to explore the smaller Chianti villages. Cristina mapped out our routes.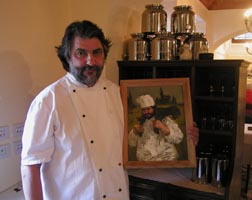 The stones of the main villa and cottages are covered with ivy, the old manor house still has a metal boot cleaner at the door, and the old stables, with an iron ring outside to hold the horses, is now a living room. The rooms have wood beams and fireplaces and great rustic elegance. There's a view of the Tuscan hills and, for refreshing dips after touring, two swimming pools. Alessandro has become the very artistic chef of the hotel restaurant, La Pecora Nera (black sheep). I had memorable lamb chops seasoned with the wild fennel that grows on the property. Breakfast is taken on the terrace.
The Tenuta di Ricavo is a member of the Romantik Hotels & Restaurants International, an association started in 1972 that unites 181 family-owned and run hotels in 12 European countries. Member hotels must be places of history and tradition and offer charm, fine restaurants and wine cellars, warmth, hospitality and "Romantik flair." Tenuta di Ricavo wins on all counts.
The best guidebooks:
"Italy," Insight Guides, features narratives about every city and region include extensive information on history and culture, setting the sites in broader contexts. Also information about hotels and restaurants. Good city and regional driving maps. APA Publications, part of Langenscheidt Publishing, $23.95.
"Italy," Eyewitness Travel Guides. The focus is on the sites, with detailed guides and visitors' information, even layouts of the most important places. Extensive hotel and restaurant guide. Good local and general regional maps. DK publishing, $30.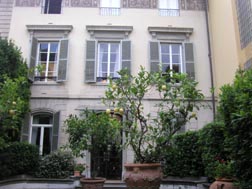 Hotel Regency
Piazza Massimo D'Azeglio, 3
50121 Firenze
Tel 39 055 245247
Fax 39 055 234-6735
info@regency-hotel.com
One of the "Leading Hotels of the World"
Ask the concierge to makes reservations to avoid lines at museums.
Internet wifi at 5 euros for 5 hrs.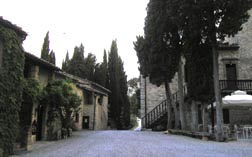 Tenuta di Ricavo
Localit  Ricavo
Castellina in Chianti
Tel 39 0577 740 221
Fax 39 0577 741 014
ricavo@ricavo.com
Member of Romantik Hotels & Restaurants International
info@romantikhotels.com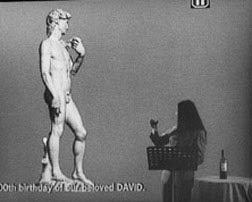 Academy Gallery
via Ricasoli 58
Florence
Exhibit open Tues-Sun, 8:15 am to 6:50 pm
39 955 265-4321
Phone info Mon-Fri 8:30 to 6:30, Sat 8:30 to 12:30
The David is always there. The "birthday" exhibit runs till Sept. 4, 2005.
Entrance 8 euros
Palazzo Pubblico
Piazza del Campo 1
Siena
39 9577 2922
Civic museum Mon to Sat 9:30 to 7:45, Sun till 1:45.
Torre del Mangia (bell tower) Summer 10 to 7, winter till 4.
Entrance fees.
Enoteca (wine center) in the Fortezza Medicea
Bastioni San Filippo
Viale Maccari
53100 Siena
tel. 39 0577 288497
fax 39 0577 270717
Tues to Sat 12 noon to 1 am, Monday 12 to 8 pm.
Free entrance.
Getting there: Florence is an express stop on Italian trains, and slower trains go to Siena. Or you can travel between Florence and Siena by bus. To get to Tenuta di Ricavo, you'll need a car.
We had a railpass from RailEurope. Traveling in Italy, you often need a seat reservation in addition to your ticket or pass. If you don't have it before boarding, you will be charged a penalty when paying for the seat on the train. With RailEurope, you can get the seat reservation online when you buy your pass or even after you are in Europe from any internet café or hotel connection. That's a real timesaver – no extra trips to the station or waiting in lines.
There are many railpass options available, for one, two, three or more countries. Go to Rail Europe's web site (or call a reservation agent) to decide whether your trip is best done with point-to-point tickets or a pass or combination of the two. Passes are sold only to non-European residents.   Or phone 888-382-7245.
Photos by Lucy Komisar.
Except Photo Morris's "The Birthday Boy" from the exhibit website used with permission from the Galleria dell'Accademia.