Beach, diving and water sports plus famous Literary Seminar
By Lucy Komisar
In Key West you can have it all — a gorgeous beach town with thrilling water sports — scuba, parasailing, jetskis — and an annual event that draws top writers to talk and schmooze with aficionados from around the country.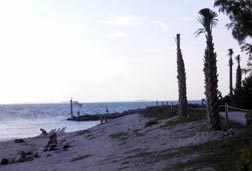 Did you think you were just going to lie on this quiet beach?   Noooooo. Key West exudes energy. Walk down Duval Street, past the restaurants and cafés and stores selling beach towels and bathing suits, and you will bump into open-air stands with brochures and agents urging you to sign up for adventure.
Maybe it will be a dive to explore Alexander's wreck, a U.S. Navy destroyer escort which sunk in 1962. It's in shallow 26 feet of water and attracts angelfish, barracuda, snappers, pompano and stingrays. Or perhaps you'd prefer a snorkel trip to North America's only living coral reef.
Key West is a mecca for serious diving and water sports, because its charm as a sophisticated town draws both sportspeople and instructors. It's the same reason the literary seminar started here 23 years ago: so many writers already lived here.
For water sports, there are two names to remember, Subtropic and Sebago, Subtropic for diving and snorkeling, and Sebago for just about everything you can do in, on and over the water. We begin with the less adventurous.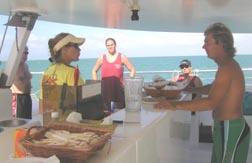 It was a gorgeous morning as we boarded the Sebago catamaran, a sailing boat constructed with two attached hulls to increase stability. First, we and a few dozen others got serious safety instructions, flotation devices, a review of what lay ahead, and an invitation to take refreshments. This boat had a very well-stocked galley!
Then we set out for a day that would involve snorkeling, parasailing and jetskiing, with lunch in between and plenty of beer and wine on ice. The boat made for a reef that fish were known to frequent. Masks and snorkels were handed out, and, woosh, into the water. January is not as hot as July, so the smarter snorkelers had brought cutoff wetsuits.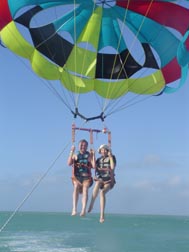 But the excitement was still ahead. My companion and I had never gone parasailing. I am naturally adventurous. He overcame his hesitancy by deciding that the equipment had to be safe or the company would be out of business, the authorities would have cracked down, and on and on. Why are men such babies?
What a thrill to float up into the sky and then get pulled through the air by a rope tethered to a small motor boat! Suddenly we dipped, and our feet brushed the waves. The boat captain grinned. Surprise! He took digital snapshots and a flight video, which we bought as a souvenir — and proof of bravery.
Lunch on Sebago trips are scrumptious buffets – cold cuts, salads and cold pasta and plenty of wine, beer, soft drinks and deserts. We spread out around the deck to enjoy the sun and breeze and view of the shoreline.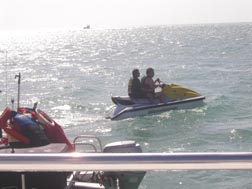 But the pièce de résistance for us was the jetski, the "wave runner." Everyone got to go on multiple 10 or 15-minute rides. We went tearing across the waves headed for shore, then suddenly pulled up and around and back out to sea. Again and again. After a couple of turns, my companion let me take the wheel, and he sat behind.  On jetskis is where men become boys. "Slow down!"
Diving occupied another exhilarating day. I've done this half a dozen times and am still a beginner, each time taking lessons and doing a dive with an instructor. But, so what! You don't have to be an expert or even certified to dive as long as you have qualified teachers and careful captains who drop anchor in safe waters.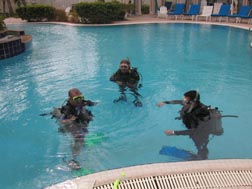 My instructor at the Subtropic Dive Center was Shane LaBeet, who ran through the paces for me and two men who were getting certified. Certification means one can dive without instructors. The teaching system is standardized according to the rules of PADI (the Professional Association of Diving Instructors).
In this "resort course," you start the day with a film and then hear repeated in a lecture how to use the equipment, how to descend and ascend, how to breathe while you're going down and when you're underwater, how to make hand signals to communicate. After that, you go to a pool or shallow water to try out what you've learned. We piled into a van and drove to the nearby Grand Key Resort hotel where we practiced with equipment the rest of the morning.
Then lunch and back for the real test – in deep water. We suited up in skin tight wetsuits and climbed onto the boat. Joining us were two women from Atlanta who had left their husbands back home. The psychologically hardest part about diving for me is getting into the water. You simply walk off the end of the boat! After you've got your mask on and the air tube in your mouth, you find the rope that goes from the boat to the anchor that's been tossed out, and you pull yourself down, hand-over-hand. Meanwhile, you pinch your nostrils and blow out to equalize the air pressure. (You can use the same trick if your ears pop during a plane's landing.)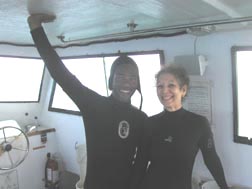 When I reached the bottom of the amazing, colorful seabed, Shane grabbed my hand and pulled me along to point out interesting plants and fish. If you're a beginner, PADI instructors don't let you swim off on your own. I love snorkeling (Subtropic does snorkel trips, too), but there's something breathtaking about being completely enveloped by the aquatic world, a feeling that you get only with scuba.
Ah, but I started out talking about the intellect and soul as well as the sea. The literary soul. After my days of sea and beach — including an excursion on a glass bottom boat (an easier way to see live fish) and a visit to the aquarium (still easier), I moved indoors to the San Carlos Institute on Duval Street for the 23rd Annual Key West Literary Seminar. The subject this year was comedy, and so many people had subscribed, that the organizers had to hold two sessions.
For Thursday through Sunday, two weeks in a row, essayists, novelists, playwrights and screenwriters chattered and mused about the nature of humor " political humor (my favorite), ethnic humor, male-female humor, and what some of the writers found funny in what they wrote, which they read.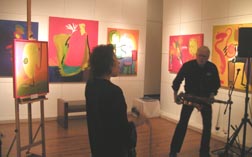 Political columnist Molly Ivins was a scream talking about Good-Ole-Boy Texans ("How to Make Fun of American Political Life"), followed by Conch Chowder at the Key West Library's Palm Garden. A big party in her honor was held at the Key West Museum of Art and History, where entertainers and guests mixed in a modern art gallery or wandered through floors of exhibits.
In his turn, playwright-screenwriter Bruce Jay Friedman ("The Heartbreak Kid") explained how "A funny thing happened on the way to the movies."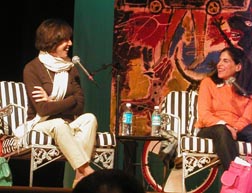 Well, playwrights always complain about how crass Hollywood destroys their art. But nobody makes them go there. It's been decades since films were art, anyway.
There was some good insider movie talk between screenwriter Nora Ephron and film and TV writer Patty Marx.
Next year's topic is travel writing, with a focus on discovery and adventure. Speakers include Pico Iyer, Robert Stone and Peter Matthiessen. Maybe they will do some parasailing or scuba diving. It would be right up their alley. And good for the soul.
If you go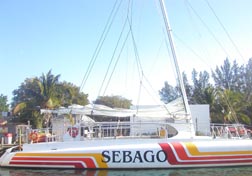 Sebago Watersports
Main booth at William St. near the waterfront. Sales booths also at Duval and Angela St, Duval and Green St, the Pier House, and Simonton and Eaton St.
(305) 292-2411, 294-5687
Power adventure, snorkel, parasail, jetski Mon, Tues, Thurs, Sat, 10 am to 4 pm.
Island Snorkel & Wildlife Kayak Tour Wed, Fri, Sat, 10 to 4 pm.
Champagne Sunset Sail, 6:30 summer, 5 pm winter.
Snorkel trips 9 am and 1 pm.
Snorkel and Sunset Sail, 5 pm summer, 3 pm winter.
Subtropic Dive Center
1605 N. Roosevelt Blvd. (at Eisenhower)
(305) 296-9914, (800) 853-DIVE
Dive trips 9 to 1 or 1 to 6.
Snorkel trips 9 to 12:30 or 1:30 to 5, 1-hour dives at 2 shallow reefs.
Resort course (scuba in a day). No more than 4 students per instructor. No charge for students who decide after the pool training not to go to the dive.
Subtropic also does refresher courses, certifications, private charters for divers and snorkelers, and equipment rental. Daily trips to reefs and wrecks.
Key West Literary Seminar
The Literature of Adventure, Travel & Discovery
January 5-12, 2006.
Dec.-April: 718 Love Lane, Key West, FL 33040
April to Nov.: 1950 Sussex Lane, Winston-Salem, NC 27104
(888) 293-9291
Financial support available for librarians, teachers and writer by Judy Blume Kids Fund for those who would otherwise be unable to attend.
Key West Aquarium
1 Whitehead Street at Mallory Square
(205) 296-2051
10 am to 6 pm
Is it raining? Want something special for the kids? Here's a museum worth a visit.
Key West Shipwreck Historeum Museum
Mallory Square
One Whitehead Street
Key West
Tel (305) 292-8990
Fax (305) 292-1617
shipwreck@historictours.com
Tuesday 9:45am to 6:45pm; Wednesday – Monday 9:45am to 4:45pm (last show)
Tour Length: 30 minutes