Why a French cognac is called Hennessy
By Lucy Komisar
Ever wonder how a French cognac got a name like Hennessy? Or why a French Bordeaux is called Lynch-Bages? Lynch? Does Ireland, the country of beer and ale imbibers, have a connection to fine wine? I found the answers on a trip that took me to the one-time Irish fishing village of Kinsale, the popular beach resort of Rosslare and the capital, Dublin.
The answer is rooted in past centuries. From the 1600s to 1800s, thousands of families fled Ireland to escape religious persecution and hard times. The first migration occurred, because King Louis XIV of France was oppressing his country's Protestants. King James II of England had converted to Catholicism and appointed Catholics to political and military posts. The Protestant William of Orange (Holland), married to James' eldest daughter, didn't like the threat of that alliance, challenged his father-in-law and defeated him in 1691.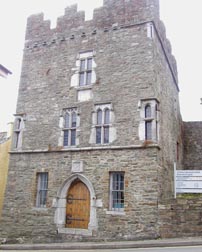 James chose exile in France, where he would die. Irish Catholic loyalists, military men and merchants also fled. On the manifests of the ships that took them to safety, they were listed as Wild Geese, said to be a reference to the lonely call of those wild fowl. Some of the Wild Geese settled in France, often in Bordeaux, which had commercial relations with Ireland. At least several hundred invested in vineyards and entered the international wine trade.
One was Michel Lynch, who had fought with James II at the Battle of the Boyne. In Bordeaux now, there are 14 ch¢teaux, ten streets, and two wine communes with Irish names. Think of Ch¢teau Lynch-Bages, Ch¢teau Phelan-Segur, Ch¢teau Pichon-Longueville de Lalande, Ch¢teau Langoa-Barton.
The Irish wine-makers became so important, that when U.S. Ambassador to France Thomas Jefferson visited Bordeaux in 1783 to order a stock of fine bottles for President Washington, he noted the number of Irish families there: Lynch, Barton, MacCarthy, Lawton among the top Bordeaux ch¢teau. Other Wine Geese got into the trade in North America, Chile and Australia.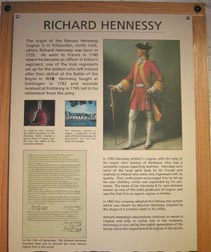 I learned about the history of the Wine Geese in Kinsale, on the southern coast of Ireland. Its International Museum of Wine opened in 1997 in Desmond Castle, a 15th-century customs house built by the Earl of Desmond to handle duties on wine, wood and tobacco. The museum documents the history of the town and the Wine Geese and is the home of the Order of the Wine Geese, with an international membership.
Kinsale's history in the wine business goes back centuries. Founded in the 12th century by the Anglo-Normans, it got a charter from Edward II of England in 1334 and became a trader in wine and salt. In 1412, it was designated a wine port and supplied ships for the Vintage Fleet, which had 160 craft sailing from Bordeaux, including five owned by Irishmen – three from Kinsale and two from Dublin. Don Herlihy, who leads a daily historic walking tour, explains, "Kinsale was a provisioning port. Wine was taken on sailing ships, because water would get contaminated with bacteria and fungus."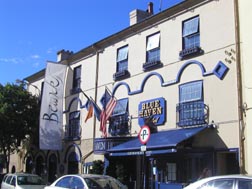 Wine is still very important to Kinsale, which has become a gastronomy center of Ireland. At the luxury boutique Blue Haven Hotel, in the heart of the Old Town, the restaurant features Irish nouvelle cuisine. Hotel owner Ciaran Fitzgerald says, "Our wine list proudly contains the largest collection of "Wine Geese" wines to be found anywhere." The Blue Haven's period bedrooms have shiny brass plaques naming them after the ch¢teaux founded by those Irish vintners.
Fitzgerald is one of three partners who in 2004 took over and refurbished the hotel with luxury antiques in a design by local decorator Fiona O'Keefe. In typical elegance, dark woods are set off by burgundy patterned chairs and modern paintings.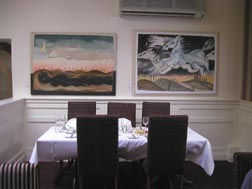 In the bistro restaurant, café and bar, the emphasis is on fine dining. The "blu" restaurant, in an ambience of classical music and green plants, presents modern Irish cuisine with international influences; there's an emphasis on seafood and on fresh, local produce. The head chef previously held that job at the Sidney Opera House. The Irish wines were superb accompaniments to our lamb with sweet potato and baked John Dorey with field salad.
I found the same passion for good wine at Kelly's, in the southeast corner of Ireland – a region that, with Kinsale, claims the country's best weather. The vacation hotel is edged in verdant gardens and sits on a long sandy beach.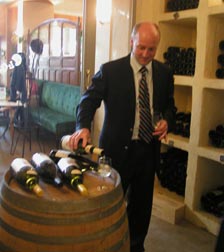 This family enterprise is run by Bill Kelly Jr. but began three generations ago. Billy Kelly Sr. in the early fifties began importing his wine directly from France, bringing in casks and bottling his own label in the hotel. When European Economic Community regulations banned that — so the EEC could monitor the bottling process – the Kellys bought wines directly from the growers. Then Bill Kelly Jr. married the daughter of Paul Avril, producer of Clos des Pape, an important Chateauneuf–du-Pape vineyard.
Bill Kelly Jr. goes to France twice a year to buy wines from small producers"27 from Burgundy alone. Showing us his wine cellar, Kelly said that wine drinking in Ireland is up and that it has tripled at Kelly's in ten years. The resort's fine wine list is reputed among the best in the country; of course, it includes Paul Avril reds and whites of various vintages. He poured some of them for us. The wines go with exceptional dining and a sophisticated menu. Did you know, as I discovered at Kelly's, that ostrich is like a tender rib eye steak? I also had subtly flavorful Bannow Bay oysters.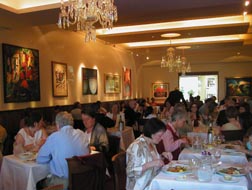 Kelly's has the personal stamp of its owners. Lit by Waterford crystal chandeliers, the dining room holds modern Irish paintings from Bill Jr.'s parents' collection. And there's a strong Irish cultural feeling. After dinner, we joined other guests for an evening "social" of Irish jigs and popular dancing.
Switch now to the elegant stylishness of the Merrion in Dublin. This new hotel opened in 1997, fashioned from four 18th century red-brick Georgian townhouses and a new garden wing set opposite the Irish parliament buildings.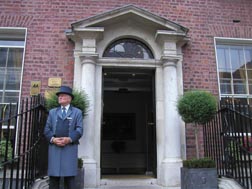 One of the townhouses was the birthplace of the Duke of Wellington, who in 1815 commanded the British army in an allied victory over Napoleon's French troops in the Battle of Waterloo. The Merrion has its own modern Wine Geese, Irish owners who provide their L'Abeille de Fieuzal from the Ch¢teau de Fieuzal.
The hotel is a design gem, furnished with antiques, Belgian tapestries, French chandeliers and 19th and 20th-century Irish art. The interior architecture has elements of the neo-classical and rococo. Colors are Georgian: light blue, turquoise, slate blue, sage green and cream. From the three, large, connected drawing rooms, one walks through French doors to the formal interior gardens, where there are a reflecting pool and fountain and a bronze statue of James Joyce set in a ring with quotations from his writings.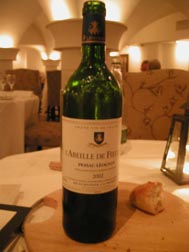 But wine is what we wanted to sample. First we passed through an original 18th-century wine cellar with vaulted ceilings. It's now the brick-and-oak Cellar Bar. From there, we entered the Cellar Restaurant, which emphasizes fresh regional ingredients. For an island country, that means a lot of fish. The Cellar's easy grace, under its vaulted roof, was a perfect setting for delicately prepared dishes.
I loved the salad of barbecue salmon with honey, mustard and chili dressing to start. It was just the way to bring excitement to a familiar taste. Then I chose grilled black sole and found the chef's cooking style adding flavor to this mild fish. With both, of course, I drank the mellow, flavorful Abeille de Fieuzal. Among other fish choices were a platter of oysters, clams, prawns, mussels and crab claws for starters and steamed tournedos of salmon with bean and vegetable ragout.
After the Feast. Beyond the wine and food, of course, these hotels are in places that offer historic and cultural treats for visitors.
Kinsale is a tourist destination with a year-round population of 4,000 and another 8,000 visitors.  It has an unspoiled, noncommercial atmosphere, with quaint family-owned shops instead of multinational retailers. I visited the medieval (1190) Church of St. Multose, where in 1649 Charles II was proclaimed King of England.
I walked through the remains of the star-shaped Charles Fort, built in 1677 to repel naval attacks. The IRA burned it down in 1921. I followed a map from the tourist office to find the green where John Wesley preached in 1785. Nearby, I passed old almshouses and a convent.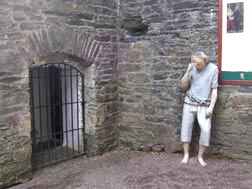 Taking a tour of Desmond castle, I saw displays about the time that it was used as a prison for captured American sailors during the U.S. war of independence. Conditions for prisoners were appalling, and a local minister and a Quaker merchant tried to improve their lot. In 1783, George Washington sent a letter to the merchant thanking him for his exertions in relieving the distresses of such of our fellow citizens as were prisoners in Ireland.
Like Kinsale, Rosslare is a favorite of tourists. Kelly's has clay tennis courts, the bay it sits on is a venue for water sports and, nearby, enthusiasts can play golf and ride horses.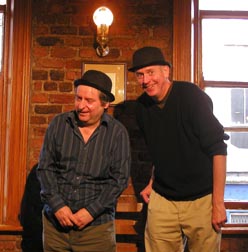 Rosslare is also Ireland's second largest passenger port, with sailings to the UK and Europe. We boarded the Rosslare fast ferry and arrived in Fishguard, Wales, in just two hours.
Dublin's reputation is of a literary city, and we loved the "Dublin Literary Pub Crawl" featuring actors, Derek Reid and Brendan Morrissey. Starting at The Duke pub, they enacted a stunning scene from Samuel Beckett's "Waiting for Godot."
Then they led us through streets and sites that illustrated their presentations of humorous excerpts from writings by James Joyce, Sean O'Casey, William Butler Yeats and Brendan Behan. Along the 2-hour tour, we stopped for drinks at four pubs.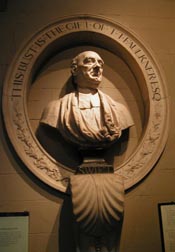 Another writer, the 18th-century satirist Jonathan Swift, is honored by a bust at St. Patrick's Cathedral, where he was a dean. I found no writers, but some dead royals, memorialized at the major Protestant Christ Church Cathedral, where my favorite spot was the medieval crypt.
I was lucky to visit the National Gallery of Ireland during the special exhibition, "Politics, Sex and Death," a collection of stunning paintings by the Irish artist William Orpen, who lived from 1878 to 1931. A naturalist, he chronicled, among other topics, the sexuality of women and the gritty side of war.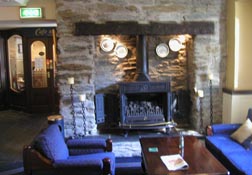 If you go:
Blue Haven Hotel
Pearse Street
Kinsale
County Cork
Tel 353 (0)21 477 2209
Fax 353 (0)21 477 4268
info@bluehavenkinsale.com
17 rooms
Blu restaurant open 6 pm to 10 pm daily. Closest airport is Shannon. Dublin to Cork flight takes 2 hours. Cork airport is 15-minute drive. Hotel will arrange pick-up from airport. Bus, train, limo and cab from Cork to Kinsale.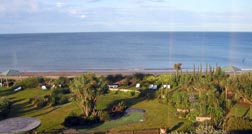 Kelly's Resort Hotel
Rosslare
County Wexford
Tel 353 (0)53 32114
Fax 353 (0)53 32222
kellyhot@iol.ie
From Dublin, train, or 2-hour drive. Beach & gardens. 2 indoor & 2 outdoor tennis courts with synthetic grass. Activities for kids and teenagers; separate kids dining room. Sea Spa with sauna, steam room, massage, thalassotherapy, seaweed baths, mud chamber and other treatments. Water aerobics and other exercises.
Tel 353 (0)53 32626 or 32214; seaspa@kellys.ie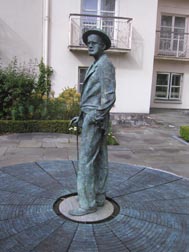 Merrion Hotel
Upper Merrion Street
Dublin 2
Tel 353 (0)1 603-0600
Fax 353 (0)1 603-0700
info@merrionhotel.com
reservations@merrionhotel.com
One of "The Leading Hotels of the World"
Desmond Castle International Museum of Wine
desmondcastle@opw.ie
Historical tour of Kinsale by Don Herlihy
Tel 353 (0)21 477-2873
Jill.Herlihy@ireland.com
Meet at tourist office, Emmet St., top of harbor, at 11:15am, tour lasts 1 ½ hours.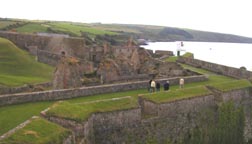 Charles Fort
3 km from Kinsale.
Tel 353 (0)21 477-2263
Fax 353 (0)21 477-4347
Mar-Oct, 10-5:15; Nov-Mar weekends to 5.
Kinsale Chamber of Tourism
info@kinjsale-tourism.ie
Dublin Literary Pub Crawl
The Duke (upstairs)
9 Duke Street
Dublin
Tel 353 (0)1 670-5602
Fax 353 (0)1 670-5603/ (0)1454-5680
info@dublinpubcrawl.com
March 24 to Nov 27: 7:30 pm nightly, Sun 12 noon & 7:30. Dec 1 to March 26: 7:30 Thurs, Fri & Sat; Sun 12 noon & 7:30. Dec 28 to Jan 1, nightly 7:30.
Tickets at pub from 7 pm or Tourism Centre, Suffolk St.
Different actors play in various performances. Pub stops offer time for drinks & snacks, not meals.
National Gallery
Merrion Square West
Dublin 2
Tel 353 (0)1 661-5133
Fax 353 (0)1 661-5372
info@ngi.ie
Mon-Sat 9:30-5:30; Thurs till 8:30; Sun 12-5:30.
Admission free, except for some special exhibitions.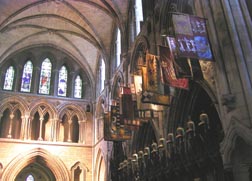 St. Patrick's Cathedral
Saint Patrick's Close, Dublin 8, Ireland
Tel 353 (0)1 475-4817
Fax 353 (0)1 454 6374
admin@stpatrickscathedral.ie
March to Oct: Mon-Sat 9-6; Sun 9-11, 12.45-3, 4.15-6.
Nov to Feb: Mon-Fri 9-6; Sat 9-5; Sun 10-11, 12.45-3.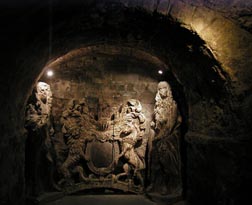 Christ Church Cathedral
Christchurch Place
Dublin 8
Tel 353 (0)1 677-8099
welcome@cccdub.ie
9:45 to 5, Sat 10 to 5
Mon-Fri 9:45 until after evening service; Sat & Sun 10-5.
Guides and maps
Ireland, Insight Guides, narratives weave sites into context of history and culture, all organized by regions. Good driving and city maps.
Instant Ireland, Insight Guide.
Ireland Pocket Guide, Berlitz.
Dublin City Guide Map, Berlitz.
Hammond International Great Britain & Ireland road map excellent for driving.
Getting around
Ireland is part of the continent's railpass system, which has a variety of options available, for one, two, three or more countries. You can use a pass for either unlimited consecutive days' travel or a number of days within a time frame. Go to RailEurope's web site or call 888-382-7245 to decide whether your trip is best done with point-to-point tickets or a pass or combination of the two. Passes are sold only to non-European residents.
When you figure driving time, be aware that most small towns lack by-passes, so you can get bogged down in local traffic.
Weather advice
There are frequent brief showers: bring raincoat and umbrellas. The weather moves swiftly between chill and hot: dress in layers.