By Lucy Komisar
Sept 18, 2006
Is top Justice official protecting a former client accused of bribery?
The Justice Department's Criminal Division, headed by a Bush political appointee who gave legal advice to a company accused of bribing Haiti's former president, is blocking an agreement to share seized Haitian drug money that would help Haiti pursue the bribery case in U.S. courts. The accused company is run by a former Republican congressman.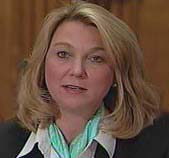 The Criminal Division chief, Alice Fisher, formerly a registered lobbyist for HCA, the healthcare company founded by the father of Republican Senate Majority Leader Bill Frist, is a recess appointee. Her approval was blocked by Senators concerned about her qualifications and about her participation in a government meeting on abusive interrogations at the U.S. military prison camp at Guantanamo. Her nomination is scheduled for debate and a floor vote Tuesday, afternoon, Sept. 19.
Latest: Fisher was confirmed by the Senate on Tuesday, Sept. 19th, 61 to 35.
The company is the $1 billion IDT, the world's third ranked international phone company, accused in two lawsuits of paying hundreds of thousands of dollars in kickbacks to former Haitian president Aristide beginning in 2003 to get a sweetheart deal with Teleco, the Haitian government phone company. The Securities and Exchange Commission, the United States Attorney in Newark, NJ, and a federal grand jury are investigating the charges.
The former congressman is James Courter of New Jersey (shown here), CEO of IDT.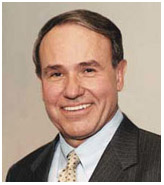 Prominent Republicans on IDT's board include former UN ambassador Jeane J. Kirkpatrick, former New York congressman and Republican vice presidential nominee Jack F. Kemp, former Virginia governor James S. Gilmore III, and former Minnesota senator Rudy Boschwitz.
Assistant Attorney General Fisher, in 2004 when she was a partner at Latham & Watkins, IDT's Wall Street counsel, provided a legal opinion to the company's Audit Committee that its dealings with Teleco were legal. The internal investigation Fisher headed was ordered after bribery charges were made by a former company official. Based on Fisher's opinion, IDT declared in SEC filings that, "Neither the Company's nor the Audit Committee's investigation has found any evidence that we made any such improper payments to foreign officials."The U.S. has since 2004 seized millions of dollars from Haitian drug traffickers. The US normally shares such forfeited funds with governments that cooperate in nabbing the criminals. Haiti said it would use the money to finance a lawsuit that would expose corruption by IDT. But the lawsuit would demonstrate that Fisher's investigation was a whitewash.
Fisher says she has recused herself from anything dealing with IDT, but her staff, headed by Deputy Assistant Attorney General Mary Lee Warren, is acting to benefit the boss's former client. Negotiations by Haiti's lawyers about sharing the funds stalled last fall when lower-level officials kicked the issue upstairs to Warren, after lawyers suggested that some of the money be used to finance the lawsuit. Justice indicated it might put restrictions on how the money was spent. It expressed "concerns" about it being spent to finance the lawsuit.
Fisher's position in the Justice Department is controversial. She was named to head the Criminal Division in a recess appointment August 31, 2005, bypassing the Senate approval process. Judiciary Committee ranking Democrat Patrick Leahy expressed concerns about Fisher's views on checks of controversial provisions of the Patriot Act and her opposition to the Act's sunset provision; her participation in meetings in which the FBI expressed its disagreement with harsh interrogation methods practiced by the military toward detainees held at Guantanamo, and her ideas about appropriate safeguards for the treatment of enemy combatants. Leahy and committee chair Arlen Specter also expressed concerns that she had never prosecuted a case and had minimal trial experience. The IDT connection wasn't raised.
Fisher previously served as Deputy Assistant Attorney General in the Criminal Division, hired by Michael Chertoff, now secretary of Homeland Security, who first employed her in the Whitewater investigation. She was responsible matters relating to terrorism, including September 11 investigations and prosecutions, investigation and prosecution of international and domestic terrorist groups and terrorist acts, terrorist financing investigations, USA Patriot Act implementation and all other terrorism policy issues. Fisher can serve until January 2007 unless she is approved by the Senate.
Justice Department spokesman Bryan Sierra said that the discussion of sharing drug money was premature, because "no money has been obtained to date." He says that though the government won a $2.7 million judgment in a criminal conviction, that money has not been forfeited to the government and cannot be used until the criminal case has exhausted all appeals. He says therefore "any conversation about asset sharing is premature." He said, "We will not comment before then on initial discussions or reports of lower-level conversations."
However, the $2.7 million represents only money from one case, that of the trafficker Serge Edouard. The US has claimed at least $36.8 million from seven convicted Haitian drug traffickers. The funds from one of the drug dealers is subject to appeal, others are in the process of being located, and still others have been seized and are not subject to appeal. However, the Justice Department declines to give details either to this journalist or to Haiti's lawyers.
The background
The charge against IDT

is that beginning in 2003, it paid hundreds of thousands of dollars in kickbacks to Aristide in exchange for a sweetheart deal to supply long-distance phone service to Haiti, according to a former company official. Teleco, the Haitian national phone company, said in May 2004 that though it had set the price of long distance calls into Haiti at 23 cents a minute, which under US law had to be the same for all American telecom companies, the former government signed contracts with IDT and several other North American companies that let them pay Teleco 9 cents, with 3 cents kicked back to Aristide via a Turks and Caicos shell company called Mont Salem. These companies then resold the minutes for 16 or 18 cents.
The looting of the telecom fees was a significant problem for Haitian government finance, since it's a major cash cow for the country. There's a huge diaspora in America that's always trying to call home.
The scam was first revealed by a Michael Jewett, former IDT associate regional vice president for the Caribbean, who said that Jack Lerer, IDT Executive Vice President for International Business Development, went to Haiti in August 2003 and met Aristide to work out the kickbacks. Jewett refused to go along with the deal, was fired and filed suit for wrongful dismissal in federal court in Newark in October 2005. IDT's actions would be a violation of the Foreign Corrupt Practices Act.
Jewett's suit says, Plaintiff asked defendant Jack Lerer what Mont Salem was, and he replied it was the private bank account of the President of Haiti, Mr. Jean Bertrand Aristide, that had been created by legal counsel for President Aristide, Adrian Corr, member of the law firm Miller, Simons and O'Sullivan. Jewett testified that Lerer appointed him the go-between for all commercial correspondence between Teleco Haiti and Mont Salem.
IDT tried to cover up the corruption and seal court records by providing affidavits in the Jewett lawsuit that the pricing was a trade secret. That was a lie. FCC rules require all telecom companies to charge the same international rates and to publish all deals. The "trade secret" was that IDT had arranged to pay less, in return for kickbacks.
IDT's CEO James Courter and the company's attorney in the Jewett case, Leslie Lajewski (Grotta, Glassman & Hoffman), both declined to return phone calls and emails seeking comment. However, Courter has been quoted publicly as saying that Jewett is a disgruntled ex-employee with no evidence.
After the Jewett suit revealed the bribery, and after other investigations into Aristide government corruption, Teleco and the Haitian government that took power after Aristide fled in February 2004 and filed a RICO (Racketeer Influenced and Corrupt Organizations Act) lawsuit in Miami against Aristide and his collaborators.
The Administrative Commission on Inquiry under the previous (Latortue) government documented that Aristide and his collaborators transferred at least $17.5 million abroad. Haiti alleges in its U.S. lawsuit that Aristide and his accomplices the RICO and laws against money-laundering by sending at least $19 million in embezzled funds to the United States. It accuses them of conspiring with US and Canadian phone companies to have them deposit hundreds of thousands of dollars in kickbacks into off-shore bank accounts in return for Teleco business. According the Haitian government, in one six-month period, February to April 2004, IDT paid $302,588 in kickbacks to the Aristide group. It also alleges that Aristide and his associates oversaw and profited from drug-running from South America through Haiti to the United States.
Winning the suit could bring the Haitian government treble damages. The US is currently proposing to give Haiti $210 million in aid.
Aristide is in exile in South Africa; most of the other defendants are living in the U.S. The suit does not charge IDT, but there was plan to add it to the list of defendants. And that company could pay a judgment. A lawsuit might also reveal information to move the SEC and Justice Department to act.
Why does this money matter?
The Haitian government of former Prime Minister Gérard Latortue initiated the lawsuit and made the request to use forfeited drug money for the case which costs about $3 million a year.
Timothy Carney,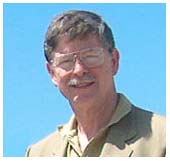 US ambassador to Haiti from 1998-99 and then chargé in 2005 till February this year, said the $3 million was significant because, "Cash flow for Haitian governments is a problem." Aristide left the Haitian public treasury empty. Funds come from customs duties and telecommunications fees, and the country is not doing very well on customs. Tax collection is hopeless. And most international aid comes earmarked for specific projects, generally for civil society organizations. Carney said, "They hit on the device of hiring a law firm to try to get access to some of the drug money and make a deal with whoever controlled it so the Haitian government would have some money."
Current President René Préval, a former associate of Aristide, is trying to establish his political independence. He has promised not to interfere with on-going legal processes. And he made the good appointment of Claudy Gassant, who returned from exile in Florida to be Chief Prosecutor. Judge Gassant wants to activate this case, but he won't be able to do so politically for a while. Furthermore, the Haiti judiciary doesn't have resources of the US court system to depose people or call witnesses. Carney thinks that the US suit is the only one there will be, that it's too hard to bring a case in Haiti.
Senior western diplomats and UN officials have approached Préval to urge continuing the suit, not only to get the embezzled money, but to make clear the extent of the problems that the Aristide administration caused the country. Supporters of the case say that it would also help Haiti end the impunity that feeds the corruption that is destroying the country and that makes US aid ineffective.
But the Bush Justice Department has stalled on reaching an agreement on sharing the forfeited drug loot. Justice officials told Carney when he was chargé that they were unhappy about private lawyers getting money that ought to go to the Haitian Treasury. Carney's view is that there will be no money going to the Haitian Treasury without the efforts of the lawyers.
Strapped for cash, Haiti suspended the suit on June 30th, to prevent it from being thrown out for want of prosecution. It can be re-filed any time, but the lawyers cannot wait much longer as the statue of limitations might start limiting their ability to prosecute. Agreement now by the US to share money in the future would give the American lawyers bringing the suit some assurance that they would be paid in the future so that they could do the work to bring the case to trial.
Politics
However, the IDT case is a political iceberg in the US. In addition to the powerful ex-Republican office holders on his board, IDT CEO Courter counts as a friend Vice President Dick Cheney. When Net2Phone, an IDT internet phone company, went public in 1999, he arranged for Cheney to buy 1,000 initial shares. Cheney paid $15,000 for the shares and sold them the same day for $26,574, a neat profit of 77.2 percent.
Former Governor of Massachusetts William Weld was on the board of IDT and its head of corporate governance. Weld resigned from IDT shortly after the Jewett complaint was unsealed. Former Govenor of California Pete Wilson is on the board of the IDT Entertainment subsidiary. (There's a lone Democrats involved as well. Leon E. Panetta, a former congressman who was chief of staff in the Clinton administration, is on the board of the IDT Telecom unit.)
And the administration may be trying to assuage and appease the pro-Aristide members of the Black Caucus. They are less vocal than before, because the Caucus is now divided, but Maxine Waters and Barbara Lee of California are strong pro-Aristide voices. Waters, who describes herself as a close friend of Aristide, sent a letter to Secretary of State Condoleezza Rice in December 2005, asking her to explain how the interim government of Haiti was financing the civil lawsuit it had just filed. She asked whether U.S. government funds were being used to finance the suit. Waters is an advisor to the Aristide Foundation for Democracy, the body that Aristide set up to raise and administer funds for projects in Haiti and which according to a Haitian government investigation was the recipient of millions of dollars of cash transfers from the Aristide government.