By Lucy Komisar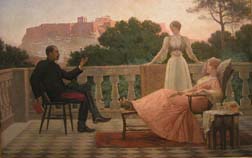 The soul of Athens is embedded in its ancient monuments. The Acropolis and other historic sites are not museum pieces tucked away for tourists' visits. They are an integral part of the city's life. Visit the National Gallery, and you'll see a 19th-century painting of Athenians lounging on a terrace, with the Acropolis in the background, "Athenian Evening," 1897, by Iakovos Rizos (1849-1926).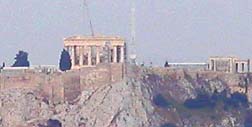 The city shows its pride in the venerable stones of the Parthenon and other more-than-2500-year-old temples by designing its streets and buildings with the goal of assuring direct sightlines. That appears to be the de rigueur view from the best hotels.
From my room in the Athenaeum Intercontinental, I could see the Acropolis, brightly lit at night, but glowing pink in the day. The balcony of my room at the Athens Hilton looked directly at the Acropolis. The view here is from the Hilton. Both hotels are ultra-modern, but they revere the connection to Athens' past.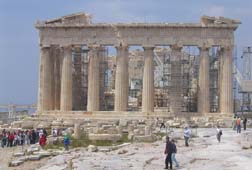 Athens is an easy city to visit: there's just one main site, the Acropolis, the "Sacred Rock," and the adjacent Agora, the center of ancient Athenian every-day life, so that's where tourists go. Here's what the Acropolis looks like up close. Rather overbearing and forbidding, I thought, surrounded by visitors that somehow remove the sense of mystery.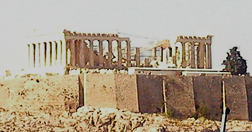 It appears more ethereal from my window at the Athenaeum Intercontinental. From the hotel, there are views of the Acropolis, Lycabettus and Filopappou Hill. But that's where "antique" stops.
The Interconti likes its art modern. Owner Dakis (Johnny) Joannou, a Greek Cypriot in the construction business, built the hotel in 1980. He got the Intercontinental company to manage it.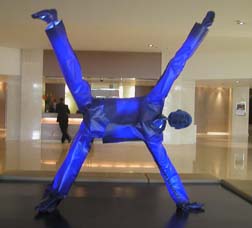 Joannou had been interested in modern Greek art since his youth and became a collector. His Deste Foundation runs a contemporary gallery, he promotes young Greek artists, and the hotel is a veritable museum, with 350 works of modern painting and sculpture in public areas and guest rooms.
The Intercontinental stuns at first entrance with a life size sculpture of a Blue Man who seems to hang in space, arms and legs extended. The work is by George Lappas, who also has a red man, "The Bourgeois," in the Premi¨re rooftop restaurant. More art is in the lobby café, including Maria Karell's, "The Aphrodite in Vienna," and in the ground floor restaurant, where Marie Litti (Lappas' wife) has a series of brass objects.
I got the tour from Alexandra Kounoupaki, the public relations manager who, in a previous career, was a lawyer. She was an adept guide to the local political goings-on.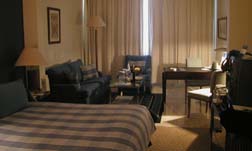 As we walked around the conference area, she recounted how the night before a candidate for mayor from the center-right New Democracy Party had had a gala dinner.
She said, "Half the Greek government was here, and TV crews. The ballroom was full."
The guest rooms are elegantly designed. I stayed in this one on a club floor, with comfortable couch and writing desk.
Club floor residents can use a lounge that serves breakfast in the morning and wine and sandwiches through the day. But I also checked out the luxuriant main breakfast buffet and discovered it almost impossible to choose from the enticing selections.
When I go to a city, I always make sure to visit the modern museum to get a sense of local art history. So I headed for the National Gallery.
Here's a piece I liked: "Composition" oil on wood 1975 by Yannis Ga¯tis (1923-84).
The museum is wonderfully located if you're staying, as I did for a few days, at the Athens Hilton, which is right across the street.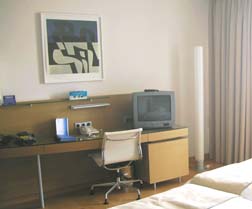 My room at the Hilton had clean modern lines, soft beige tones, a light wood floor, and –what I always appreciate — a long desk with a modern ergonomic swivel chair.
Hiltons worldwide pay a lot of attention to people who need workspace.
The entrance foyer and bathroom were decorated with gray marble. Stall shower doors were of smoky glass. Sliding glass doors led to a balcony with a round table and chairs, and, of course, the view of the Acropolis.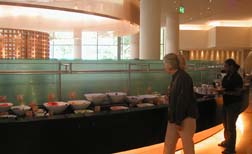 A long breakfast buffet holds every kind of grain and fruit and cold cuts, all marked helpfully with labels that tell you just how healthy or caloric the choice is. Don't tell that to the omelet maker!
From the appropriately named rooftop Galaxy bar, you can sit in comfortable chairs and couches and look out over the city as you sip Greek wine or, if you are adventurous, Ouzo.
If you overdo it, well, there's the fitness center with the machines of a full-sized gym. And a pool to splash in after the workout.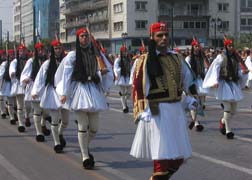 The Hilton is on Vasilissis Sofias Ave, a main thoroughfare that goes right to Syntagma Square in the center of the city.
You can take the metro one stop or board the bus, or you can walk and, on the way there or back, stop off midway at the Museum of Cycladic Art and the Benaki Museum. The Benaki houses a private collection that includes art and artifacts from centuries past up to the 1920s. And there's a café with a terrace overlooking the street.
When you get to Syntagma, if you've arranged things to arrive on a Sunday at 11 a.m., you (and dozens of other visitors) can watch the colorful changing of the guard. Alas, if you visit wondrous Athens, you're just going to have to share it.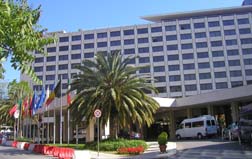 Where to stay
Athenaeum Intercontinental, 89-93 Syngroup Ave. 30 210 9206-000, fax 30 210 9206-500. 543 rooms. Free shuttle bus to city center, Syntagma Square. Metros Fix and Neoscosmos within walking distance; trolley a few blocks away. The hotel has 3500 square meters of meeting space in 35 rooms as well as the biggest ballroom in region.
Deste Gallery, 30 210 672-9460. info@deste.gr.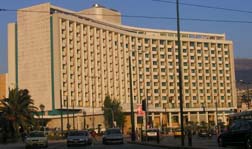 Hilton Athens, 46 Vasilissis Sofias Ave. 30 210 725-0201, fax 30 210 728-1111. 615 rooms. Metro Evangelismos a few blocks away.
Sites to visit
Acropolis, daily, 8 to 4:30 or 6:30, depending on season. 010 321-0219, 321-4172, 323-6665. Metro Acropolis.
Agora, Tues-Sun 8 to 2:30 or 5, depending on season. Closed Mon. 010 321-0185. Metro Monastiraki. You can pay individually, but $15 entrance fee lets you visit those sites and others in the city during one week.
National Gallery, Vassileos Constantinou 50, daily 9 to 3, Sun 10 to 2, closed Tues. Free. 010 723-5857, 721-1010 or 7643. Metro Evangelismos.
Benaki Museum, 1 Koumbari St., Mon., Wed., Fri., Sat. 9 to 5; Thurs. 9 to midnight; Sun. 9 to 3. Closed Tues. Entrance fee; half-price for over 65s and adults with children; free for students, under 18s, academics, military, families with three or more children, and for all on Thursdays. 010 367-1000. Metro Syntagma. benaki@benaki.gr.
Guide
I liked the Insight Pocket Guide to Athens because it does exactly what I want a guidebook to do. It suggests particular tours, with times and "turn left" itineraries, and it has insert maps as well as a large pullout map. So, you can start with a half-day tour of the Acropolis and Agora, move on to the Byzantine church and city history tour, then choose visits to Piraeus and other day trips. It's just right for people moving around on their own. And it's not bulky or heavy! .
Photos by Lucy Komisar.