For literary landlubbers and regatta enthusiasts.
By Lucy Komisar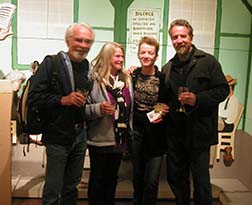 Come January, there's no better place to be than Key West. If the stars are right, you might arrive there as I did early this year, first to bask in the intellectual lights of the Key West Literary Seminar and then to revel in the glories of the annual Key West international regatta.
The seminar was about adventure, travel and discovery. If you were there, you would have heard Kate Wheeler, who trained as a Buddhist nun in Burma and wrote the novel, "When Mountains Walked," about foreigners adrift in exotic cultures. Or maybe you'd have chatted with her at the champagne party the seminar throws every year at the Key West Museum of Art and History at the historic red brick Custom House. (That is Kate second from the right at the 2006 party.)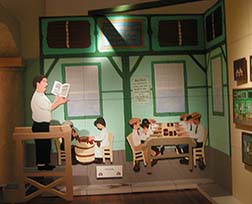 If you were there, you might have taken the opportunity to walk around the museum, which always has some extraordinary exhibits you will not see elsewhere. Cuba, so near but yet so far, of course is a favorite topic. Here's a painting of one of the readers – lectors — who kept workers entertained at cigar factories.
On another day at the seminar you might have heard Rosalind Brackenbury, a Brit who now lives in Key West and has published eleven novels. "The Circus at the End of the World," set in Australia, is about a boy searching for his mother, who is a circus performer. "Seas Outside the Reef" is a love story set in Key West which bridges the political divide of the US and Cuba. Her most recent novel is "The House in Morocco."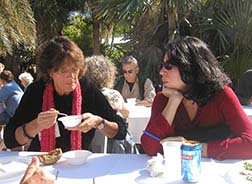 And Ana Menéndez, the Los Angeles born daughter of Cuban exiles who also writes novels, including "Loving Che." She has been a journalist at The Miami Herald, where she covered Little Havana, and in South Asia, where she reported out of Afghanistan and Kashmir.
Or, even better, maybe you might – as I did — have shared a table with them at the casual Sunday afternoon conch chowder lunch at the Key West Library's Palm Garden.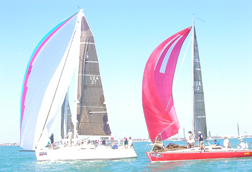 After the books come the boats, quite appropriate as a real-life expression of adventure, travel and discovery. Every third week of January, sailors come from around the world for Key West's international regatta. Usually around 300 boats show up for five days of competition that, especially to a neophyte like me, is visually stunning.
The coming January racing dates, right on the heels of the seminar, are January 15 to 19. Sometimes you can see the regatta from the shore, but I was lucky enough to hitch a ride on a fishing boat. Well, not a commercial fishing boat, but one skippered by Perry, a doctor who lives for winters on the island.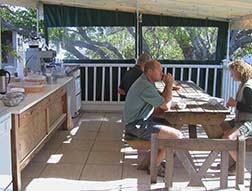 Now, let's be practical. With Key West a mecca in January, where can you stay? A good bet is to choose one of the town's charming bed & breakfasts. I can recommend L'Habitation, a Key West Conch House with Victorian and Bahamian accents right in the middle of town and a few blocks from the San Carlos Center where most Literary Festival events occur. I stayed in a room that was clean and comfortable, found breakfast on the rooftop a friendly place to nibble croissants and meet other guests, and enjoyed the relaxing garden.
The 25th year of the seminar, January 11 to 14, 2007, the topic is mystery, intrigue and psychological drama, featuring novelists Margaret Atwood, Joyce Carol Oats, Amy Tan and others. And in 2008, the focus is new writers. But you need to sign up months in advance, because the seminar sells out fast. Repeat visitors arrive from all over the country; there are lots of teachers and librarians as well as budding writers. Because of the collegial nature of the event, people feel quite comfortable coming alone. In addition to the seminar, there's a week of writers' workshops.
Key West Literary Seminar: (888) 293-9291. mail@keywestliteraryseminar.org.
L'Habitation, 408 Eaton Street, Key West, FL 33040; (800) 697-1766.
Photos by Lucy Komisar.