Songs of love, loss and war shimmer in this witty cabaret
By Lucy Komisar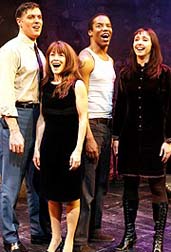 This charming, poignant, elegantly staged theater piece of love-and-loss songs envelopes one so completely that you feel as if you'd wandered into a Paris cabaret instead of the slightly seedy Zipper Theater, where the lobby bar and cozy corners establish a mood that gets you ready for the demi-monde.
With four singers whose distinctive voices are perfect counterpoint to Jacques Brel's music and draw out the drama of his lyrics, director Gordon Greenberg turns this collection of moody, plaintive pieces into a theatrical evening.
The songs may be from the late 1950s to the late 70s, but plus §a change, titles such as "Alone," "Don't Leave Me" (Ne Me Quitte Pas) – done by Gay Marshall with a distinctive Edith Piaf aura — and "Songs for Old Lovers" are never passé. Every one tells a story which is subtly enacted.
My favorite is "Madeleine," a giddy, witty send-up by the company. And not to be missed is Robert Cuccioli in "Fanette" and "Amsterdam" and pretty much whatever he is doing. And further…..well, I'd like to mention virtually every number in the script.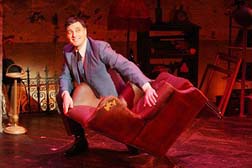 This show first played The Village Gate in 1968 and ran for more than four years. Then as now, Brel's anti-war songs — The Statue about a soldier killed in war and Le Moribond/Goodbye, My Friends/My Last Supper, — reverberated in the audience.
The translations are by Eric Blau and Mort Shuman.
Glad Jacques Brel is back – in New York!
"Jacques Brel Is Alive and Well and Living in Paris." Based on Jacques Brel's music, lyrics and commentary. English lyrics and additional material by Eric Blau and Mort Shuman. Directed by Gordon Greenberg, Starring Robert Cuccioli, Gay Marshall, Jayne Paterson (understudy for Natascia Diaz), Rodney Hicks.
The Zipper Theatre, 336 West 37th Street. Mon 8pm, Tues 7pm, Thurs-Sat 8pm, Sat 3pm, Sun 3pm and 7pm. Running time: 2 hrs. $65.00. (212) . http://www.jacquesbrelreturns.com
Photos by Carol Rosegg.