Doo-Wop will never go out of style in Las Vegas
By Lucy Komisar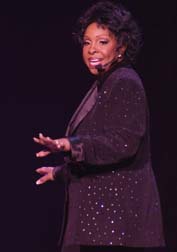 She arrives in a cloud of smoke in a glittery pink and purple pants suit and long evening coat. She has great charm, charisma and boundless energy. She also has a powerful, eloquent voice. And she is the star performer at the Flamingo Hotel in Las Vegas.
This is a nostalgia show. Gladys Knight's first record was in 1961. It was doo-wop, "when slow dancing was still in style," she tells the audience. Motown music: that's one of the sounds we will hear. The room pulsates with drums, organ, and guitar playing oldies such as "Friendship Train," "My Girl," and "Leavin' on that Midnight Train."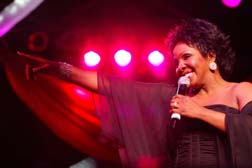 There's comic relief when a "Pip" in a red jacket arrives on a scooter. It's her insouciant, interloper brother, who is the center of a running gag. Gladys Knight is headlining not just a singing act, but a fully-staged, vibrant Las Vegas show.
She and her back-up singers prance and dance to a hot "When the Saints Go Marching In." There's a comic spoofing of the music: "I Heard It Through the Grapevine" is done as parody. Then, the back-ups trade their black pants and tops for church choir robes to sing gospel.
The audience participates, too. "Whatcha all here for, the buffet?" inquires Bubba, the ditsy brother. He gets a patron at a front table to sing the famous Banana Boat Song: "Day-o!"
Gladys Knight puts on a good show!
Flamingo Showroom, Flamingo Hotel, 3555 Las Vegas Blvd. South, Las Vegas. Tues-Sat 7:30. $68.50-$79.50. Drinks menu. 2/2/2007.