Director John Rando, known for the brilliantly campy "Urinetown," has another success here with a witty, lively send-up of 1980s style — a Boy George look-alike (Kevin Cahoon) with long hair and swishy demeanor – mixed with a 1950s "gotta get a husband" attitude.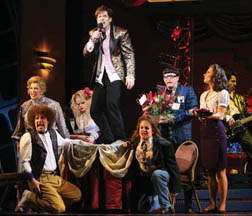 The long joke is about a small-time band leader and guitarist, Robbie (Stephen Lynch), who wants to write rock hits. Robbie is smitten with a rather tacky lady named Linda, (Felicia Finley). She ditches him, but he is too dumb to notice Julia (Laura Benanti), the charming waitress who works in the catering hall where he plays weddings, bar mitzvahs and other milestone events.
While we wait for the inevitable to happen, book writers Chad Beguelin and Tim Herlihy pile one old joke on another – Julia's pushy mother, Angie (Adinah Alexander), girls comparing notes about boys – and make them come out fresh and funny. Swinging grandma Rosie (Rita Gardner) is a hoot. Tacky Linda sings outrageously dark lyrics and wears a spike choker.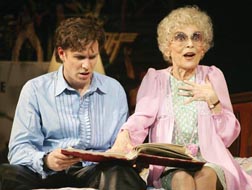 Robbie's failed romance sends a dark cloud over his spirit, which yields a frantic "love song": "I hope you fucking choke, somebody kill me please." Nothing and no one is what you'd expect. Wholesome Grandma, whose basement he occupies in Ridgefield, NJ, tells him he'll find someone else and that faithless Linda is a whore.
A word must be said about designer Scott Pask's terrific sets. Pask's vision of New Jersey — two-story houses with sloping roofs, gray siding and postage-stamp lawns — evokes the community where I grew up, though that was in Long Island. But in Newark, Pask can sit us in a rooftop restaurant with a view of a tank farm.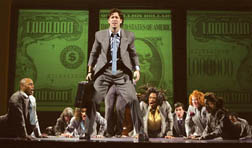 As in "Urinetown," politics is an undercurrent. Robbie tries to get a day job and runs into the world of Ivan Boesky insider trading. In a green strobe light show, traders in gray suits do a number that urges one to "Sell high, buy low, leverage your portfolio." They chant about "power lunching in your power tie. It's all about the green. If you sell your soul at least you've made a sale." It's witty, it's entertaining, it's of the moment.
Holly (Amy Spanger) a smashing blonde dancer with a brassy voice, who reminds one of a young Bernadette Peters, highlights a disco scene peopled by the "bridge and tunnel crowd." Choreographer Rob Ashford makes the room shoot stars!
But the pi¨ce de résistance is the brilliant fake wedding in a Las Vegas "Oval office." A sign says, "Bedtime for Bonzo;" several witnesses wear dark glasses and secret service ear pieces. Among the guests are a Tina Turner look-alike and Imelda Marcos with a Ferragamo shoe box. Costume designer Gregory Gale outdoes himself.
Look, you really have to be there. Which is actually a pretty good idea!
"The Wedding Singer." Book by Chad Beguelin & Tim Herlihy. Lyrics by Chad Beguelin. Music by Matthew Sklar. Directed by John Rando. Choreography by Rob Ashford. Al Hirschfeld Theatre, 302 West 45th Street, New York City. Opened April 2006.