Brian Friel's play examines how Brits used English to dominate
The Manhattan Theatre Club's revival of Brian Friel's 1980 play "Translations" is a stunning and moody production that examines the use of language to bond and to divide in both a personal and a political sense. It also becomes a symbol of patriotism and conscience as it plays into the conflicts and connections among the occupied and the occupiers in Ireland in 1833. The play is beautifully staged by Irish director Garry Hynes with a sympathy that extends to people on all sides in that quarrel.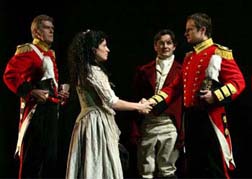 Setting his tale in the imaginary Irish village of Ballybeg, (itself renamed from the Gaelic, Baile Beag) in a hardscrabble dirt-floored school house in a mud-walled old barn (designed as if it were a painting by Francis O'Connor), Friel presents a "conquered" people who may be dirt poor and no match for British military power, but who are literate and thoughtful.
This schoolroom is not for children, but for adults. Some wish to advance in life, others simply to expand their intellect. Old Jimmy Jack (Dermot Crowley) a scruffy 60ish fellow, is studying books in Latin and Greek. Young Maire (Susan Lynch) wants to learn English, language of commerce, and has dreams of going to America. Manus (David Costabile), the lame school teacher, is a mild but compassionate man who exults when he teaches the mute young Sarah (Morgan Hallett) to pronounce her name.
The British Captain Lancey (Graeme Malcolm) and Captain Yolland (Chandler Williams), supposedly representative of higher culture, have arrived to map the area and change the place names from the Gaelic to English, the better to stamp Britain's ownership of the place. Hence "Translations, where transforming language becomes a ritual of imperial domination.
Manus's father, Hugh (Niall Buggy), the pompous old master who runs the school, has an admirable devotion to academic truth but also a sense of his own importance. He treats his son a servant-assistant. They all recognize that they must accommodate to the new power. Hugh has applied to be headmaster of a new British-run English-language school – which will help in the colonial process of subduing the Irish — and Manus defers to him by not filing his own application. In the end, of course, the Wordsworth that Hugh and Jack dismiss, will become as known to the Irish as any of their own writers.
Living somewhere between both groups is Hugh's son Owen (Alan Cox), who left Balleybeg six years earlier and is a successful shop owner in Dublin. Owen is an operator, the sort who plays all angles to get ahead, and he has become the translator for the British. To establish his sympathies, he even changed his name from Owen to Roland. The clothes of the Irish are all earth tones, the British are in red coats, and Owen's jacket is somewhere in between, a muted red.
But language is not always a barrier. The drama is heightened when the British lieutenant is smitten by both the land and young Maire. They cannot converse but love the sounds of each other's speech. Yet, the lieutenant's love arouses others' animosity. Lovers who cross lines court danger. Some things can't translate.
This is an ensemble play, and it's hard to single out any one of the very fine actors. Among the more memorable, Niall Buggy combines just the right combination of bluster and pathos as Hugh, and David Costabile expertly portrays the sensitivity and hesitancy of Manus. Dermot Crowley is a delight as the occasionally drunk old Latin and Greek devotee. Susan Lynch infuses Maire with all the guts and gumption she'll need in America.
Friel's play is a remarkable blend of poetry and politics.
"Translations." Written by Brian Friel, Directed by Garry Hynes. Sets by Francis O'Connor. Starring Niall Buggy, David Costabile, Alan Cox, Dermot Crowley, Michael FitzGerald, Morgan Hallett, Geraldine Hughes, Susan Lynch, Graeme Malcolm, Chandler Williams.
Manhattan Theatre Club at Biltmore Theatre, 261 W 47th St. Tue-Sat 8pm; Sat & Sun 2pm; Sun 7pm. Running time 2:15. Through March 11, 2007. $56.25-$86.25 212-239-6200. http://www.manhattantheatreclub.com/current-season/p-translations.htm.
Photo by Joan Marcus.