Spare and direct, it unsettles with prosaic waiting game of war
By Lucy Komisar
It's the ordinariness that at the end is so unsettling. "Journey's End" is not a Hollywood-style swagger tale about intrepid fighter pilots or its 70's version of pot-smoking infantrymen. No glamour or anti-glamour here.
Director David Grindley stages this as the story of prosaic people caught up in the military aspect of a political game whose purpose is far beyond them. You don't ever learn what set off the Germans against the British, or vice versa. These English soldiers – superbly portrayed by a uniformly excellent cast — just focus on staying warm and alive and carrying out orders. It is a powerful and often poetic production.
Captain Stanhope (Hugh Dancy), the cynical company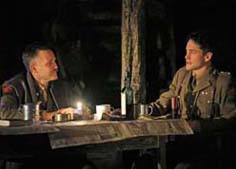 commander, is from what Americans would call the heartland: his father is vicar of a country village. He's been in the war for three years and his nerves are wrecked. He is wound-up, overwrought, and drinks to dull the pain. Dancy gives a powerful performance.
The play, by British author R.C. Sherriff, was first produced in the 1920s. It is based on a true experience of World War I friendship, bonding and survival. The author didn't mean this as an anti-war play, just as a record of what his countrymen went through in the "Great War" trenches. But we know enough about how unnecessary that war was, just more failed diplomacy by another name, to find sorrow and horror in the egregious suffering and loss of life.
The set is a trench in St. Quentin, France, about 165 miles southwest of Paris, very near Tours in the Loire Valley. In the trench is a wood hut lit dimly by a few candles. Thin beams hold up ceiling, a crossbeam log traverses the roof. There is a small table and a couple of wood platforms for sleeping. The site is 50 yards from the front lines. The day for which the troops are preparing will see a German assault.
Lt. Osborne (Boyd Gaines), his second in command, is a generation older. A former schoolmaster, he is solid. He loves Stanhope like a son. Gaines' portrayal gracefully exhibits Osborne's steady intelligence and charm.
Private Mason (Jefferson May), the cook, is working class and serves the upper class officers the way he would in civilian life.
Just out of school, 2nd Lt. Raleigh (Stark Sands), is fresh-faced and imbued with the romance of it all. He's from Stanhope's village and courts his sister. His vision of war clashes sharply with Stanhope's, and we'll too soon learn who is right.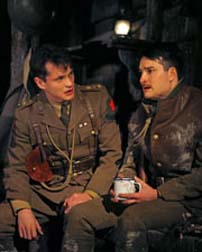 The horror is matter of fact: a gas mask packed around soldiers' necks, the hysterical fear of 2nd Lt. Hibert (Justin Blanchard). The men wonder who will survive the expected German attack. Stanhope tells Hibert that "sticking it is the only thing a decent man can do." That was, of course, the ideology that kept the men in the trenches.
There are suggestions that the problem rests with each country's leaders: the Germans allow English soldiers to carry back wounded from the field, even sending up lights so they can see their way. The German prisoner (Kieran Campion) is terrified but treated decently. They are all, it would seem, cogs in a wheel spun by unseen (safe) hands. Hindsight makes the events all the more chilling.
The play is a period piece and seems rather hokey in the na¯veté and simplicity of everyone involved. But perhaps that's what they were like in the days before troops realized that incompetent leaders were using them for cannon fodder. At curtain call, the actors, unsmiling, stand before a wall covered with the names of the dead.
"Journey's End." Written by R.C. Sherriff. Directed by David Grindley. Set by Jonathan Fensom. Starring Hugh Dancy, Boyd Gaines, Jefferson Mays, Stark Sands, John Ahlin, Nick Berg Barnes, John Behlmann, Justin Blanchard, Kieran Campion, John Curless, Richard Poe.
Belasco Theatre, 111 W. 44 St. Tue – Sat 8pm; Wed & Sat 2pm; Sun 3pm. Running time: 2:30. Through June 10, 2007. $36.25 – $96.25. 212-239-6200. http://www.journeysendonbroadway.com/
Photos by Paul Kolnik.