By Lucy Komisar
Sept 29, 2007
It's that time of the year when the UN General Assembly opens and heads of state and foreign ministers meet up at parties and quiet gatherings and even give a few public speeches around town. A popular stop is the Council on Foreign Relations, at an elegant robber-baron style mansion at East 68th Street & Park Avenue, where anyone representing an establishment view is assured of a warm welcome.
That certainly holds true for a foreign minister in the conservative government of France, even if in this case he happens to be a Socialist. One must add that the Socialists who joined the cabinet of new President Nicolas Sarkozy have been written out of the party as opportunists, which confronts them with a special challenge: demonstrate integrity. I gave one of them a chance this week; he flubbed the test.
French Foreign Minister Bernard Kouchner, famous as the founder of Médecins Sans Frontieres (actually, he was one of 12 doctor and journalist founders), spoke at the Council on Tuesday, Sept. 25,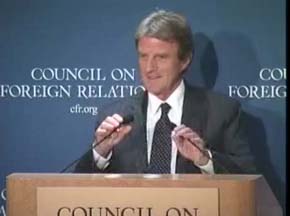 in a meeting that started with a friendly cocktail reception and continued with an hour's tour d'horizon and questions that focused a lot on Iraq and its neighbors. The meeting was presided over by Felix Rohatyn, the prominent investment banker, who was US ambassador to France in 1997-2000 and is now an advisor to the chairman of Lehman Brothers.
In his introduction, Rohatyn said, "There are very few people who act according to their principles. Bernard Kouchner acts on his principles, and that's a very rare virtue, especially in a politician."
Hearing that, I was hopeful that Minister Kouchner would display these principles in his answer to my question about a corruption scandal that could be the French Watergate. However, the minister, who initially seemed startled that an American would bring up a very French matter, quickly displayed the not-so-rare political attribute of solidarity with high-level officials who want to suppress evidence of corruption.
From my question and his answer, available in video and audio and a transcript on the Council website:
KOMISAR: I'm Lucy Komisar. I'm a journalist. You talked about setting an example, showing the way, working in the framework that has to do with the rules of the game. Well, one of the major international questions is corruption. And in France, of course, the media is dominated often by the Clearstream scandal in which your president, Sarkozy, was accused falsely of having a secret account in Clearstream —
ROHATYN: Could we get to your question, please?
KOMISAR: Well, yes, but I have to explain what the question is.
KOUCHNER: No, no, because I know about it. (Laughter.)
KOMISAR: Okay, you know about it, but everybody else here doesn't.
KOUCHNER: I will not answer you.
KOMISAR: Okay, the question then is, the real scandal is that the French company Thomson paid over a billion dollars in bribes and kickbacks connected to the sale of six frigates to Taiwan, and both the past Socialist and Conservative governments have refused to give the investigating magistrate the documents from the customs department that would show where this money went.
If you are going to be the harbinger of change and show the rules of the game as they ought to be done, honestly, will you open these records to the magistrate and expose this terrible bribery, which is convulsing your country, if not yet in the press here? Will you give those documents to the investigating magistrate?
KOUCHNER: Well, thank you, Madame, because you have said honestly. Honestly, I have nothing to answer to you. This is not the question.
UNKNOWN: Bravo. (Scattered applause.)
KOUCHNER: We are talking about the international relationship and transatlantic relations. And let me tell you something. It was completely false, (that we have said ?). Okay, thank you.
Does this mean that Sarkozy was really involved in taking frigates kickbacks via Clearstream? Not necessarily. The contracts were signed during the presidency of Socialist Fran§ois Mitterrand. And some of the cash likely went to former President Jacques Chirac, Sarkozy's internal conservative party enemy. It may just mean that people Sarkozy is connected to were involved. Or that if he blows the whistle on them, they will reveal his own past financial peccadilloes.
If the truth came out, and millions of dollars were traced to top political figures, this could convulse both parties. Meanwhile, French Judge Renaud van Ruymbeke, a man of impeccable integrity who has suffered vicious attacks by the political class he is investigating, has had to drop the frigates case, for the moment, until more evidence turns up. Stay tuned.
——-
In an Oct 4th IPS article, Michael Deibert reports about the tight relationship that the French oil company Total has with the repressive generals who run Burma. About Kouchner's role, he says:
BK conseil, the former company of France's current foreign minister Bernard Kouchner, advised Total in 2003 on improving the public face of its operations in Burma.
Formed as a one-off consulting concern by Kouchner and Total lawyer Jean Veil, Kouchner, who was the company's only official employee, visited the site of the Yadana pipeline in March 2003. He wrote a report in September 2003 exonerating the company of any wrongdoing. The report was carried on Total's website.
Now, that's principle!