By Lucy Komisar
Inter Press Service (IPS), Nov 15, 2007
New York stages are filled with strong women these days, and while it might be expected in serious drama, they are also asserting themselves forcefully in musicals and classic comedy — forms that speak to the popular culture.
Broadway is full of self-confident, dynamic, even tough ladies who like as not show up the men they interact with. Five current hit plays that depict strong women are Legally Blonde, Avenue Q, Xanadu, George Bernard Shaw's classic, Pygmalion and Curtains. Some of them revolve around women's relations with men, but the women in the end put their own selves and careers first.
Legally Blonde
Let's start with the young college girls in Legally Blonde, a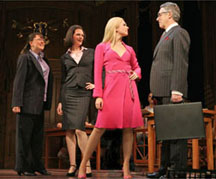 stage remake by Heather Hach of a popular 2001 movie. The film was part of the post-feminist girl power movement when young women were fighting a men are what matter backlash that threatened their chances for career and independence.
The girls in Ellie's college dorm are inane and stupid. Her self-absorbed future-attorney boyfriend informs her he is planning a Senate seat. Three kids like the Kennedys. That's why we should break up. He's going to Harvard Law and wants less of a Marilyn [Monroe] and more of a Jackie [Kennedy].
Is Ellie (the effervescent Laura Bell Bundy) doomed? His brush-off is a boon. She determines to get into Harvard Law and succeeds. Her rich and nerdy classmates all have computers; she has a pink heart-shaped writing pad. A law school professor advises students, Law school is a waste unless you acquire a taste for blood in the water.
When the professor tries to kiss her, she slaps him. She also trades her trademark colour pink for blue. But she keeps her values. Later, she declares to a group of women, Look how far I have come without anyone holding my hand.
At the end, she gets down on bended knee and proposes to a guy. Legally Blonde is clever, funny, hokey and feminist. Welcome to Broadway musicals in the 21st century.
Avenue Q
The 20s is a tough age for women, on the cusp of their lives, juggling men and their futures. It's a theme in the comic and clever puppet and people show Avenue Q, written by Jeff Whitty, where actors holding floppy hand-puppets double as their characters alongside strictly human players.
A bunch of 20-somethings are living in the cheap brownstone neighbourhood of Avenue Q, an imaginary place even further from the centre of Manhattan than the Lower East Side's Alphabet City, which goes only to Avenue D. They can't get their lives together. Brian (Evan Harrington) doesn't have a job. Kate (Mary Faber) has a job but no boyfriend.
Kate and Brian become lovers. A long night with Brian causes Kate to miss a teaching assignment and lose her job. However,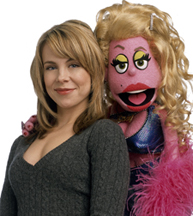 Brian gets nervous about Kate's desire for a commitment, a word writ large on the theatre video screens, and he goes off with a tacky bar dancer.
When the neighbours, including a recluse with an unusual source of income, get together to finance her school for minorities (the minorities are monsters; Kate is a monster), she lets Brian know her priorities have definitely shifted. She'll set up the school first, and then she'll think about him. So, let's hear it for independent women!
Xanadu
Men are even less essential to the strong women in Xanadu, writer Douglas Carter Beane's very funny stage version of a 1980 Hollywood musical about a Greek goddess, Clio (Kerry Butler), a breathless young muse, and her gaggle of ancient Greek ladies, the chorus. They descend to Venice, California, (the trendy beach south of Los Angeles), where Clio helps an incompetent young man make a success of a roller disco, which he considers the apex of the arts.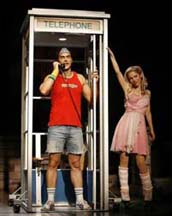 The women are fabulous, especially compared to the men. Sonny, the disco kid (Cheyenne Jackson), has a sense of his talents that far outstrips reality. Danny (Tony Roberts), the local real estate developer who had some memorable moments with Clio when she visited earth years before, remarks that, Nothing turns around a neighbourhood better than the arts; then we can kick the artists out.
Why does Clio keep picking losers on whom to lavish her powers? Worse, why does she fall for the disco-jerk? Well, there's always backsliding. Whoosh, and the Greeks go back to Olympus.
Pygmalion
Men who don't want commitment? No play says that better than George Bernard Shaw's Pygmalion, in a smart, sophisticated Broadway revival that makes flower girl Liza Doolittle (Claire Danes) especially assertive and shows Professor Henry Higgins (Jefferson Mays) as unusually infantile.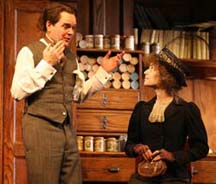 Higgins, of course, has discovered Liza selling flowers at Covent Garden and offered her a warm bed and food in exchange for participating in an experiment in which he'll prove to his buddy Colonel Pickering (Boyd Gaines) that he can improve her diction to the point where she passes for minor royalty at a London ball.
However, Liza is her own woman from the start. I've as good a right to take a taxi as anyone else! she declares. And, We sold flowers, we didn't sell ourselves. In fact, Higgins appears to want a servant, not a bed-mate.
But Liza is supremely independent, and in this version, directed by David Grindley, unlike the musical My Fair Lady, there is no suggestion that she will accept any offer that involves staying at the egotist's house and fetching his slippers.
Not only that, but Liza announces that she might become an assistant to Higgins' professional rival or, better yet, go into business herself and with Higgins' own diction method!
Curtains
The heroines in these plays were in their 20s; so, how about an older woman? Look to Curtains, a wonderfully hokey comedy by Rupert Holmes about a tough female producer in her 40s, the brilliant Debra Monk, who has to pull together a Broadway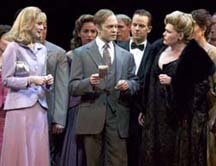 musical in the wake of the murder of the star, hostility between the formerly married songwriter and lyricist, aggravation about her daughter who is a performer and the Equity trade union representative…get the picture?
Monk is smashing as Carmen Bernstein, the loud and indomitable producer who is determined to go on with the show in spite of the murder also of her husband, Mr. Bernstein (who we never see except in his death plunge), who is revealed as a sleazy blackmailer.
Even her slightly ditzy daughter, Elaine (Megan Sikora), who insists on being called Bambi, is a lady with a mind and a goal of her own. The dreamer in the play turns out to be a guy, Boston Police Lt. Cioffi (David Hyde Pierce), who is called in to solve the murders and turns out to be stage-struck.
Article on IPS site