By Lucy Komisar
Inter Press Service (IPS) April 22, 2008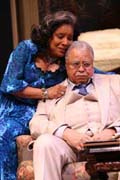 Since the 1950s, views in the United States have changed a lot about whether marriage is good for women — or at least about the nature of its serious disadvantages.
Four Broadway plays spanning those decades show one prominent downside: marriage as a smoldering cauldron of unfulfilled sexual desire or betrayal.
The U.S. works are about small-town Middle America: the Midwest, Mississippi, Oklahoma. They are William Inge's Come Back, Little Sheba, Tennessee Williams' Cat on a Hot Tin Roof, and Tracy Letts' August: Osage County. The British revival is Harold Pinter's The Homecoming, about working class London.
Come Back Little Sheba, the melodramatic 1950 play written by Inge at the height of the post-war women back to the home propaganda, presages the second feminist wave's warning about what happens to women who have no lives of their own.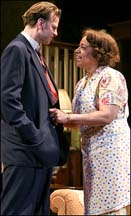 Doc (Kevin Anderson) and Lola (S. Epatha Merkerson) live in a Midwestern city where they were sweethearts 25 years ago; she got pregnant and they married. Doc, ironically nicknamed, gave up medical school and became a chiropractor. She lost the baby, but as if being parents was the only purpose of their relationship, she calls him Daddy.
Doc drowned his career disappointment in alcohol. He has joined Alcoholics Anonymous and has been sober for almost a year. Lola was once beautiful; now she is overweight. Doc calls her a two-ton heifer. They don't sleep together. Anderson and Merkerson play the characters as if they were in a bit of a daze, not confronting their lives or each other.
Lola is isolated, staying at home because Doc didn't want her to work. Even Sheeba, the dog she loved, disappeared, leaving her forlorn. Desperately lonesome, she invites the postman and milkman in for subliminally flirty moments of a glass of water or a chat.
We see the deadly housewife pattern eerily repeated in the lithe, sultry young art student, Marie (Zoe Kazan) who is a boarder at the couple's house. She has a local boyfriend with whom she sleeps, outraging Doc who is maybe hiding his own desire, or envy. Then Marie's rich fiancé, Bruce (Chad Hoeppner), arrives from out of town to interrupt her college education and carry her off to marriage. You can see the pattern about to repeat.
Cat on a Hot Tin Roof, set on a plantation in Mississippi cotton country, is more explicit about sexual desire, but it shows the same theme of women trapped by their men and by their inability to have a life without men. First performed on Broadway in 1955, the play, directed by Debbie Allen, has an all-black cast, demonstrating, if that were necessary, that it is about couples, not about rich Southern whites.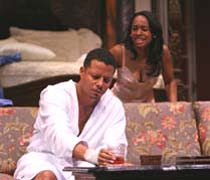 Brick (Terrence Howard), the favourite son of the dominating and wealthy Big Daddy (the brilliant James Earl Jones), is not sleeping with wife Maggie (Anika Noni Rose). We don't know whether that's because he's homosexual (as was author Williams) or if this former college football player is just consumed by guilt about the death of his jock friend with whom he had an unnamed close connection. And whose phone call he hung up on before the friend took his life.
So, we get to see Maggie, played with grossly unseductive sensuality by Rose, fail in her attempts to seduce the terminally bored Brick. We also see Big Daddy express loathing for the wife (Phylicia Rashad) he's bedded for 40 years. No reason is proffered: Big Mama seems a kind enough lady, even likeable as portrayed by the very expressive Rashad, sincere in her concern for his welfare, and almost pathetic in her efforts to please him.
But the decay of this family is represented by the cancer eating at Big Daddy's body. And with or without sex, bad male-female connections cause desperate unhappiness for two women trapped in relationships, because they have no independent lives of their own.
Harold Pinter's The Homecoming, staged in London and on Broadway in 1965, shifts the marriage paradigm. Here, curiously, the woman takes charge, and uses sex as a way of asserting power and perhaps as a weapon against her husband. Under director Daniel Sullivan, the poisonous interaction between the sexes is, if anything, more virulent.
The moral and physical decay of the family and its members is reflected in the shabby North London house, with holes in the wallboard and the destruction of even the patina of familiar niceties. Max (Ian McShane), the father, a violent, nasty, retired butcher, recalls his wife: It made me sick to look at her rotten face. His son Lenny (Raul Esparza), the horse player, ridicules him. Another son, Joey (Gareth Saxe), a boxer in training, is punch drunk.
Into that decaying home comes the third son, Teddy (James Frain), who left nine years ago to be a professor of philosophy in the U.S., and Ruth (Eve Best), his wife. Teddy's self-important remarks to Ruth seem to be attempts to assert his authority: I took you there [to Italy]. I can speak Italian.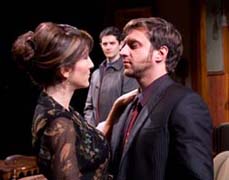 But she's about to ditch him and stay in London. She tells Lenny she was a photographic model for the body before she went away. Translation: she posed for a porn magazine. He proposes to set her up as a prostitute on Greek Street. Max warns, She'll use us, she'll make use of us. I can smell it.
Pinter appears to be saying that she will turn the tables on these men by using sex as power, her power. It's certainly a change from the fifties, though not much more a brief for marriage than the plays of the sex-starved women of Inge and Williams.
We come now to the present, to August: Osage County by Tracy Letts, in a steaming-hot small-town Oklahoma summer. Set in a peaked roof clapboard house that represents the Main Street fantasy image of marriage, it tracks a family's corrosive meanness that leaves bodies, souls and marriages all withering.
A spiteful, foul-mouthed woman in her seventies (Deanna Dunagan) pops pills; her husband (Dennis Letts) drinks. She has cancer of the mouth, but there's a cancer in the family, lack of caring; the couples are consumed by hostility. A Native American (Kimberly Guerrero) who is hired as a servant carries an amulet to protect her soul from this poisonous ambience.
One of three sisters, Barbara Fordham (Amy Morton) is separated from Bill, a professor (Jeff Perry), who was her husband for 23 years. Daughter Jean (Madeleine Martin) is a pot-smoking 14-year-old. Dad is sleeping with his students.
Barbara's overweight sister Mattie (Rondi Reed) spends her time heckling her laconic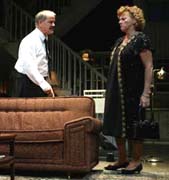 husband Charlie (Francis Guinan), who retreats behind a beer can. The only relationship in the family that appears to be based on real affection turns out to be incestuous.
Under the direction of Anna D. Shapiro, the play comes perilously near to daytime TV melodrama in piling one disastrous personal relationship on another. Why don't the wives get free and get out? More than a half a century after Lola's travails, Letts' Middle American women are not very liberated.