By Lucy Komisar
Inter Press Service (IPS), June 18, 2008
The Adding Machine (1923) and Top Girls (1983) are separated by 60 years, but both used stylised techniques to portray workers as willing slaves of capitalism. That system has destroyed them, but they haven't the consciousness to know it. And they absorb attitudes that are racist and sexist.
Both productions are currently on stage in New York. The earlier work, written by U.S. playwright Elmer Rice, has been turned into a chamber opera by Jason Loewith and Joshua Schmidt, and given a stunning, haunting production at an off-Broadway house. The British playwright Caryl Churchill's Top Girls, in a Broadway revival by James MacDonald, features compelling performances by major stage actors.
Mr. Zero (Joel Hatch) of Adding Machine leads a dreary, mind-numbing life as a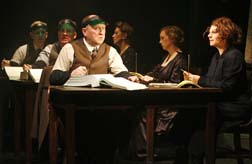 bookkeeper, writing down dictated sales slip numbers in a ledger. The set shows three tables, each with a male bookkeeper and a female assistant reciting by rote. Zero indicates his low social status. His wife (Cyrilla Baer) is contemptuous of him. The final blow comes when his boss (Jeff Still), after 25 years, instead of giving him a promotion, fires him.
The boss explains, My efficiency team has recommended the installation of adding machines…They do the work in half the time, and a high-school girl can operate them. Now, of course, I'm sorry to lose an old and faithful employee… But of course, in an organisation like this, efficiency is the first consideration, profit is the ultimate goal. We must work for our investors or the engine of economics grinds to a swift halt. And we can't have that, can we? You will of course draw your salary for the full month. We couldn't do anything less for such a valued and loyal employee.
Zero stabs him to death with the spike on which the sales slips were impaled.
Arrest and execution brings him to the Elysian Fields, a lush sunny garden. But Zero can't take freedom, even with the office assistant he secretly loved. A racist, anti-Semite and prude, he doesn't want to be mixin' with people that ain't respectable! He retreats to a small dark room to punch an adding machine that ejects swirls of paper. I ain't missed one day! Not one hour! he sings, Not one minute and look at all what I done! Freedom! Freedom!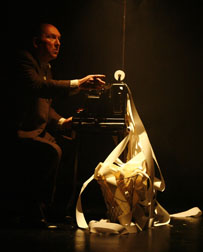 Then he's told it's time for his soul to be reused. He's been in this laundry of souls thousands of times, but doesn't remember. Charles (Still), the local manager, says, Well — that's partly because you're stupid… Some do remember — there's the type that gets a little better each time it goes back… But then there's the ones like you.
Charles says, If there was ever a soul in the world labeled 'slave', it's yours. Zero has built the pyramids, was a Roman galley slave and a thousand years ago dug potatoes for the lord of the manor.
Still, Zero wants to return to an adding machine. You're just a slave to a contraption of steel and iron, says Charles. You spineless idiot — I pity you!… It's time to go back! Back to mediocrity, a sunless groove where you'll fall the ready prey of any Boss who plays upon your ignorance, your credulity, your provincialism!…You chose the machine, Zero! Every time! So it chose you!
In the backdrop is projected a huge conveyer belt on which shadowy figures hang and move; the bodies get larger, and suddenly Zero is there, too.
Top Girls was set in the early Margaret Thatcher years (1979-90). British feminist and socialist Caryl Churchill delved into how free were the top girls of the past and present. In this context, she looks at the status of workers.
A dinner party in an Italian restaurant is thrown by Marlene (Elizabeth Marvel), who has just been promoted to executive at an employment agency.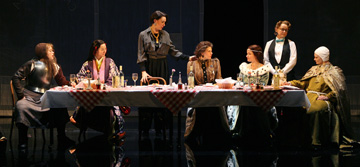 Two guests were top as playthings of powerful men. Lady Nijo (Jennifer Ikeda) was mistress of the 13th-century Emperor of Japan, and Patient Griselda (Mary Catherine Garrison), the obedient wife of Chaucer's The Canterbury Tales, was a peasant married at 15 to a marquis. Both had children snatched from them, because they could control nothing, not their bodies or their babies. Pope Joan (Martha Plimpton), disguised as man from 854 to 856, was executed when she gave birth and her ruse discovered.
More admirable and gutsy were Dull Gret (Ana Reeder), from Brueghel's painting, in which she led women charging through hell to fight devils, and Isabella Bird (Marisa Tomei), from19th-century Edinburgh, who traveled the world from 40 to 70.
To move up, Marlene has abandoned her out-of-wedlock daughter Angie (Plimpton) to her working-class sister. That makes her dinner party toast ironic: We've come a long way. To our courage and the way we changed our lives and our extraordinary achievements.
How far had women come in the age of Thatcher? At the employment agency's nondescript steel desk, she counsels women applicants to cover up the fact they might get married and have children.
Like Zero, the women workers lack consciousness. Louise (Mary Beth Hurt), at 46, wants to leave her job. She says: I've lived for that company. I've given my life really you could say because I haven't had a great deal of social life. I've worked in the evenings…I had management status from the age of 27…I've built up a department…I've spent 20 years in middle management. I've seen young men who I trained go on, in my own company or elsewhere, to higher things. Nobody notices me… They will see when I've gone what I was doing for them.
But she shows contempt for her own. She recalls the only time I took on a young woman assistant, I always had my doubts. I don't care greatly for working with women, I think I pass as a man at work.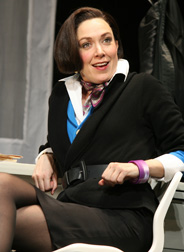 A true Thatcherite, Marlene has no sympathy for her child or her struggling parents. This country needs to stop whining, she says. Her sister Joyce (Marisa Tomei) protests, but Marlene ripostes: Bosses still walking on the workers' faces? Still Dadda's little parrot? Haven't you learned to think for yourself? I believe in the individual. Look at me.
She attacks her father, who drank. Joyce declares: What sort of life did he have? Working in the fields like an animal. Why wouldn't he want a drink?…Their lives were rubbish. They were treated like rubbish.
Marlene declares: I don't believe in class. Anyone can do anything if they've got what it takes.

Joyce: And if they haven't?

Marlene: If they're stupid or lazy or frightened, I'm not going to help them get a job, why should I?
What about Angie? Joyce asks. She's stupid, lazy and frightened, so what about her?
Marlene: She'll be all right.
Joyce: I don't expect so, no. I expect her children will say what a wasted life she had. If she has children. Because nothing's changed, and it won't with them in.