By Lucy Komisar
Inter Press Service (IPS), Oct 24, 2008
For decades, playwrights writing realistically about the black experience in the United States could not get their works produced, black directors didn't get jobs, and even the most successful performers were confined to roles as servants in plays about whites.
First produced in 1975, The First Breeze of Summer by Leslie Lee was one of the early U.S. theatre works about black life.
Broken dreams lie behind the grit of the elderly woman at the centre of this play about the tribulations of being black and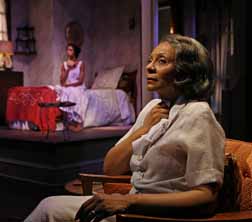 female in the U.S. South. Gremmar — as her grandsons call her — raised three children by different fathers, none a husband, each offering a hope that was dashed on the rocks of racial prejudice or the sexual double standard.
Lee's play was staged by the Negro Ensemble Company, established in New York in 1967 as a place where black theatre artists could write and act in plays about the black experience.
The NEC's founders were actors Douglas Turner Ward and Robert Hooks, who had been in the cast of an exceptional breakthrough black play: Lorraine Hansberry's 1959 A Raisin in the Sun.
Ward and Hooks with theatre manager, Gerald Krone, began putting on plays off-Broadway. One was Day of Absence, a reverse minstrel show, with black actors in whiteface playing whites in a small Southern town when all the blacks have mysteriously disappeared. It was a big success and led to a grant that funded their new Negro Ensemble Company.
The mission of the company would be to present live theatre performances by and about black people to a culturally diverse audience that is often underserved by the theatrical community. The NEC has presented 200 new plays over more than 40 years.
In 1981, Charles Fuller won a Pulitzer Prize for A Soldier's Play about the murder of a black soldier on a southern Army base, and the investigation of the crime by a black army captain. Other playwrights garnered major U.S. theatre awards. Producing not only local plays, the NEC staged works by Wole Soyinka of Nigeria and Derek Walcott of Trinidad.
Lee's play is a family drama, a common U.S. genre, but not so commonly about black families, especially in the years till the NEC began. Gremmar Edwards (Leslie Uggams) has a place of honour in the white clapboard house that is comfortable but far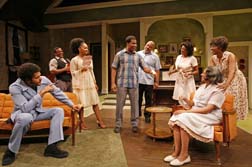 from elegant and which she shares with her son Milton (Keith Randolph Smith), his wife and their sons. She is the solid matriarch of the home, holding a moral compass for the working-class Philadelphia family whom we see in the 1970s.
Milton and son Nate (Brandon Birden) argue about how they should price a plastering job. Nate — who dropped out of college to heed his father's demand to join the family business — says his dad set it too low, but Dad wants to be sure to win the bid. The younger Lou (Jason Dirden), still in high school, chafes at his father's insistence that he work at plastering for the summer when he'd rather get a job that furthers his ambition of being a doctor or scientist. There is security and there are dreams.
In flashbacks, we see the threads of failed aspirations and broken dreams that run through their lives. It starts in the 1920s with the humiliation of a black doctor. Gremmar is the young Lucretia (Yaya Dacosta) whose lover Sam Green (Gilbert Owuor), a railway porter, defends a black doctor who had to work as a porter because black patients couldn't pay him.
When the man dropped a passenger's bag and is upbraided, Sam intervenes: This man is a doctor; you ought to be carrying his bags, he tells the furious white. Sam is fired. Though Lucretia is pregnant, Sam tells her he must leave town to seek work.
Lucretia becomes a maid. The years that follow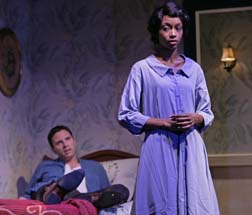 bring two more tragic affairs, one with the white son of her employers, and two more children. She almost marries Harper Edwards (John Earl Jelks), an evangelical preacher working as a miner who is about to get his own church. When he discovers the young mother he wants to wed is not a widow, he becomes distraught about her sin. He rapes and abandons her, and his preaching career.
But Gremmar bequeaths a truly religious soul to her family. Sunday afternoon at home presided over by Milton — the erstwhile preacher Edwards' son — turns into an animated Bible reading and gospel singing revival meeting led by the charismatic Reverend Mosely (Harvy Blanks).
I have walked the straight and narrow path, ignored temptation along the way, Gremmar shouts, as in flashbacks she thinks about her lovers. There is no contradiction. Leslie Lee says the play is semi-autobiographical, inspired by his own conflicted feelings toward his grandmother, who had children by several men.
This season, New York's Signature Theatre, which focuses on particular playwrights or groups of playwrights, is highlighting the NEC. The other works in its series will be Home (1979) by Samm-Art Williams, about a man who leaves his family's farm in North Carolina in the 1950's to seek refuge and prosperity in the North. He moves from adolescence to adulthood through the Vietnam War and Civil Rights eras.
Zooman and the Sign (1980) by Charles Fuller is about the effect of violence on a family and community. The family is terrorised by the violent Zooman, while the neighbours refuse to act.
Charles Weldon, a singer in Hair and other musicals, became an actor member of the NEC in 1970 and was named artistic director in 2004. He says that support for black theatre waned in the late 1980s — the Ronald Reagan years — when money for the arts was cut. The big white theatres had better access and money to lobby and got the bulk of the grants.
Ironically, a funding requirement for diversity had a negative effect on the NEC. Weldon said it caused the major nonprofit companies to do one black play a season, generally in February — Black History Month.
He told IPS, The joke among black actors was if you don't work in February, you shouldn't be in this business. I'm sure they thought they were doing the right thing, but it took money from black theatre, which fell by the wayside. In the early 1990s, the NEC totally ran out of money.
But white theatres doing occasional black plays didn't end the need for the NEC, Weldon said. The big theatres do just one black piece a season or they cast a black actor in a white role, he explained. And they don't provide a home to new young black writers.
Now Weldon sees a black theatre revival. The NEC belongs to a coalition of 15 black theatres in New York. Weldon said, Plays come into my theatre every day, young writers coming out of college who give me plays. This season at the Signature Theatre, audiences will see works that highlight the best of what U.S. black theatre has produced.
Article on IPS site.