by Lucy Komisar
New York Theatre-Wire, Dec 9, 2008
At a time in the U.S. when most films seem made for retarded 13-year-olds, this revival of David Mamet's 1988 Speed the Plow directed by Neil Pepe, is right on target. It's a satire on Hollywood moguls on the make for money and success, which they see strewn along the paths of titillating sex and violence. Hey, how else to get a lunch table at the town's favored watering hole?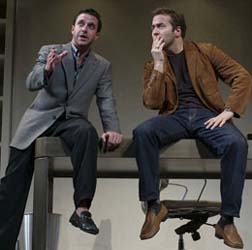 Charlie Fox (Raul Esparza) who has struggled up the Hollywood studio ladder for 20 years alongside his buddy Bobby Gould (Jeremy Piven), the studio's new head of production, comes to him with a surefire hit. A box office star has given him a 24-hour option for a prison movie.
When Charlie brings in the deal, they are ecstatic, breathless. They talk in double time about how they will spend the coming cash, how they will settle scores. For Charlie it's a big break. Esparza oozes desperation mixed with his longing to win. Curiously, Piven, playing the man who just got a plumb job, doesn't seem as driven.
Then Karen (Elisabeth Moss), a sweet, wide-eyed naive young woman who is working at the studio as a temp is called in to do some secretarial tasks. She ends up challenging Bobby to make a film that matters. Why should it all be garbage? she insists.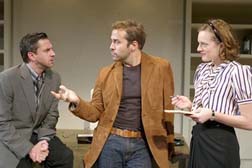 The studio boss has given Bobby a book to read, but both know that it won't make a film. It's about the potential dangers of radiation. The read is just a favor. He passes it over to Karen, who is enthralled. So he invites her to his house to discuss it; though, of course, that's hardly what he has in mind. At his luxury digs with a huge picture window (think Beverly Hills), she makes a California New Age spiel about fear and faith. She wants him to film the book. She says the prison movie is degrading. He says it's what people want.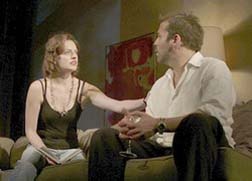 Who will win the battle for movieland? The next day, Fox hyperventilates: If they can't put it in TV Guide, you can't make the film. Karen is still pushing her world-changing project. The surprise ending explains why Hollywood, for the most part, still produces junk.
Ethel Barrymore Theatre, 243 West 47th Street, NYC. http://www.speedtheplowonbroadway.com/. Opened October 23, Closes February 22, 2009. The role of Bobby Gould is performed by Norbert Leo Butz through Jan. 11, then by William H. Macy.
Original on NY Theatre-Wire