By Lucy Komisar
Inter Press Service (IPS) Dec 5, 2008
It might seem odd at first to compare them, but Beast, a brutal, surreal black comedy about the Iraq war, has something in common with The Files, a stunning, sardonic docudrama about the repression of cultural freedom by the Polish communist secret police.
They are theatres of the absurd, though in the Poles' case, the tales they tell are very literally true. Both plays, staged off-Broadway in New York, are attacks on criminal acts of governments.
Beast, written by Michael Weller and directed by Jo Bonney,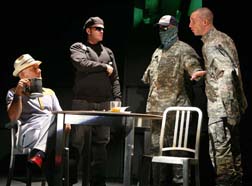 starts out in a military hospital in Germany. Jimmy Cato (Logan Marshall-Green), a soldier in fatigues, is talking to a picture of his commanding officer. It sits on a coffin facing a picture of the president — George W. Bush.
We see the soldier in side view; then he turns, and we realise that the left side of his face is burned and his left arm has a prosthetic claw. Suddenly, his commander sits up in the coffin and climbs out. Benjamin Voychevsky, Voych (Corey Stoll), is in even worse shape than Cato. His face is torn up. He's missing an ear, an arm. They were blown off in a marketplace in Iraq.
This is like a bizarre road movie. In search of papers to allow the dead man to return to the U.S. (outside his coffin), they call on Captain Adler (Dan Butler), a military official who runs a side-line arms business and insults and haggles over a big-time sale to Aziz (Raul Aranas), an Islamic terrorist.
They visit prostitutes who deal with the seriously wounded. The women turn out to be blind and have a pimp who appreciates what the U.S. has done for him. What Washington has done for Voych, killed on his fourth tour, includes a bank calling in his home loan and threatening to dispossess his wife.
How do you punish the man who — with his acolytes in Congress — is responsible for all this? For Weller, the greatest punishment is to make him confront the people he destroyed.
But let's do this subtly, with a little symbolism. It turns out that Mt. Rushmore, South Dakota– where the images of four great U.S. presidents are cut into granite — is a nighttime layover for J.T. (Jeremy Bobb), an evangelical Christian truck driver spewing redemption, who gives the soldiers a ride. They want to go north to Alaska, but he tells them he's driving to Texas. Well, maybe that can work out too.
They end up in Crawford, at Bush's ranch. They have a last military mission. Turns out Bush had been to Iraq for Thanksgiving and told the troops to look him up. So, they break into the ranch. Dan Butler is a great Bush imitator. They — the collateral damage — come to tell him to continue the war. He is a great man. They are just road kill.
But they see a problem. Voych asks, Where will you find men to serve if people see us come home looking this way… That's very wrong, sir; we're your legacy. Voych's answer is, Put my face on Mt. Rushmore with the four great men currently up there. Make me a hero… I'll inspire young warriors… so they line up to serve you.
But suppose they go one better and figure out how to make his face like theirs? Bush asks in terror how a disfigured face on Mt. Rushmore could lead to anything but revulsion and outrage. Indeed. There is a comic horror conclusion. This riveting, shocking anti-war play is vividly staged and memorable.
Satire to shine the light of absurdity on power takes on a whole other dimension when the power is an overt dictatorship. The Files is based on Polish secret police reports on the activities of the dissident Theatre of the Eighth Day, which challenged the government in the 1960s and 70s.
Premiered in 2007, it is performed by four actors who were members of the company, which was based in Poznan. They are Ewa Woyciak, Adam Borowski, Tadeusz Janiszewski and Marcin Keszycki. The troop's name comes from the Polish poet Konstanty Ildefons Galczynski: On the seventh day, the Lord God rested, and on the eighth, He created theatre. The play takes place from 1975 to 1983. One has the sense of being there.
For the actors, the theatre was a political tool, and a temple, a way for them to live their lives in community. The character Ewa Wojciak says, It wasn't a vision of a theatre so much as a vision of a team of people… together in order to do something.
Continuing that vision, The Files has no director but only the four actors.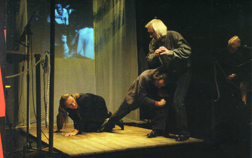 They performed group improvisations, developing an avant-garde people's theatre, heavily influenced by Polish director Jerzy Grotowski. They satirised the complex plotting of spies and informers. They did plays with names such as We Have to Confine Ourselves to What Has Been Called Paradise on Earth…? (1975), Sale for Everyone (1977), and Oh, Have We Lived in Dignity (1979).
They performed in churches and in the street — the first Polish theatre to create street performances, starting at the time of martial law. In the 1980s, they performed in exile. They survived through mutual solidarity.
When communism fell, the actors discovered the files. The play is a pastiche of their feelings, the files, notes from their letters, and videos and reenactments of scenes from their plays. On a screen, we see the four as young actors 25 and 30 years ago in the avant-garde productions that riled the government, which probably couldn't understand the style, though it got the message.
They recount government plots of infiltration by secret associates. They each had 10 or 12 spies assigned to them. SA Wojciech is instructed to propose to his film club to make a documentary film about student circles in Szezecin. From reports, letters and memoirs, they recount the searches of their apartments, their jailing on minor offences, their beatings, their denial of paid employment, the restrictions on their activities.
The police had their own reviewers of the plays. A memo says: The overall idea of this play (Sale for Everyone) involves an attempt to juxtapose grotesque images of people thrust into a world of illusion, a state of antagonistic attitudes of decadence and contestation.
The climax of the play, the agent says, is an image of Poland chained in its borders, which it is unable to cross to get to the outside, and within which it is impossible to love, think and work freely.
One can only marvel at the acumen of the agent who appears to be a repressed theatre critic! And one is fascinated by seeing this history come alive.
Article on IPS site