By Lucy Komisar
New York Theatre-Wire
Con men make good anti-heroes. At a time when the country is focused on a spectacular one that cheated people of billions, it's instructive to take a look at the genre. Pal Joey, the Richard Rodgers-Lorenz Hart 1940 musical given a moody revival by director Joe Mantello at the Roundabout Theatre, is about a sleazy character on the make for money and success. Joey's take was a lot smaller than Bernard Madoff's, but the essential immorality of the character – and the con man's ability to charm and persuade — is the same. The new book is by Richard Greenberg, based on the original by John O'Hara.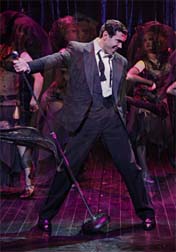 It's hard times in Chicago in the late 1930s, at the tail end of the depression. Joey Evans (Matthew Risch) is a small-time hoofer with a dream of owning a night-club. He has a habit of pulling scams and being run out of town. This time he lands on the South Side of Chicago where he's given a job at the seedy South Side club. Its tackiness matches his style.
He picks up an innocent ingenoue, Linda English (Jenny Fellner), who has just arrived in town and seems so clueless that you wonder how she survives the big city for a day. But when she insures her job as the bookkeeper at a local haberdasher's by changing the records system so that her boss couldn't possibly hire anyone else, you see that she's not as naive as she seems, except maybe about men.
Joey is a womanizer who lies to everyone, and his line works from the naive to the sophisticate. Gladys Bumps (the memorable Martha Plimpton) is a performer in the night club who turns out to be an old girlfriend he left to fend for herself with an abortion. Plimpton is indelibly street-worn and cynical; I'd have liked to see the show revolve around her. She's not above plotting a little blackmail. The real prize on Joey's ladder-climbing is Vera Simpson (Stockard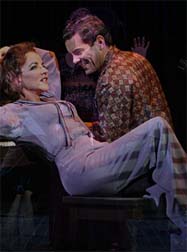 Channing), the bored rich wife of a philandering husband who gets smitten by him – hard to imagine why – and finances his dreamed-about Chez Joey. She understands what she terms his bad form but is sexually turned on. That he is brash and obnoxious seems not to matter.
Even so, Channing's rendering of Bewitched, Bothered and Bewildered about her infatuation for Joey is hard to believe. Risch's Joey is not rakish or charming enough. You think Vera Simpson can't be that stupid. But she was clever. She tells him, You seem trying to save my soul and take my money at the same time. So much like church!
The acting is generally smooth and professional. The best voices are Plimpton's and Fellner's. Plimpton's Zip, the famous satire on an intellectual stripper, steals the show.
Zip! Walter Lippman wasn't brilliant today.
Zip! Will Saroyan ever write a great play?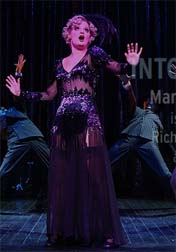 Zip! I was reading Schopenhauer last night. Zip! And I think that Schopenhauer was right.
Risch's and Channing's singing disappoints. Even so, it's delightful to hear some old standards that also include I Could Write a Book and Do it the Hard Way.
The set by Scott Pask, bookended by the steel girders of the Chicago elevated train and a high circular staircase, has a dark feel. A swank nightclub with a glittering chandelier and patrons in evening dress conjure up 40s fantasies.
Channing's 40s evening dresses and the nightclub chorine's outfits by William Ivey Long are the stuff of fantasy. Of course, that's what con men thrive on.
From original script by John O'Hara Adapted by Richard Greenberg Music by Richard Rodgers. Lyrics by Lorenz Hart. Directed by Joe Mantello Presented by Roundabout Theatre Company Studio 54, 254 West 54th Street, NYC http://www.paljoeyonbroadway.com/ Opened December 18, closes February 15, 2009 Reviewed by Lucy Komisar December 14, 2008