By Lucy Komisar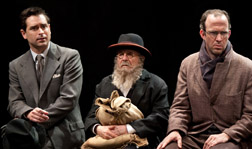 A central theme of Arthur Miller's plays is morality, often personal morality in difficult times. All My Sons, produced in 1947, excoriated a man who sold faulty aviation equipment to the military during the war. The Crucible, staged in 1953, was his Salem witch trials commentary on McCarthyism. And a decade later, Miller was back to the theme with Incident at Vichy, a 1964 chilling and depressing look into peoples' psyches and morality in the time of the Holocaust. In each succeeding play, the times got tougher, moral choices more difficult.
Incident at Vichy, crisply produced by The Actors Company Theatre (TACT), shows self-delusion, fear, confusion and heroism among people caught up in a 1942 roundup of Jews carried out by local police in occupied France under the orders of the Nazis.
Nine men and a 15-year-old boy have been brought into the police station. They sit on benches outside the office, some of them arguing, questioning, agonizing about what will happen to them. They talk about rumors of Jews stuffed into railroad cars to be transported to their deaths. All but an Austrian aristocrat are Jews.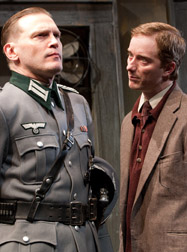 For all that drama, the structure of the play is rather static and didactic, and the initial scenes of the men – a snooty businessman, an artist, a waiter, a leftist worker, an actor, and a gypsy — become rather numbing. We see degrees of self-delusion, anger and angst. The actor goes on too long. The worker declaims well-known ideological positions. Though their stories and their fears pile up to heighten the tension, the characters are too stock.
The production gets interesting when the psychiatrist Leduc (Christopher Burns) engages in conversation about morality and responsibility with the Austrian, von Berg (Todd Gearhart) who till now has expressed sincerest distress about the fate of Jewish musicians who played at his estate. The two look as if they would in another time be friends sharing a drink at the local bistro.
The characters' stories have been setting the stage to tell us that all kinds of people must confront this horror, each out of their personal experiences, though only the very educated and sophisticated psychiatrist and the cultured aristocrat arrive at raising the political challenge.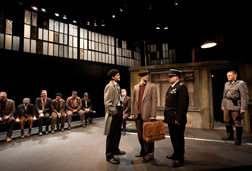 In this hopeless situation, Miller calls on people to exert their humanity. His hero is the Austrian Von Berg who tells Leduc: There are ideals…there are people who would rather die than stain one finger with this murder. Leduc replies that Von Berg will survive, and that the horror cannot be shared.
The denouement is still a surprise and a shock.
The cast, directed by Scott Alan Evans, is generally excellent, especially Burns and Gearhart, though the old Jew (John Freimann) who speaks no lines looks more like a sack of potatoes than a man, and Monceau the actor (Gregory Salata) is rather hammy. I admit to enjoying Ron McClary's leftist worker's stock but rousing anti-capitalist speeches, so appropriate for our time.
Incident at Vichy. Written by Arthur Miller, Directed by Scott Alan Evans. The Actors Company Theatre (TACT), at Samuel Beckett Theater, 410 West 42nd Street, New York. Opened March 16, 2009, Closes April 11, 2009. Reviewed by Lucy Komisar March 14, 2009. http://www.tactnyc.org/resources/Incident-at-Vichy.php.
Review on NY Theatre-Wire site.