By Lucy Komisar
The Classic Stage Company's bold mounting of three Greek playwrights' visions of one of the most famous ancient myths lurches from melodrama to vaudeville and gives audiences some diverting hours in the modern theater.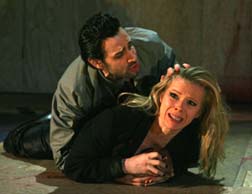 Three directors have taken on the task, Brian Kulick and Gisela Cardenas staging Agamemnon and Elekra and Paul Lazar helming Orestes. The contemporary translation and adaptation is by Anne Carson. A mostly expert cast moves through the dramas, with special praise deserved by Stephanie Roth Haberle for an in-your-face Klytaimestra, Steve Mellor as the to-the-manor born Agamemnon and then his brother Menelaos, and an astonishing Annika Boras as Elektra, who asserts a daughter's revenge with studied passion.
To remind: King Agamemnon has gone to Troy to help his brother Menelaos bring back Helen, who left him for Paris. Back home, Agamemnon's wife Klytaimestra (Helen's sister) has taken up with Aigisthos (Craig Baldwin). Alarmed, the King and Queen's daughter, Elektra sends her younger brother Orestes to be raised by another king. When Agamemnon returns, wife slays him. Orestes (Mickey Solis) returns, kills his mother and Aigisthos (now Christopher McCann). The Senate wants him executed for matricide. But the god Apollo intervenes.
There is where the sense you are watching an ancient Greek production ends. A herald comes dressed in khaki to announce Agamemnon's return. The King arrives in a military camel coat, cap with visor, dark glasses, and briefcase. His speech is macho.
Some of the directors' choices don't work, ie. the slave Kassandra (Doan Ly) being inexplicably drenched with a hose and the Furies, commenting on events in the second play, attired in bathing suits, sunglasses, and beach towels.
On the other hand, it was compelling to see Klytaimestra and Aigisthos as Bonnie and Clyde types, with the lady carrying a bloody axe. Stephanie Roth Haberle is a memorable Klytaimestra, exuding anger and toughness and self-confidence.
It's made clear that there is some little bit of justification for their crime. In swaggering, tough fury, Klytaimestra denounces her husband for sacrificing their daughter, Iphigenia, to get winds to move his becalmed fleet. Now you pull out your code of justice, she declares. And Beyond justice are men of excess wealth. Lots of politics here.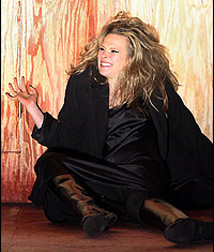 Annika Boras dominates the second play as Elektra, full of poetry and passion. In flowing blonde hair, long black dress and wool coat, (costumes are by Oana Botez-Ban), she challenges wartime immorality. She exemplifies courage vs. sucking up. Her sister protests, We have masters, we must bend. But Elekra won't lick their boots. Nor will she answer killing with killing.
The confrontation with her mother, who is dressed in an orange pencil line floor length spaghetti strap gown, and drinks a martini, is a scene that might have been written by Tennessee Williams. Elektra says she doesn't think of her as mother, but as some sort of punishment cage locked around my life.
Boras shines in a monologue on justice and immorality, though I admit to being lost about the reason for a scene where she crawls in mud.
I did enjoy the arrival of Aigisthos in a white suit and straw hat and carrying Fifth Avenue style shopping bags. Then come body bags and blood running down the walls. With jazz background, Elektra is at the mike talking to the audience, explaining that the local citizens will vote whether to stone the killers.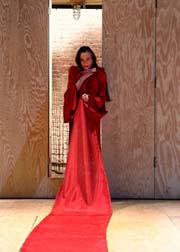 The third play, directed by Paul Lazar, is truly over the top. And clever enough to maintain the logic of the text.
We never do see Helen, but Menelaos (Steve Mellor) arrives with a black wool coat over his traditional robe. Peering through wire-rimmed sun glasses, he soon turns into an ersatz shrink, as Orestes lies on a cot and his uncle listens to his plaints and inquires, When did that start? Orestes explains the events, and declares, I'm not allowed to live!…Today they will vote….Death by stoning. Mickey Solis infuses the Orestes character with anguish.
Menelaos asks, Why haven't you fled? Orestes: I am surrounded. Menelaos: By whom? Orestes: Long story short, the whole citizen body. Menelaos: Oh you poor man. Complete catastrophe.
It becomes increasingly hokey. Tyndareos, the father of Klytaimestra and Helen, challenges Menelaos: You launched 1000 ships for that? He comments, I'm a fortunate man in many ways, but not in daughters. I struck out. (At one point Helen is called that weapon of mass destruction.)
The Greek chorus here is composed of two characters who sing vaudeville style while one plays a ukulele. Among the lyrics are evil that calls itself virtue and the ruling machine.
But by now you must guess that I very much enjoyed this very contemporary, slightly hokey and pointedly political take on these famous Greek tragedies. It's another example of the Classic Stage Company smartly fulfilling its exemplary mission of bringing modern takes on old and ancient plays to the stage.
An Oresteia: Aeschylus's Agamemnon, Sophocles's Electra, and Euripedes's Orestes. First two directed by Brian Kulick & Gisela Cardenas; third by Paul Lazar. Classic Stage Company, 136 East 13th Street, New York City. 212-352-3101. Opened April 1, 2009, Closes April 19, 2009. Reviewed by Lucy Komisar March 28, 2009. http://www.classicstage.org/.
Review on NY Theatre-Wire site.