By Lucy Komisar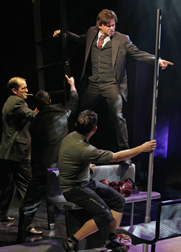 Stanley (Hunter Foster) was an investment banker, a master of leveraged buyouts. As Foster tells it in song and dance, he was an overachiever of insider trading, moving a step up the ladder of legalized crime. Then, at 42, he had a massive heart attack. And died.
Now he's the conductor on the train in this whimsical pastiche by John Weidman (often clever lyrics by Michael Korie, tuneful music by Scott Frankel) about people on the way to the netherworld – via a New York subway car with silvery benches — instructed to remember the best moments of their lives. It's where they will spend eternity.
Of course, those moments turn out to be unexpectedly simple, sometimes the reverse of what they've wanted for their lives. What has mattered to these characters takes a little while to shed.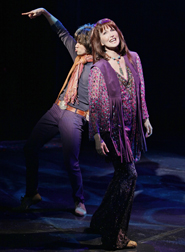 Arlene (Joanna Gleason), a rightwing radio shock-jock preens at being upper class and taunts a Hispanic in the subway car: Show me your green card.
Gina (Jenny Powers) brags about her holidays at Gstaad. They're both class fakes. Turns out Arlene campaigned for Gene McCarthy and waited for the March 1968 returns at the Fillmore East with a character that looked very much like Mick Jagger.
Gina, who really works behind the cologne counter at Bloomingdale's, remembers a wonderful and simple time on the beach with a fellow who doesn't hold flutes of Baccarat.
As the subway car turns, lives spill out. But the stories are uneven.
My favorite was Helen (Alessa Neeck) as a young woman jitterbugging with a soldier at a USO club in 1944. Phyllis Somerville as the older Helen gets in some good dance licks of her own. Very talented director-choreographer Susan Stroman not surprisingly creates a number bursting with charm and verve.
However, Ken Page as Maurice, the gay decorator, is cloying in a flat, overly sentimental scene where he visits a hospitalized friend dying of AIDS. Miguel (Miguel Cervantes) as the Hispanic is given lines that make him unnecessarily vulgar, and a memory of his visit to his daughters is downright silly. Stroman is good at any kind of people-moving, including the opening rush around New York streets, with one character urging folks to give a minute for Greenpeace.
As with the characters, you need to grab the best moments.
Happiness. Book by John Weidman, Music by Scott Frankel, Lyrics by Michael Korie. Directed and choreographed by Susan Stroman. Mitzi Newhouse Theater at Lincoln Center, 165 West 65th Street, New York. Opened March 30, 2009, closes June 7, 2009. Reviewed by Lucy Komisar April 10, 2009. http://www.lct.org.
Review on NY Theatre-Wire site.