By Lucy Komisar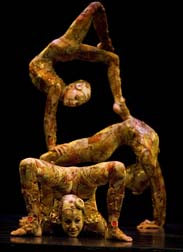 I have never seen anything like the three acrobatic contortionists who twisted and bent to the sound of Indian music under the Cirque du Soleil tent on Randall's Island. Their movements created living sculptures that shifted and held and then moved to another pose. Clad in colorful, patterned skin-tight leotards (costumes by Marie-Chantale Vaillancourt), they were stunning. Memorable.
The 19 artists of the House Troupe burst into action off the top of the show, combining acrobatics, rapid-fire costume changes and rebounds from three miniature trampolines set in the stage.
Cirque du Soleil presents not just a performance of daring-do circus acts, but inventive and artistic performances. They are for adults as well as for children.
In fact, the best moments for me were the dance productions. I loved the twirling, marching dancers in blazing costumes of red and gold, metallic gold flaps like jeweled armor on chests and skirts, moving to brassy Asian tinged music. (Choreography is by Clarence Ford.) A lot of the sound of this production is Asian. Or fusion, if you can say that about music.
Kooza is supposed to tell the story of The Innocent, a melancholy loner in search of his place in the world. The theme of Kooza is said to be human connection and the world of duality, good and bad….exploring concepts such as fear, identity, recognition and power. There is a sad sack sort of fellow who wanders around, but I admit I didn't quite see a deeper meaning. Maybe that underlies the dazzling dance of the Skeletons, featuring Death with his scythe.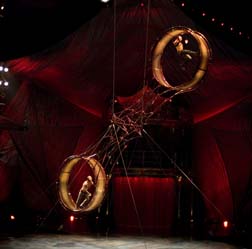 The best of the rest includes the round Wheels of Death, presented here for the first time: two guys running like mice inside and outside those spheres that circle in space, struggling to stay upright as they turn. Among the other well-executed traditional circus feats were performers doing swordplay on the high wire, acrobatics on a trapeze, balancing on a tower of a dozen chairs, flying through somersaults.
The clowns were the weakest part. Not very witty, I thought. Maybe okay for the kids, who laugh at anyone with a funny nose. They loved people dragooned out of the audience to play a part in skits onstage. I didn't. But I had to recognize that Cirque de Soleil is also for kids!
Kooza. Director of Creation Serge Roy, Written & Directed by David Shiner. Produced by Cirque du Soleil. Grand Chapiteau, at Randall's Island Park in New York. 800-678-5440 or 800 361-4595. Opened April 23, 2009, Closes June 21, 2009. http://www.cirquedusoleil.com/.
Review on NY Theatre-Wire site.