By Lucy Komisar
Take an environmentalist attacked by thug hired by a corrupt New Jersey mayor and thrown into a vat of that state's famous pollutants so that he comes out dripping with green sludge. Add a blind librarian who, when she return books to the shelf, lets go in mid-air so that they fall to the floor. She also writes porn, samples of which we hear. Nothing's better than a clever political satire, and The Toxic Avenger is the funniest I have seen in many a year.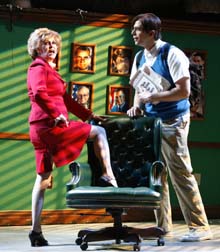 Feature a white guy and a black guy who play a variety of good and bad characters, including a couple of women, children, cops, a nun, waste management executives, etc.   Liven it up with memorable and jazzy   musical numbers. And locate it all in Beowulf Boritt's graphic comic book set centered around piles of corroded vats.
Melvin (Nick Cordero), the hero in nerdy glasses, is out to stop the mysterious pollution afflicting his state. The villain turns out to be the mayor of Tromaville, Babs Belgoody (the brilliantly comic Nancy Opel). Tromaville is Exit 13B on the New Jersey Turnpike, which in real life of course is known for the smell of the adjacent tank farms. And the state is known for political sleaze. The Mayor is planning to run for governor and is on the take from the Good Earth Corp. Melvin's investigation is thwarted by a couple of thugs (Matthew Salvidar as the White Dude and Demond Green as the Black Dude) who chuck him into a vat of slimey NJ water.
He comes out a green mutant with superhuman strength. He will go after polluters and rip them in two. But, wait. Danger lurks. Bleach can kill a mutant.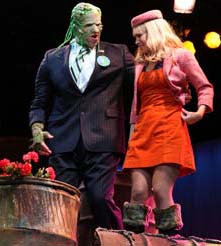 Meanwhile, if you're an ugly green mutant and still want romance, who better with than a blind librarian, Sarah (Sara Chase) who lost her sight in a freak cell phone accident. As his Ma (Opel) says to Sarah, If blind people don't love ugly people, then who will?
That leads into "All Men Are Freaks. It's a burden ev'ry woman shares as she travels down life's roads. She dreams of meeting her charming prince, but all she meets are toads. Melvin is still a bit of a toad. He tells Sarah a tacky blind joke. How did Helen Keller burn her hand? He suddenly realizes the faux pas and apologizes, but she replies, Did she try to read the waffle iron? That happened to me once.
There's no favor for any target. When Melvin's mother, Ma Ferd (also Opal), tells Sarah that my son has gone on a rampage! He killed a senior citizen, Sarah inquires, A senior citizen? Was she almost dead anyway? So, you get the idea. Opel, a compleat comedienne, does a wonderful bit where she plays the Mayor and Ma at the same time, shifting her profile in tune with the dialogue.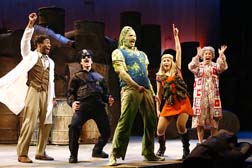 The plot thickens, and finally the Mayor tries to get help from the Professor.
Damn it, the professor tells her, what are you doing in my basement, woman? Didn't you ever hear of knocking?
She: Not long ago, you used to love it when I came in without knocking — finding you asleep … having my way …
The professor: Damn it, that's true. But it was the same story every time – you'd seduce me and then you'd make me use science for evil.
She wants him to help her take action against the monster's who's been terrorizing our town.
But his response is, He's no monster, the people love him! He has higher poll numbers than you!
To get the people against Toxie, she figures she can brand him a terrorist. And organize a lynch mob hopped up on moral righteousness and malt liquor! Yeah, say the thugs, A lynch mob that just wants to kill a terrorist, no questions asked, just like the Patriot Act says we can!
The comic puns and quips come so fast, it's hard to finish laughing at one before the next overcomes you. They are almost as potent as green sludge.
The Toxic Avenger. Book and lyrics by Joe DiPietro; Music and lyrics by David Bryan. Based on Lloyd Kaufman's The Toxic Avenger. Directed by John Rando; Choreographed by Wendy Seyb. New World Stages, 340 West 50th Street, New York City. Opened April 6, 2009.
A national tour will start in the fall of 2010.