By Lucy Komisar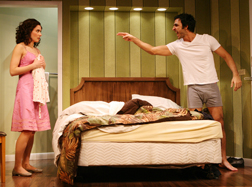 How can you satirize torture and torturers? If you're comically stinging playwright Christopher Durang, you stick pretty close to the truth till weirdness and absurdity overtakes the brutality. In this brilliantly funny play, Durang blunts the edge of what might appear to be gruesomely violent by turning reality into farce. He gets a lot of help from director Nicholas Martin who transforms right-wing psychopaths into figures of comedy.
The appropriately unsympathetic victim of the story is Zamir (Amir Arison), a swarthy, menacing man who appears to be from a Muslim country and who has date-drugged and married the unbelievably forbearing Felicity (Laura Benanti). When she wakes up in their marriage bed, he warns her, I can get violent. Definitely don't use your good china at dinner with me. Benanti, who we know as a musical performer in Gypsy and Into the Woods, shows her versatility as a perfectly tuned comic actress.
Felicity takes Zamir to New Jersey to visit her parents in their quintessentially suburban house that features a living room with pine walls, book cases, and a couch with a doily throw. And of course a breakfast nook.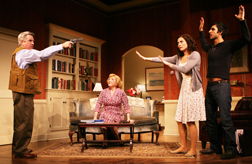 Her mother Luella (the talented comedienne Kristine Nielsen) is a perky, ditsy lady who lives in a dream world of theater. No wonder, since her husband Leonard (Richard Poe) is a bully who burns squirrels with a napalm projector. He is ex-military and very rightwing. He has a lot in common with Zamir. Luella's theater fantasies alternate with horrific reality in a way that reminded me of Kiss of the Spiderwoman.
Is son-in-law causing a problem? Father pulls out a gun. Felicity declares, Father, stop it, no more killing! And, The amount of testosterone charging out of the two of you is disgusting. Enough with men needing to kill and blow things up all the time.
Durang pointedly brings up the standard left-right images of the past. Leonard remembers the photo of a South Vietnamese officer holding a gun to the head of a Vietcong soldier he is about to execute. Luella counters, I remember the one of the poor little girl running naked down the street after she was hit by napalm.
Leonard, however, is pro life about fetuses and stem cells. He wants to give them the right to vote and register them as Republicans.
But the past is prologue. Leonard is involved in a far-right cabal, with members in the Pentagon that include a Lt. Freedom, who have set up a shadow government and are planning a coup. In a secret attic room his wife and daughter are not allowed to enter, he has amassed an arsenal of guns and knives and even gaudy lances from the Middle Ages.
When Felicity informs her parents that she wants to divorce the nasty Zamir, Leonard goes into action, tricks the man upstairs, and turns the secret room into a torture chamber.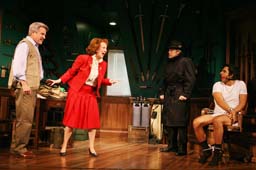 Attended by Hildegarde (the bizarrely funny Audrie Neenan), a middle-aged right-wing groupie whose underpants keep falling to her ankles, and Loony Tunes (David Aaron Baker), clad in a spy's black raincoat and fedora, Leonard proceeds to draw blood, with strict attention to the Bush Administration torture definitions. He explains, John Yoo from the Justice Department wrote a torture memo says that it isn't torture unless it causes organ failure. And even if it does that, as long as the President says the words "war on terror," it's A okay.
The cleverness of Durang's script is that when it seems to have gone completely over the top, he inserts a bit of reality which shows you that this really all happened. Hildegarde, for example, wants to send Zamir to Syria and let them make him talk.
It's also important that Durang and Martin make Zamir a very unappetizing character, so that you are rooting for him to get some punishment until you realize the horror that leads to. Not to mention the counter-productiveness of torturing someone until they say anything you want to hear. The over-the-top denouement seems not so unlikely at all.
Why Torture is Wrong, and the people who love them. Written by Christopher Durang, directed by Nicholas Martin. Public Theater, 425 Lafayette Street, New York City. 212-967-7555. Opened April 6, 2009, closes May 10, 2009. Reviewed by Lucy Komisar April 14, 2009. http://www.publictheater.org/.
Review on NY Theatre-Wire site.