By Lucy Komisar
Simon Cato (Gavin Lawrence) in his gold and purple stripes is cheeky, witty, a charmer as a jockey. Step back. This is 1861 and he is black; cheeky translates to impudent, (ie. a challenge to power). A witty black man probably had no translation. Colonel Wiley Johnson (Chris Mulkey), who has hired Simon to ride his racing horse, pleads, Will you try and behave like a slave for just a few minutes!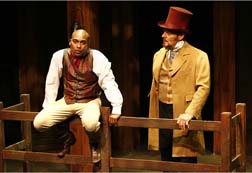 Carlyle Brown's play, directed with cool humor by Marion McClinton (the preeminent director of August Wilson's plays), encompasses in the struggle of a very unusual man the struggles of all black slaves to be free. That starts with slavery but continues after, including what happened to those who sought freedom in the north. Simon's fate mirrors the true stories of champion black jockeys who rode in the ante-bellum south, then went north after the war. I dare say that few of us know their stories.
Pointing out the irony of the ownership of slaves, the story has Simon, an adult, owned by two white children whose property is managed by a lawyer. Simon smartly finesses a hiring auction to get the best deal for himself as a jockey. He ends up riding the Colonel's Pure Confidence, whose name could describe him as well. He makes a deal with the Colonel to ride for winning bonuses that he can use to buy his freedom.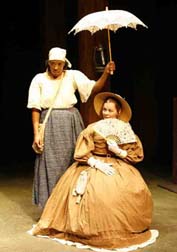 The underlying truth of the play is that enslavement had nothing to do with inferiority. Simon is clearly a superior man.
'Along the way, he courts Caroline (a very self-aware Christiana Clark), the servant of the Colonel's wife, Mattie (Karen Landry), who in future generations would be the ultimate good-government club woman (reform, not revolution). Both Johnsons are shown as relatively sensitive slave owners, as far as that can go. This is the only part that strikes me as somewhat unbelievable. If the Colonel was so good, why didn't he free Simon and make a deal to pay him to ride? And why didn't Mattie demand it? Other sensitive whites of the time operated the underground railroad.
The play points out that the enemy is the system and the small people who use it to smash those who are superior to them in talent.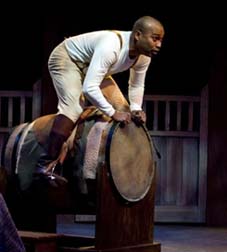 The most vivid and dramatic scene has Simon, fire in his eyes, riding a barrel as if it were a horse, boots hitting wood to make the sounds of hoofs, a man in slavery riding to freedom. (The imaginative set here is by Joseph Stanley.)
The times and the ownership culture overcome Simon and the Colonel. His owner goes back on their deal; it's all about money. Even Simon talks about Caroline, whom he marries, as if she were his property.
Fast forward post-war to Saratoga, New York, where a reporter (Casey Greig) is investigating what happened to colored jockeys after the war. The colonel wants to find out, too. Hint: coloreds and Jews are not allowed in Saratoga hotels.
Brown's excellent play is a fine addition to the theatrical literature of slavery. McClinton's staging makes it a worthy production of his own very fine canon.
Pure Confidence. Written by Carlyle Brown, Directed by Marion McClinton.
Produced by Mixed Blood Theatre. 59 E 59 Theaters, 59 East 59 St., New York City. 212-279-4200. Opened May 27, 2009; Closes July 3, 2009.