By Lucy Komisar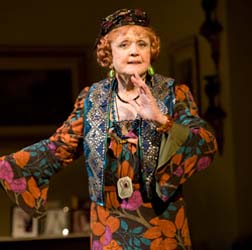 The idea behind Noel Coward's play is quite promising. Charles Condomine (Rupert Everett), a middle-aged murder mystery novelist – obviously quite successful in writing or marriage, from the country villa he inhabits – invites a medium (Angela Lansbury) to hold a séance for him, his wife and another couple.
He pretends a genuine interest, but he's just looking for jargon and tricks to use in a book. The couples discuss the upcoming event with some superciliousness as they wait in their upper class dinner clothes – long gowns for the women, black tie for the men, and cucumber sandwiches for all.
As this is a Coward piece staged by accomplished London director Michael Blakemore, you'd expect some sophisticated wit and gentle skewering of upper class British society. Alas, though the piece is certainly amusing, it's more television fluff than barb.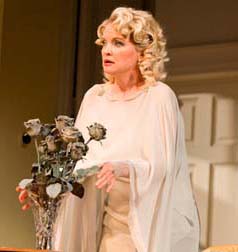 Maybe it's just too dated for what passes for sophistication now. Example, Charles's first wife Elvira (Christine Ebersole) departed this world when she was convalescing after pneumonia. As Ruth Condomine explains, One evening she began to laugh helplessly at a BBC musical program and died of a heart attack. Maybe you have to be British.
The tables are turned on Charles' ruse when after the séance Elvira appears in flowing gauzy white gown, visible only to him, and proceeds to interfere with his marriage and household.
The actors run through their paces in fine form, but the story they spin is too much like a 40s movie. A skillful comedian, Angela Lansbury mugs through the role of the medium, Madame Arcati , attired in a gaudy costume of purple velvet and shiny black beads. With a high pitched voice and exuberant, flighty demeanor, she brings some charm and presence to the role of making contact with the spirits of those who are no longer present.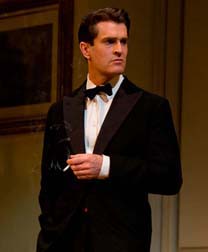 Current wife Jayne Atkinson portrays Ruth as rather staid and conventional, while Christine Ebersole is sexy and kittenish as Elvira, though she is not as effervescent as one might like. Rupert Everett's Charles is the self-absorbed upper-class male you have seen in a hundred mid-last-century films.
It turns out that Charles, for all he complains about the new state of affairs, is the one who summoned Elvira from the netherworld during the séance. Coward's back story is a middle-aged man's fantasy of having two wives.
Blithe Spirit. Written by Noel Coward, directed by Michael Blakemore. Shubert Theatre 225 West 44th Street. 212-239-6200. Opened March 15, 2009, Closes July 19th.
Review on NYTheatre-Wire site