By Lucy Komisar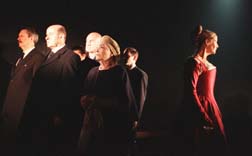 The fusion of women in 16th century clothes and men in suits in this stunning political thriller underlines the eternal reality of struggles for power. Director Phyllida Lloyd has used the device to enrich her staging of Friedrich Schiller's play, which premi¨red in Weimar, Germany, in 1800. It has been adapted by Peter Oswald for a memorable production.
The fact that the political contest is between two women adds the fascinating element of feminist assertions of self against men.
Men, as a sex, in fact, were central to the downfall of Mary Stuart (Janet McTeer), who as Queen of Scotland colluded in the murder of her second husband. Her nurse Hanna Kennedy (Maria Tucci) recalls, You made him King and he wanted to rule you. He had Rizzio, your favorite, stabbed to death.
Hanna asserts that, a kind of male recklessness overcame you. Mary married the seducer who poisoned her soul.  Then she was forced to abdicate that marriage and flee to hoped-for safety in England. The story is nothing a modern soap could ever match. And Lloyd builds the tension to a breaking point.
Alas for Mary, her cousin Elizabeth (Harriet Walter) feared she was leading a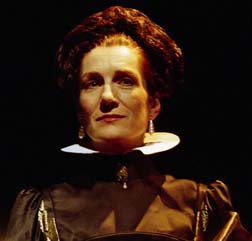 Catholic plan to incite supporters to civil war, setting up cells of assassins against the crown to install a Catholic legacy. She imprisoned Mary – for 19 years!
We are near the end of that era. Most of the action takes place inside the dreary brick-walled tomb-like dungeon of the Castle of Fotheringhay (set and costumes by Anthony Ward) where Mary is incarcerated with little company but her nurse. Her black gown with gold circles is of the era, but the production is as modern in speech and mood as the briefcases the lords and courtiers carry.
The play meanders between breathless plots being hatched by Stuart's secret Catholic supporters in Elizabeth's court. She won't renounce her claim to the British throne and hopes for support from the French King. The young Sir Mortimer (Chandler Williams), a secret Catholic, turns out to be on her side and brings message from the Cardinal of Lorraine in France.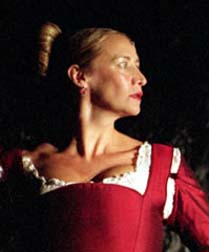 The poetry and elegance of the language is vivid. Mary is mocking and without pity: I see England's aristocracy, the majestic senate of the realm, scurrying around like eunuchs in a harem at the whim of the Sultan, Henry the Eighth, my uncle. I see the wealthy upper house, not so different from the bribe-hungry commons, making and cancelling laws and marriages, at the command of the big man.
There is a contest of power and personality between the two women; Elizabeth may hold the chips, but Mary is by no means supine. Lord Burleigh (Nicholas Woodeson) of Elizabeth's court worries at Mary's steadfastness, She knows all about the indecision of the Queen of England. She smells our panic and that rouses her courage!
Repeatedly, the queens' roles as women is underlined. Elizabeth pulls a ring from her finger: This sign has a duality of meanings: duty and slavery. It is a ring that makes a marriage – and it is from rings that chains are made.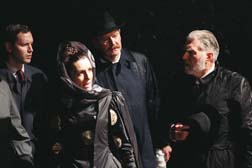 Shrewsbury tells Elizabeth: They say she had her husband murdered. It is a fact that she married his murderer. Appalling crime! But those were bad times for her, in the hurricane of civil war, warlords seizing her power, she, bewildered, in the chaos, sides with the worst of the, possessed by who knows what? Women are not strong.
Elizabeth: Some of us are.
Shrewsbury: You are an exception!
At what point will the contest descend into thuggery? The Queen will not give an order to murder Mary. But will her acolytes understand what she wants and do it? Burleigh tells Amias Paulet (Michael Countryman), a knight who is guarding the captive: You don't have to do it yourself, just leave the door unlocked. He refuses to play that game. I will let no killer in here! Burleigh asks Elizabeth for Mary's head. You must kill or be killed. If she lives you die, if she dies you live!
So who is ethical, the highest nobles or the lower knight?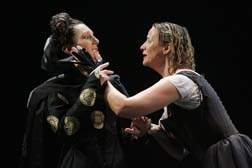 Mary Stuart and Queen Elizabeth never actually met. However, the essential device of a dramatic confrontation is inserted into the play. The second act opens with a breathtaking scene of Mary and her nurse getting drenched in the pouring rain. They have been allowed into the courtyard to facilitate a chance meeting with the Queen. Issues of physical comfort no longer apply. In fact, being out of the dungeon in the fresh air gives Mary joy. Elizabeth approaches in a hunting party. This is the only element that seems bizarre: why would the Queen continue the hunt in the pouring rain? Men rush in with black umbrellas, and then the rain stops.
Mary pleads to Elizabeth, who is angry, cold, icy. Will Mary be appropriately contrite to save her life? Or will her royal sense of self prevent her from any submission? McTeer is enthralling. Walter and the rest of the cast are also uniformly powerful. This is a production that should not be missed.
Mary Stuart was put to death in 1587; she was 44.
Mary Stuart. Written by Friedrich Schiller, Adapted by Peter Oswald. Directed by Phyllida Lloyd. Broadhurst Theatre, 235 West 44th Street, New York City. 212-239-6200. Opened April 19, 2009, Closes August 16, 2009.