By Lucy Komisar
For me the mystery of Samuel Beckett's play about two down-at-the-heels hobos who watch an overbearing master abuse a pathetic slave is the division of the audience into those who laugh and those who don't.
I noticed this years ago when I first saw the play Off Broadway. There it was again at the current Roundabout Theatre production. When I commented about it to my seatmate at intermission, a lady in the row in front of us (in her 60s) turned around and nodded emphatically.
Is this an age thing? Are the chucklers people brought up on TV laugh tracks who think that if they don't understand something the proper response is to guffaw?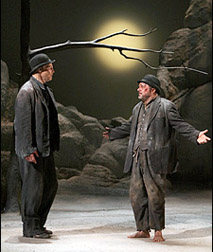 It's not as if they are laughing at pratfalls. Beckett's austere landscape of white rocks and a bare tree (sets by Santo Loquasto) backdrops two raggedy old men who have been together 30 years and don't find much to enjoy about life.
Gogo/Estragon (Nathan Lane) is distraught, snooty. Didi/Vladimir (Bill Irwin) is mild calm and understanding. They wonder, We lost our rights. Didi makes that clearer: We got rid of them. (Estragon, by the way, is French for the herb tarragon.)
Most pathetic is the drooling slave Lucky (John Glover) in stringy white hair, puffing and panting as he is driven by the fat Pozzo (John Goodman). Lucky carries Pozzo's baggage, a satchel and 3-legged stool.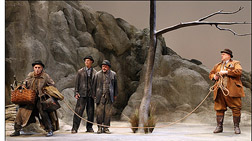 They are mankind, the oppressor and the oppressed. And a couple of onlookers only barely better off.
Didi says, It's a scandal to treat a human being that way.
Gogo: Why doesn't he put down his bags? It is pathetic. Much of the audience laughs.
The characters race and pace, half run/walk around the stage. From the stage, The air is full of our cries, but habit is a great deafener. So is the laughter of the masses.
For me then, the wonder of the play is not just its ability to evoke cruelty, but the unthinking odd laughter that it provokes.
Director Anthony Page has created a fantasy slice of life that bursts vividly out of the bubble of the viewer's imagination.
Nathan Lane is too over-the-top for my tastes; he seems to be playing vaudeville. Bill Irwin is subtle and moving. My favorite of the cast is John Glover as Lucky; he exudes misery to the point where it seems an artistic trait. John Goodman never persuaded me that he was the slave-driving Pozzo.
And, yes, after all these years we have now learned that it is GOD-oh, with the emphasis on the first syllable. But Beckett's point is that in the face of misery and brutality, God never shows up.
Waiting for Godot. Written by Samuel Beckett; directed by Anthony Page.
Produced by Roundabout Theatre Company. Studio 54, 254 West 54th Street.
212-719-1300. Opened April 30, 2009; closes July 12, 2009.