By Lucy Komisar
This charming, vivid musical tells how two American composers changed the idiom of western popular music. The curious parallel personal tragedies of Scott Joplin and Irving Berlin exist in contrast to their generally upbeat lively sounds.
In the early 1900s, Joplin and Berlin, brilliant musicians, created sounds   and beats that established a new American music that would echo across this landscape and the world. Both were consummate outsiders: one the son of a slave, the other a Russian immigrant who had escaped the anti-Jewish pogroms with his parents. Mark Saltzman's play – with the stunning Joplin and Berlin sounds – is a lively, appealing, often fascinating look back at what motivated them. The motivations and the men were quite different.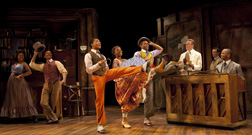 Joplin (Michael Boatman), the black man, was a musical prodigy who received a conservatory education. Twenty years after the civil war, freed blacks were exploited by conjurers kept them enslaved by superstition. Joplin wanted to create a music piece that showed blacks as educated and smart. That became the opera Tremonisha, but he couldn't get it produced. People preferred his rags, and we see them in charming dance numbers, including the most famous Maple Leaf Rag. Joplin, in fact, invented ragtime.
Berlin (Michael Therriault) was quite different. He couldn't read music and never had a piano lesson, but started earning his living at 13 singing and playing at restaurants on the Lower East Side of New York. His goal was to produce hits – and money. By the time he was 23, he was a success. One memorable song followed another: The Yiddishe Nightingale, I Love a Piano, Play a Simple Melody, Alexander's Ragtime Band. Later God Bless America, White Christmas, and Easter Parade, pretty ironic for a Russian Jewish immigrant.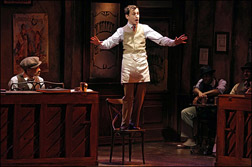 Joplin's sounds are famous, if the titles less so: Maple Leaf Rag and The Entertainer. And he created a whole new style of music: ragtime.
Saltzman imagines, in a charming pastiche of dramatic vignettes mixed with musical numbers — directed with sensitivity and verve by Stafford Arima — what might have happened if the two   had met. The imaginary meetings occur in Berlin's New York office on West 28th Street , a place crowded with two spinet pianos and wood cabinets and shelves.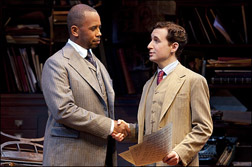 Berlin first works for and then becomes the partner of a music publisher. Joplin wants someone to publish and stage Tremonisha. Berlin knows how to make songs into hits: it's an underhanded strategy called the payoff, dollars slipped to a prominent vaudevillian who would promote them in his act. Joplin is an idealist, and, besides, he works the black clubs, not the music publishing business. Joplin criticizes Berlin for just thinking about money.
But the two have in common the tragic deaths of their young wives. Berlin's wedding song for Dorothy Goetz (Jenny Fellner) becomes a mourning song after she contracts a deadly illness on their Havana honeymoon. Joplin's young wife (Idara Victor) also dies soon after their marriage while he is away on a tour.
Their stories and their music make a brilliant counterpoint – which turns into real counterpoint in one of the production's best musical numbers.
A play built on songs of course depends on the quality of the singers. Idara Victor, who plays Joplin's wife and Tremonisha, has a bell-clear, charming voice, and Jenny Fellner as Berlin's sweetheart, Dorothy Goetz, is equally talented and appealing. Beowulf Boritt's sets provide just the right surreal reality, especially in the visit to a nightclub in Havana. It's a smooth, entertaining bit of whimsy that succeeds in story and song.
The Tin Pan Alley Rag. Book by Mark Saltzman. Music & lyrics Irving Berlin & Scott Joplin. Directed by Stafford Arima. Choreographed by Liza Gennaro. Roundabout Theatre Company at Laura Pels Theatre, 111 West 46th Street. Opened July 14, 2009; closes September 6, 2009.