By Lucy Komisar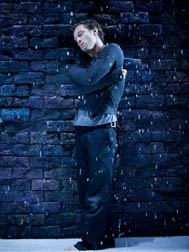 Jude Law drives Hamlet with an animal energy and naturalistic fervor that overwhelm the stage. This is not the tentative or tormented Hamlets we are used to. This Hamlet is a thriller and Hamlet the vengeful detective. The excitement is palpable. It's a brilliant interpretation you won't soon forget.
The scene opens with portentous movie mood music. The characters are in modern dress. Hamlet's father's ghost (Peter Eyre) wears a greatcoat. Hamlet's friend Horatio (Matt Ryan) is in black leather jacket and jeans. Hamlet pulls a short wool coat around him against the chill.
The backdrop is a high rough brick outer wall of the castle. Later, inside we see impregnable gray marble walls scared with jagged white marks of lightening. A high door with large wood panels leads to the outer walkway.
When Hamlet's father's ghost tells him how he died at the hands of his own brother, Claudius (Kevin R. McNally), who poured a poisonous potion in his ear as he slept in the garden, Hamlet pledges to revenge his father's spirit with the fury of a blood oath taken by a warrior chief.
Director Michael Grandage has made the play a thriller, with Hamlet the vengeful detective. It makes sense that Jude is very physical and athletic, like a movie lawman, bounding around the stage, once mimicking a monkey, finally engaging Laertes (Gwilym Lee) in their deadly duel.
Emphasizing his isolation from the court, he is dressed in casual blue pants and purple pullover and cardigan that underline his refusal to join the suits.
And whether he agonizes or breathes fury, he is not the tentative or tormented Hamlet we are used to, never the vacillating Hamlet who can't decide what to do. No moment of hesitancy in his Hamlet.
Even when he is still, his face moves in a catalog of expressions, animation, grimace, always magnetic and riveting.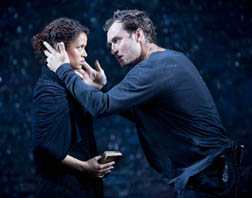 Most of the other characters pale in comparison. Claudius is not nuanced; he lacks subtlety. He looks like a thug whose royal suit is too tight. Gertrude (Geraldine James), the late king's wife who just two months a widow married his brother, is mild-mannered and bereft of character. Wearing a satin skirt or elegant pants outfit, she seems more like a fashion plate than the tough opportunist. Ophelia (Gugu Mbatha-Raw), Hamlet's ill-fated love, is weak and waifish, even in her mad scene.
Ron Cook, on the other hand, gives Polonius, aide to Claudius and the father of Laertes and Ophelia, the personality of a salesman who knows all the angles. He is also a very comic gravedigger.
My thoughts be bloody, or be nothing worth! declares Hamlet after taking leave of the unlucky  Rosencrantz, who will soon be a number in the body count. The drumbeat on the consequences of evil never lets up.
Hamlet. Broadhurst Theatre, 235 West 44th Street, New York City. Donmar Warehouse production. Written by William Shakespeare, directed by Michael Grandage. Opened October 6, 2009, closes  December 6, 2009. 212-239-6200.