By Lucy Komisar
Nightingale is Lynn Redgrave's less-than-completely-truthful memoir of the women of her family, their men and their unhappiness about marital sex. The actress of course does a professional job. And the dialogue is smart. But for a tell-all memoir, mostly about sex, it manages to eke the most lively sections out of the one part of the story that is totally made up.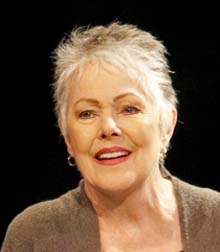 By definition biographical plays are self-absorbed, but this one curiously seeks to illuminate Redgrave's life by imagining the life of her grandmother, Beatrice Kempson, about whom she admits she knows virtually nothing. The back story is Lynn's own married life, about which she says very little.
Beatrice 's unhappiness with her husband and sex is established as the start in a line of unhappy marriages that includes Lynn's mother, the actress Rachel Kempson, who was married to the actor Michael Redgrave, and herself.
Married in 1909, and na¯ve to the point of embarrassment, Beatrice – Beanie to her upper class friends – knew so little about sex that she wondered if Eric would kiss me and if he did would we have a baby. Redgrave takes advantage of that to revive the old saw – Beanie's mother's advice – to lie back and think of England. Even so, the event as it happened (and we are privy to more details than I cared to hear) was not pleasant, even though her husband appeared to have been impotent that night.
Redgrave imagines that her grandmother hated sex and felt nothing for her husband, a schools inspector who was a rung down the class ladder from her family. You wonder why Beanie married him, other than out of desperation that no one else would ask her. She suddenly understands the loss of love she has suffered when sparks fly between her and a farmer whose horse she rides at a summer vacation place. The sparks are not lit.
Beanie's daughter Rachel doesn't do much better with her marriage to Michael Redgrave, but at least she did better with her farmer. Lynn says, Mum had a long, passionate relationship with her lover, but stayed with my father. For a memoir that is so much about women's disappointment in sex, Lynn Redgrave doesn't mention what is in the 1996 BBC documentary Michael Redgrave: My Father, narrated by Corin Redgrave, and based on his book which discusses Michael's bisexuality. And that Rachel knew of his homosexuality before their marriage.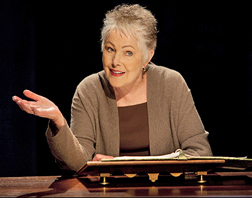 She says even less about her own married life, except that an actress at 23, in the 1960s, she marries a man she had met two weeks before. For someone to hang on her arm, it appears: And I had a man to pick me up from the stage door every night. It wasn't for ten years that she discovered that she wasn't cold if she had a good lover. After 32 years she realizes she must escape. This appears to have occurred in tandem with getting breast cancer. She calls herself a one-breasted Amazon without the bow and arrows.
She does not mention in the play that her 32-year marriage to her manager, John Clark, went bust in 2000 after a convoluted drama worthy of the tabloids, where it's been splashed. John fathered the son of a British woman the couple had befriended and who was staying at their house in Topanga Canyon, Calif. Later, the Clarks' son Benjamin married her; the two subsequently divorced. And the woman filed a paternity suit against Clark. Then he and Redgrave divorced. Clark says the woman was motivated by a desire for a green card. And he points out that Lynn had had her own affair in 1977, with actor Brandon Maggart, the one she alluded to. Those stories sure would have spiced up this play!
Is Redgrave looking for an explanation of her own marital problems by ascribing details of an unhappy marriage to her grandmother? Or is this just about three generations of bad husband choices? She doesn't make the connection. No one asks a playwright to write a memoir about their personal lives, but it they choose to do it, they ought to be honest.
The play takes place with Redgrave seated at a glossy claw-legged table. Behind her are panels of watercolors. She is of course a fine actress, bringing her characters to life with taut face and slightly crackling voice for grandma and more modern tones for Rachel and herself. The play, at 90 minutes, is too long and after a while grows tedious. Maybe that's because she chose not to include the true parts that would have made it more interesting.
Nightingale. Written & Performed by Lynn Redgrave. Directed by Joseph Hardy. Manhattan Theatre Club, 131 W 55th Street, New York City. 212-581-1212. Opened November 3, 2009, Closes December 13, 2009.